I have never seen someone use Bing as their choice of search engine. But there are many out there that love to use the Bing image of the day as their desktop wallpaper. This is why there are so many apps for desktops that let users do just that. On the surface, BingWall is a similar app. It automatically sets new Bing wallpapers on your Ubuntu desktop every day. There's one way you can enjoy refreshed wallpapers on Ubuntu desktop through automatic wallpaper change.
It's a task that has previously been done by small GNOME shell extensions to cron job to scripts. That's to say it's not a very difficult task. Once BingWall is installed, it lets you download Bing's featured photo and set it as the desktop background. The app is available as a Snap package so it can be installed on any Linux desktop, including Ubuntu.
BingWall does have a few nifty features that make it one of the better options available out there.
Get New Bing Wallpapers on Ubuntu
BingWall is a relatively newer app. This gives it the advantage of being up-to-date, working, and maintained. The same can't be said for some of the other options. Bing API changes are rather frequent. This results in similar Bing wallpaper apps stop working or becoming buggy.
Many similar software programs run in the background and provide no UI or indication. BingWall does and its UI is simple and straightforward. The developer says the app has been designed for the GNOME desktop but is built-in Qt. The app lets you view the current bing image of the day for ten different countries.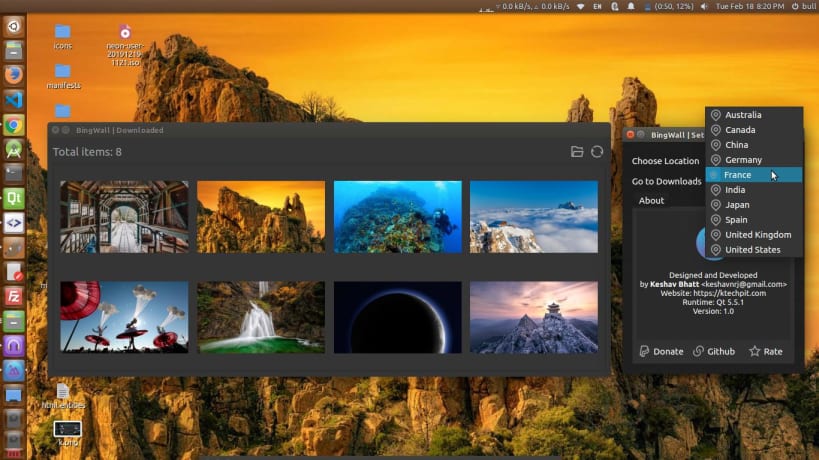 It also lets you download these wallpapers in easily accessible locations on your desktop. Wallpapers can be browsed and set from within the app as well. To add a cherry on top, the app also supports a dark theme.
Install BingWall
If you're using anything above Ubuntu 16.0 LTS, you can install BingWall from the Snapcraft store. Alternatively, you can use the command below in a terminal to do the same.
sudo snap install bing-wall
If you're using an older version of Ubuntu, you'll need to install Snap manually. It's as simple as entering the command below in a terminal.
sudo apt install snapd
Once snap is installed, you can use the first command to install BingWall.
Read Next: Get macOS Mojave Dynamic Wallpaper on Linux