On Linux, there are often too many choices for certain kinds of apps. You may not get Adobe Photoshop, but you have GIMP, or Krita, and even some other less known choices. Sometimes the choices are pretty limited. Fortunately, when it comes to photo management software, the choices are quite more than enough. I'd say better to have enough choices to get confused than not have a choice and be sure. There aren't about a hundred options here though and many of them aren't very good either. But quite a few of them are. Here are 4 of the best photo management software for Linux that you might like.
1. Shotwell
Shotwell is a photo management software built for GNOME but it works just as fine on other desktops as well. It isn't a feature-packed photo management software but it is quite popular. It has been the default photo viewer for many Linux distributions despite the development of it being really slow.
Shotwell's interface hasn't changed much since it's inception in 2009. So, why is it on the list? Just because I like it. It's basic enough that it launches almost instantly, faster than GIMP or something more feature-heavy. You don't want to be doing advanced photo editing any time you open a photo, after all. It lets you import photos from Disks or Digital Cameras, and organize images based on events, tags, and folders. It also has basic photo editing features and format conversion and also supports uploading to web services (Facebook, Flickr, Tumblr, etc).
Shotwell
sudo apt-get install shotwell
2. gThumb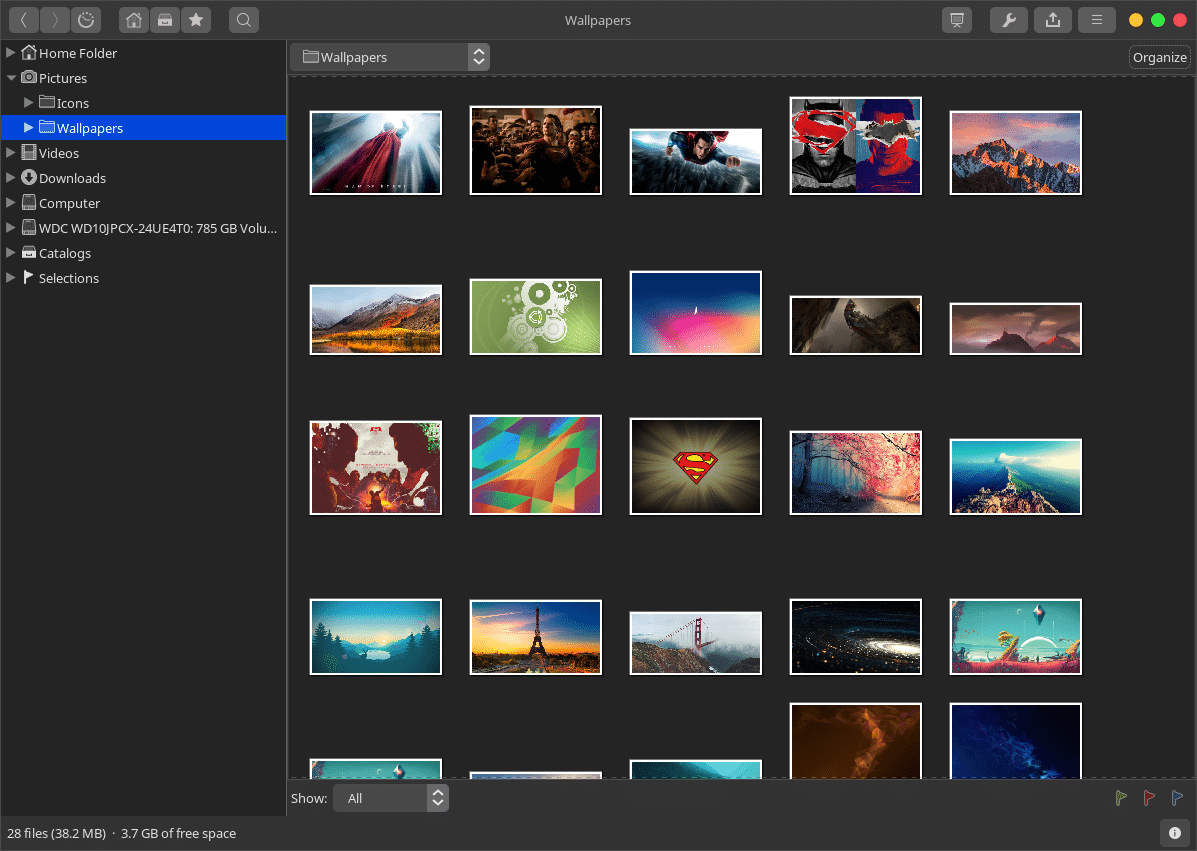 So, Shotwell is already popular and chances are you already have it and are looking for an alternative. Look no further than gThumb which is possibly the best alternative to Shotwell. gThumb is a feature-packed and yet light-weight photo management software also built for GNOME desktops. It does still work with other desktop environments but doesn't integrate as well with non-GTK desktops like KDE.
To repeat, it still works perfectly fine with KDE or similar desktop environments regardless. gThumb supports all major image formats (including GIF) and metadata (EXIF, XMP, etc). Of course, it can do everything Shotwell can, as well as perform basic image conversions, add filters, etc. If you use GNOME, MATE, or other GNOME-based desktops, this is definitely something to try out.
gThumb
sudo apt-get install gthumb
3. digiKam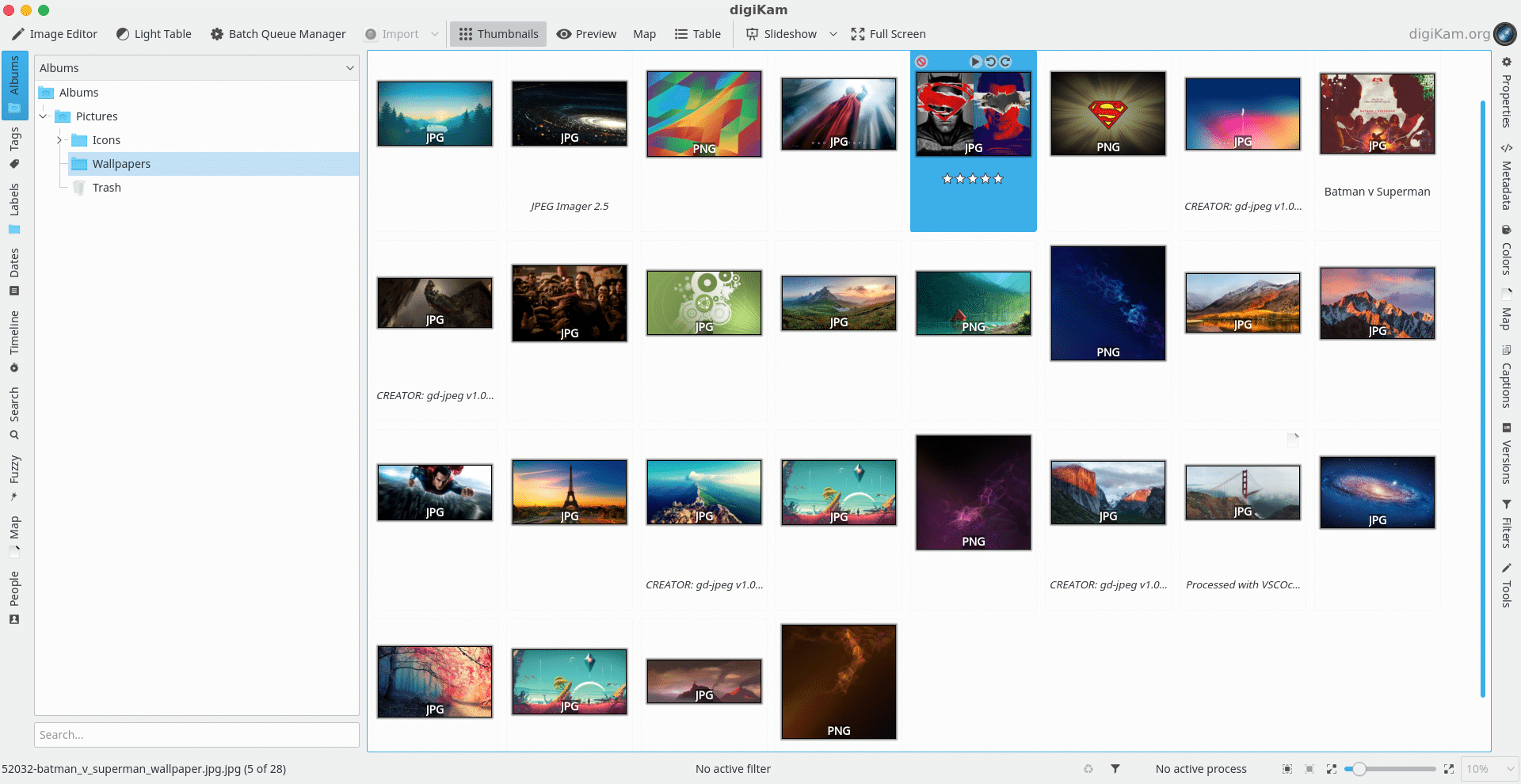 digiKam is meant for the KDE Plasma desktop environment, unlike the previous two entries. It is one of the best photo management software for Linux distros. Like the other two entries though it does work on other desktops pretty well too. digiKam is about 70MB in size which might only increase as it is updated later. So to say it isn't quite as light-weight as Shotwell or gThumb. It takes a little while to load up, less than or equal to GIMP. All that size does make it worthwhile though since digiKam has no lack of features.
It has support for albums, sub-albums, tags, comments, metadata, sorting, etc. You can also import photos not only from USB drives and digital cameras but also from online sources such as Facebook. It also lets you export your images to these online sources and also convert images between different formats. It can get a little overwhelming at first because digiKam tries to show as much as it can upfront. You can notice options and menus along every border. If you are patient enough digiKam is one of the most advanced photo management software you'll use… or not use.
digiKam
sudo apt-get install digikam
4. KPhoto Album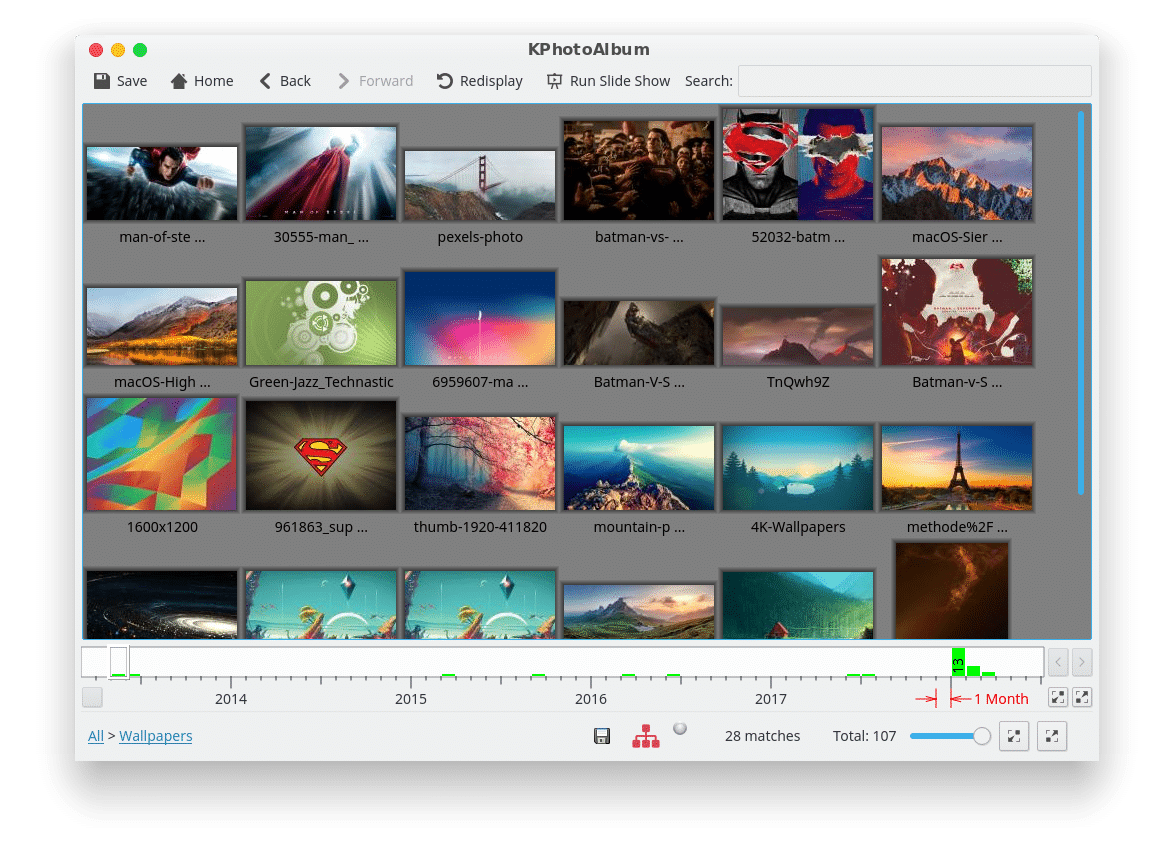 KPhoto Album is once again made for KDE but can be used on any other desktops. Unlike the other software on this list, KPhoto Album does not work as well with other desktop environments as it does with KDE. That is to say, if you use KDE Plasma you can get the best out of KPhoto Album. Another unique feature of KPhoto Album is how it categorizes photos and time-based browsing. Instead of showing you thumbnails directly, it gives you options to see photos from a category. There is a thumbnails option too. Wait, there's more uniqueness to this thing.
KPhoto Album has an Android Client as well. It lets you view all the photos on your phone right on your desktop without having to worry about cables on anything. Use it alongside KDE connect and life will be amazing. It does feature various import and export options as well as editing features like others.
As a result, it's heavy, like digiKam and KDE itself. Upon the first launch, it will require you to set it up and takes a while loading up anytime you launch it.
KPhoto Album
sudo apt-get install kphotoalbum
I wind up this article with the hope that you would find one of the above-mentioned photo management software for Linux useful. Before you leave, do not forget to check out these 5 best application launchers for Linux as well.