I shared a list of the 30 best Samsung dark themes just a while ago. While dark themes look better and help save our eyes from strain in dark and shadowy environments, they can cause visibility issues during sunny hours. In case you want some great themes with a light and white background, here are some of the best light themes for Samsung devices running One UI.
I have to spend a full day searching, installing trying around 70 themes to pick just 20 light themes for Samsung Galaxy devices. I tested these Samsung themes on my Galaxy Note 10 Plus and Galaxy S9 to make sure they work on the latest Samsung One UI.
Since my aim was to feature only the best ones, my list below contains both the best free and paid Samsung themes. The themes listed below are in alphabetical order. In case the themes are not getting applied on your Samsung device, you should wipe the cache partition of your Samsung device via Recovery Mode.
Note: Since we can't share the download links to the Samsung themes, you'll have to search for the themes in the Galaxy Themes app.
Open Settings > Themes.
Tap the Search icon and type the theme search keyword mentioned after each theme mentioned below.
1. Autumn Tree (Free)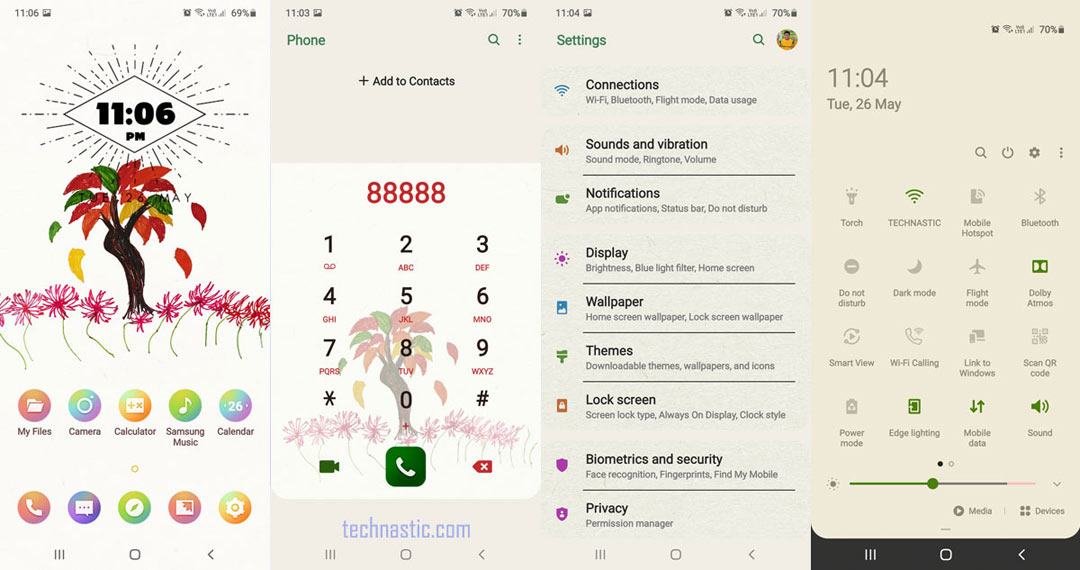 Designed by Aire Design, Autumn Tree is a free light theme for Samsung Galaxy devices. It has a beautiful animated lock screen, custom icons, a themed dialer, and antique white background with olive ground highlights. Originally, it was a premium theme but it can be downloaded from the Galaxy Themes store for free now.
Galaxy Themes Store search keyword: 'aire autumn tree'
2. Baby Blue (Free)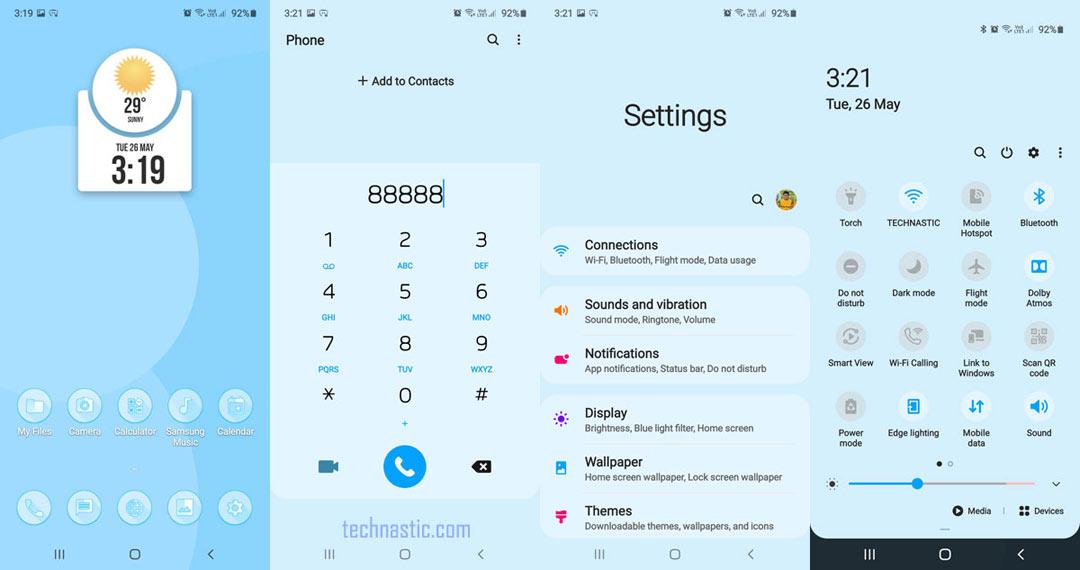 If you love blue as I do, you will love this simple minimal Samsung theme with light blue hues. The theme has a light blue background everywhere and the use of dark blue in places and black text make it look great. It has been developed by MINU and is available for free.
Galaxy Themes Store search keyword: 'minu baby blue'
3. Banana Jelly (Free)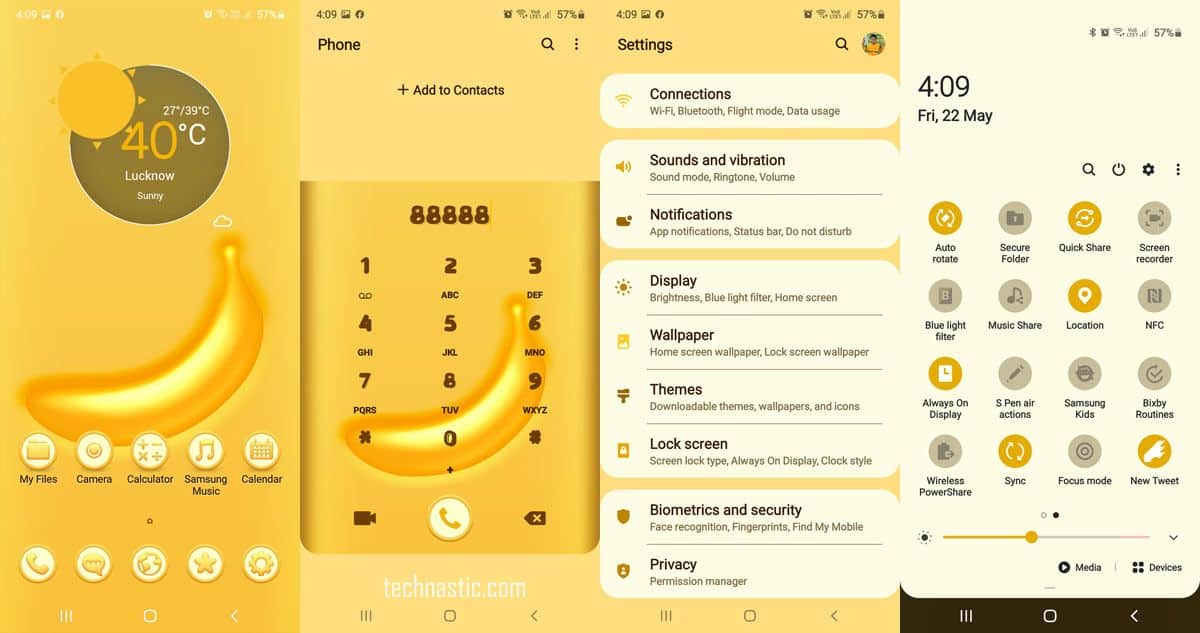 If you love the light yellow color, you'll like the Banana Jelly theme for sure. It's neither a dark nor a white theme. Light yellow background, mustard yellow highlights, and brown text give this Samsung theme a nice look. The theme is fully compatible with One UI 2 and comes with a custom AOD theme too. If you like the feel of Banana Jelly but prefer some other color, you can try the following color variants of the Jelly series themes designed by NeedWin.
Melon Jelly
Orange Jelly
Cherry Jelly
Blueberry Jelly
Lemon Jelly
Peach Jelly
Grape Jelly
Mini Carrot Jelly
Apple Jelly
Strawberry Jelly
Pineapple Jelly
Watermelon Jelly
Chilli Pepper
Galaxy Themes Store search keyword: 'need banana jelly'
4. Color Bounce (Free)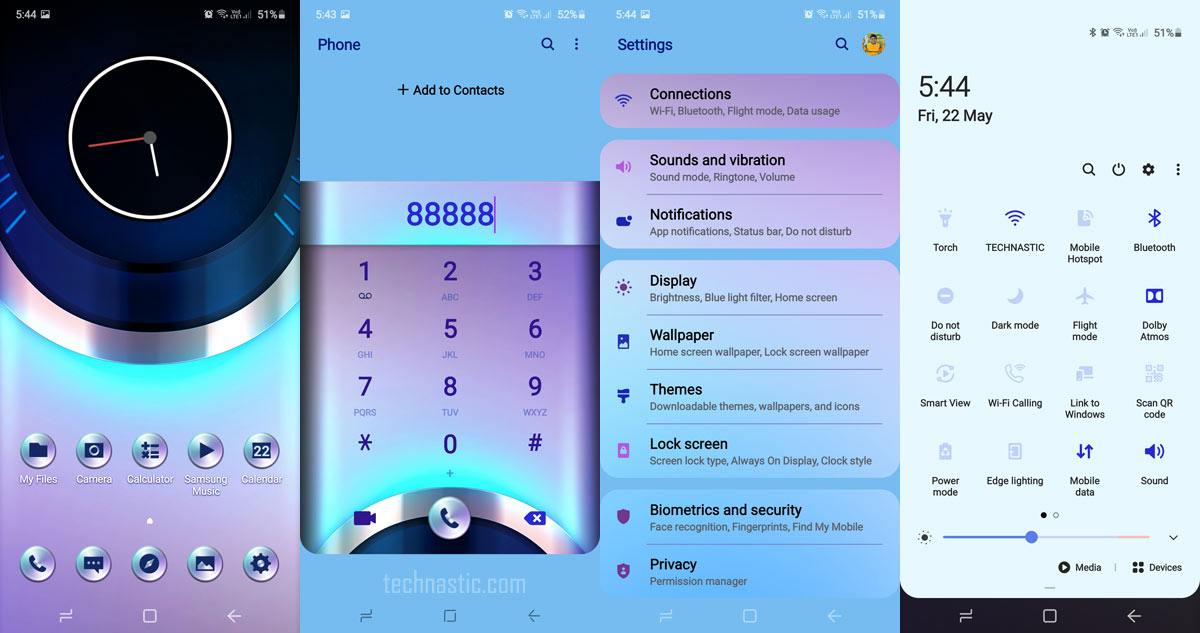 I remember purchasing Color Bounce for $1.99 last year. The theme is available for free now. It has been developed by Aire Design which is known for high-quality themes. Most of the themes by the developer are paid but can be downloaded currently at great discounts. Anyway, Color Bounce looks amazing because of the cool dialer and the use of color gradients, and the animated lock screen.
Galaxy Themes Store search keyword: 'air color bounce'
5. Concise UI Eleven (Free)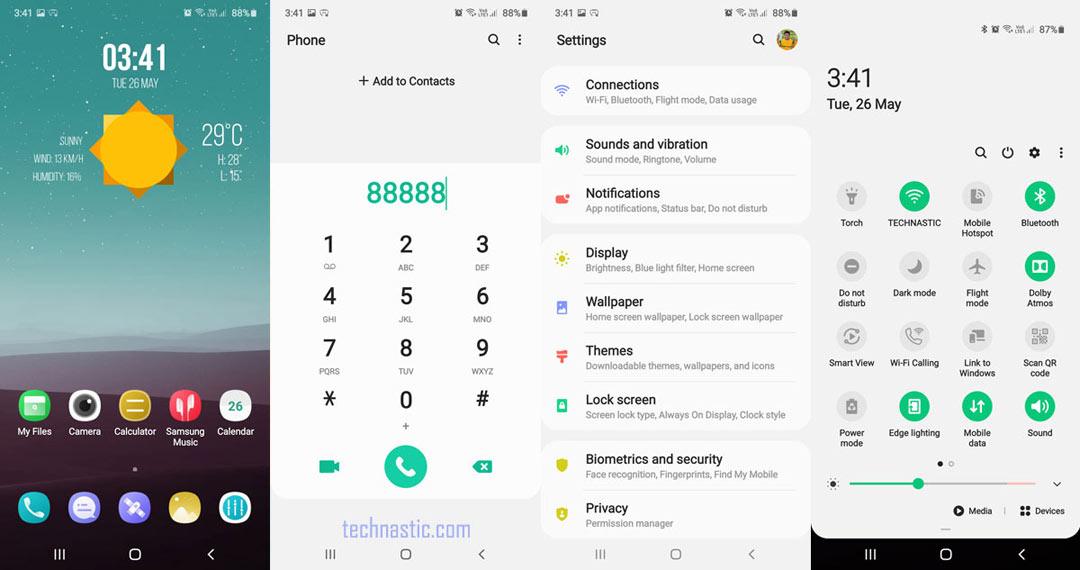 Concise UI Eleven is a light Samsung theme by Wenhui Lan aka WHL. This theme has beautiful wallpaper. It uses white and light grey background as a base with dark turquoise and black text. If you like it, you can download it for free using the keyword given below.
Galaxy Themes Store search keyword: 'whl concise ui eleven'
6. Diamond Purple Blue (Free)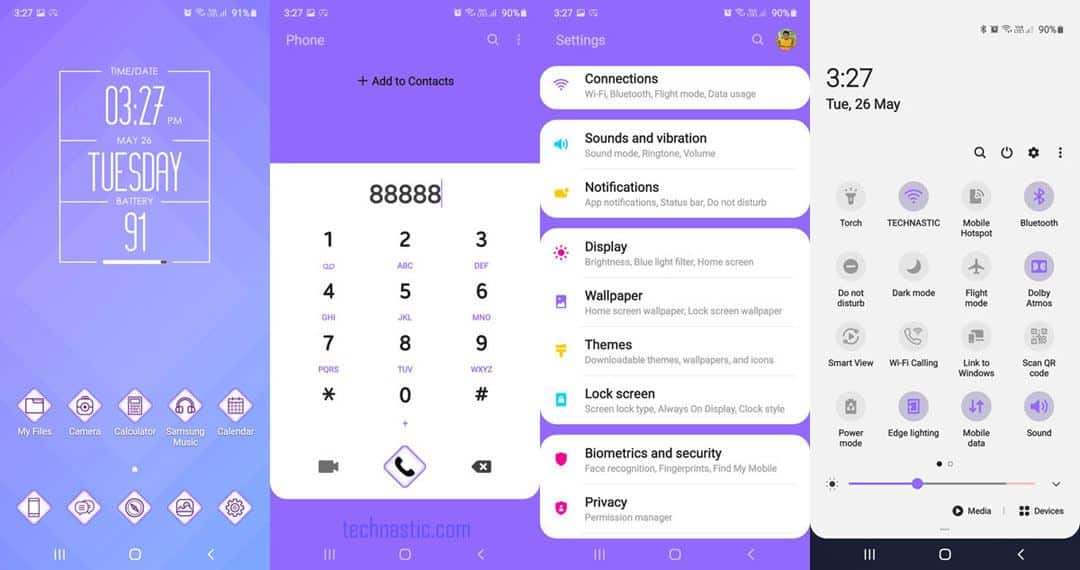 Purple and blue are my favorite colors. The Diamond Purple Blue light theme for Samsung Galaxy devices looks great because of its color combination. The theme comes with a custom icon pack, a clean dialer theme, and a great wallpaper as a background.
Galaxy Themes Store search keyword: 'minu diamond purple blue'
7. Dream (Paid)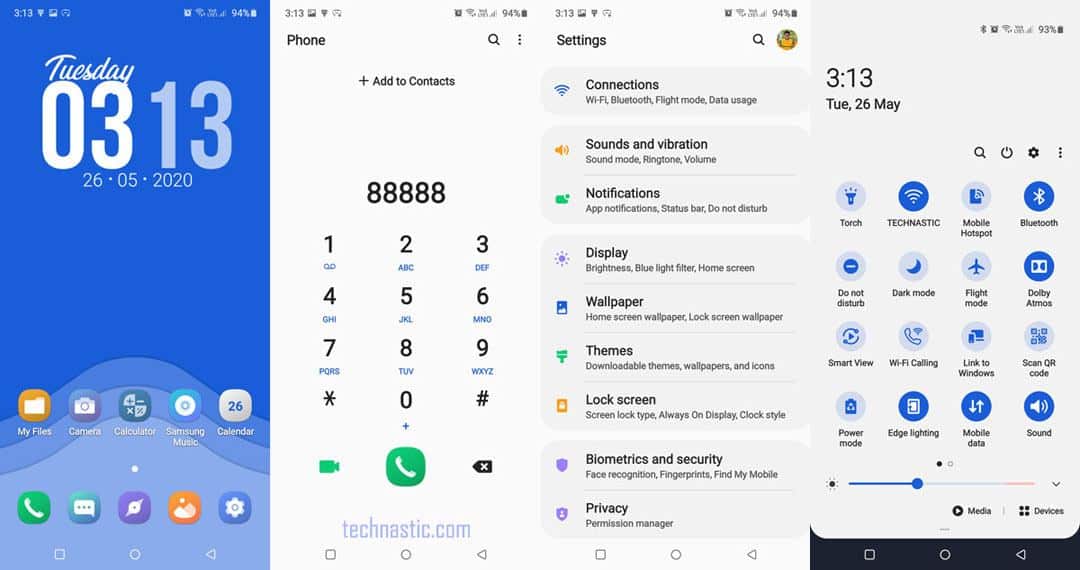 Dream is a simple theme with a white base and royal blue highlights. The theme is designed by Durim Klaiqi. It's a premium theme that comes with an animated material design lock screen. Get Dream if you like a minimal theme that looks decent.
Galaxy Themes Store search keyword: 'durim klaiqi dream'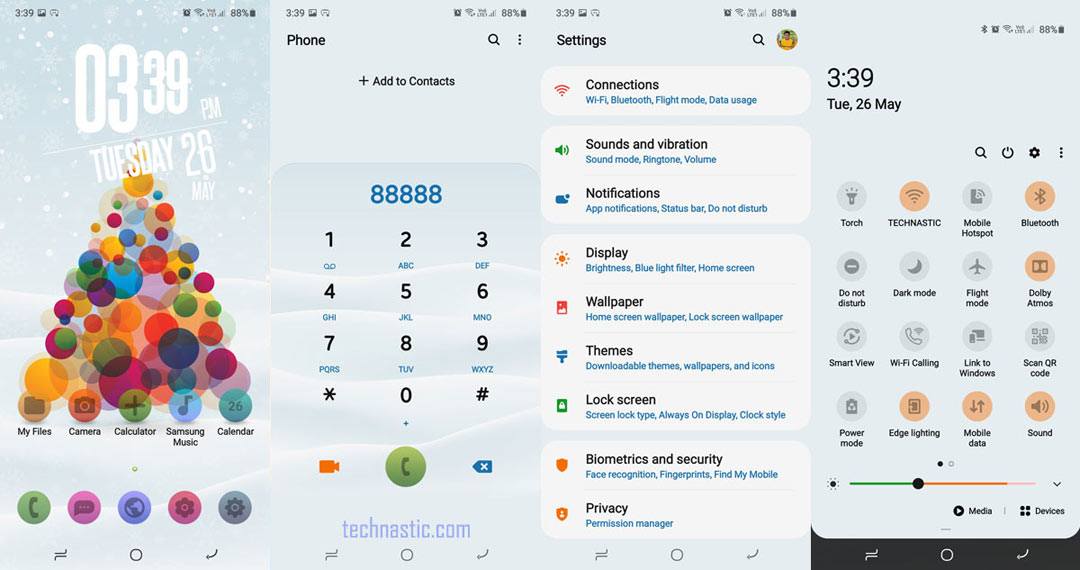 The name of this theme might sound weird if you don't know Spanish. Feliz Navidad is a Spanish phrase that means "Happy Christmas" or "Merry Christmas". The colorful bubbles in the theme wallpaper look very similar to a decorated Christmas tree and the snowy white background makes it a purely Christmas theme. Feliz Navidad has all premium features including an animated snowfall lock screen, AOD theme, and nice dialer skin but it is completely free.
Galaxy Themes Store search keyword: 'navin rai feliznavidad'
9. L'amour (Free)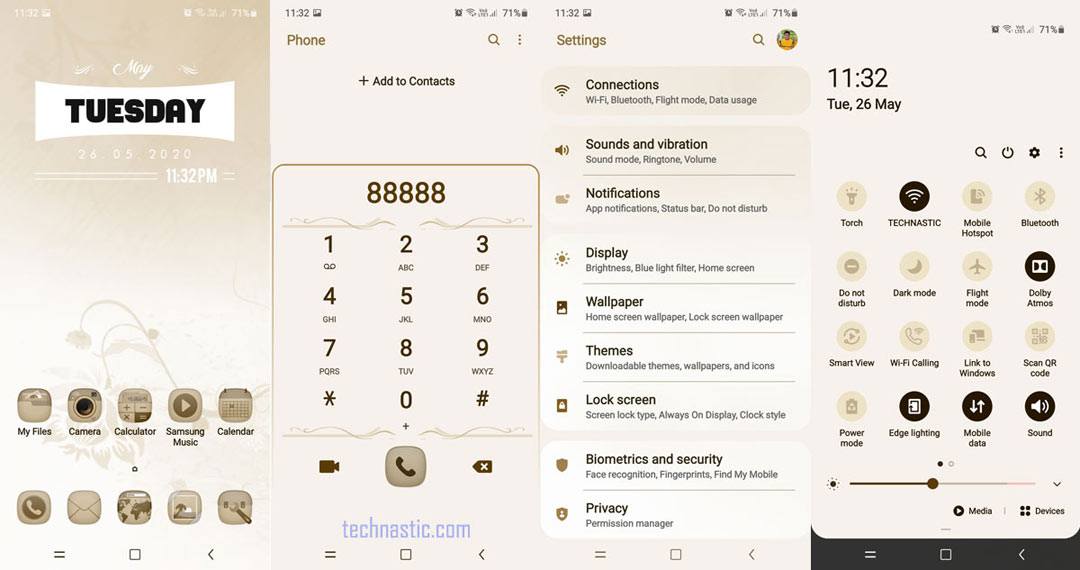 L'amour is another free Samsung theme that deserves a shot. This theme by MINU or Atlantis comes with a custom icon pack and themes every aspect of the One UI. With flora white as a base color and the use of brown and black will make you feel enamored. L'amour is a must-have if you are looking for a light theme for your Samsung Galaxy smartphone.
Theme search keyword: 'tma l'amour'
10. Lemon (Free)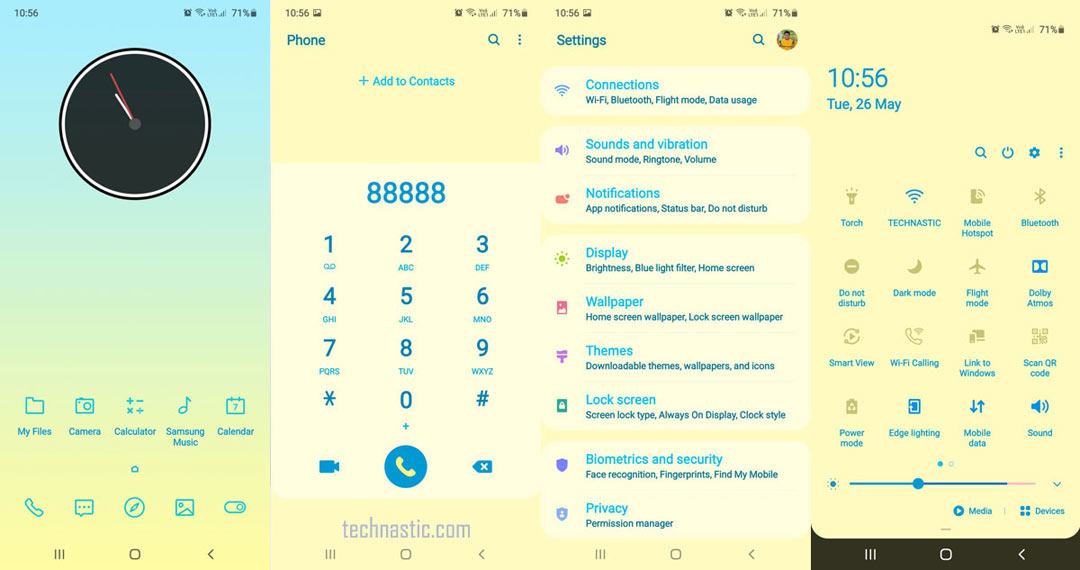 Lemon chiffon and dodger blue colors make this theme by Aire Design a great option for those looking for a beautiful light theme for Samsung mobile users. It is a free theme that is very lightweight and looks good when applied. If you don't like the plain theme wallpaper, you can try these hole punch wallpapers on your Samsung phone.
Theme search keyword: 'aire lemon'
11. Light UI (Free)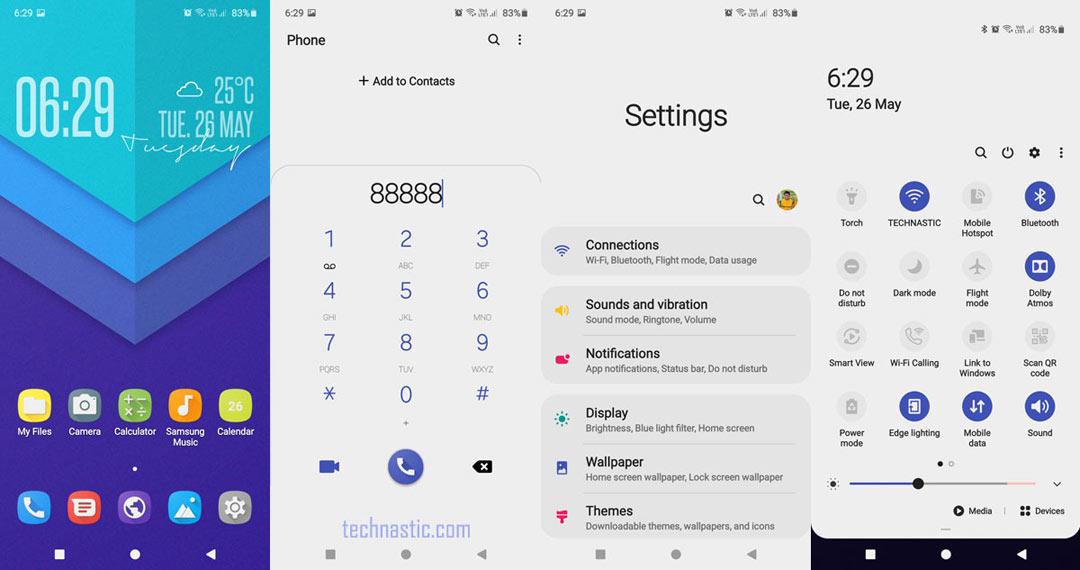 Light UI is the light version of the popular dark theme by Lucas Kendi called Blac UI. The best thing about Light UI is the material theme wallpaper. The use of an awesome icon pack and midnight blue color for highlights makes this thing one of my favorites.
Theme search keyword: 'lucas kendi light ui'
12. Material Indigo (Free)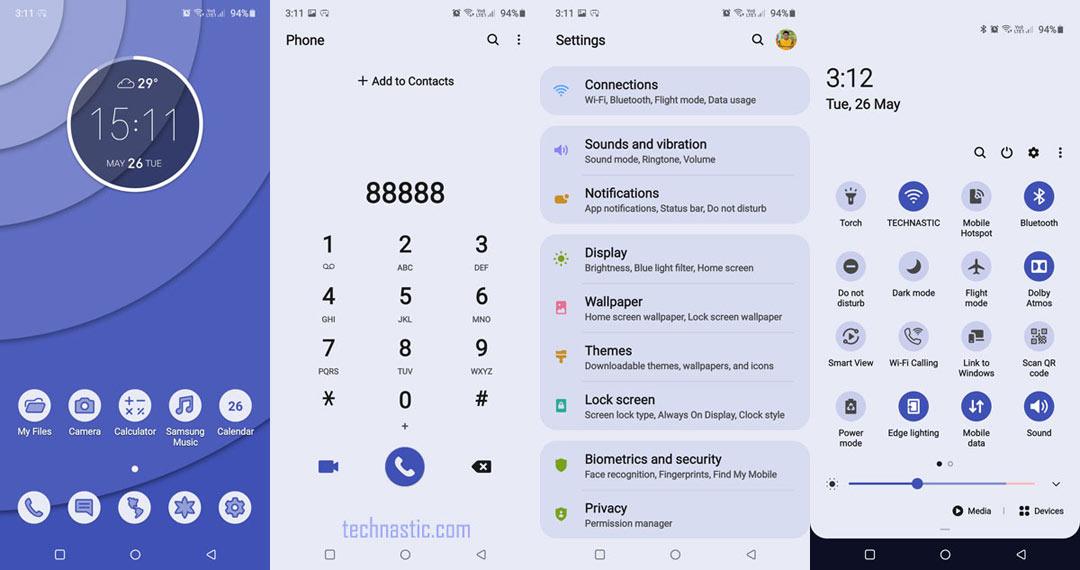 The very name of the theme Material Indigo makes it clear how it looks. This free theme has been made by Durim Klaiqi. Material Indigo is a clean and simple theme that must be there on your Samsung smartphone. You can also try the green, grey and blue versions of this theme.
Theme search keyword: 'durim klaiqi material indigo'
13. Morning (Free)

Light blue (sky) and golden (sunlight) colors may give you an idea of why the name of the theme is Morning. The big light round shape on the theme wallpaper represents the morning sun. Morning is a free theme from Caio Cobucci.
Theme search keyword: 'caio cobucci morning'
14. Pixel Hex (Paid)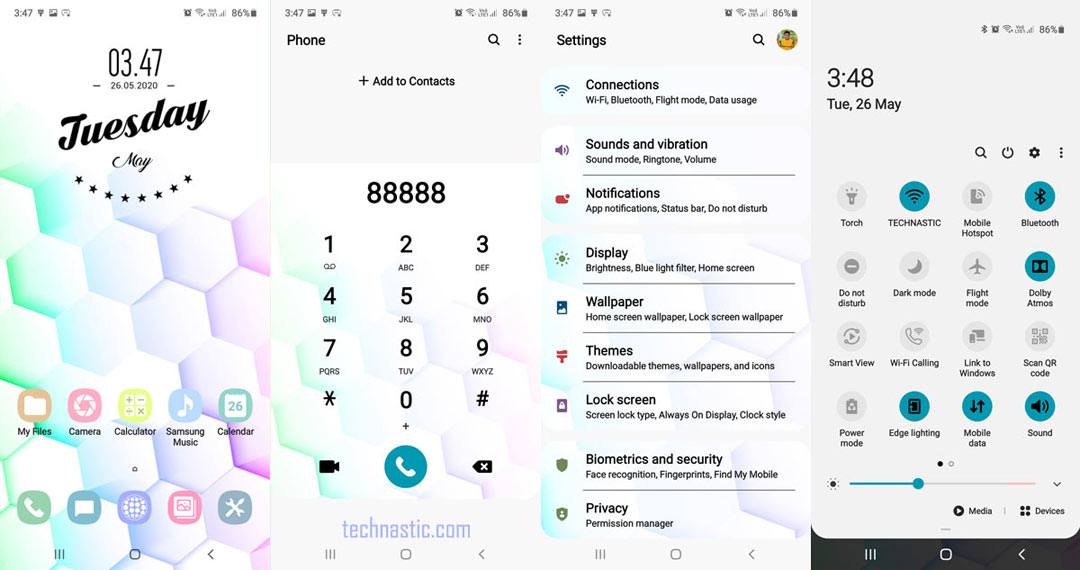 Pixel Hex is a cool light theme for Samsung devices. The hexagonal shapes with colorful shades on the theme wallpaper look beautiful. Designed by Themes Digital, Pixel Hex is a premium theme that will cost you less than $.50.
Galaxy Themes Store search keyword:'themes digital pixel hex'
15. Pure Gradation (Free)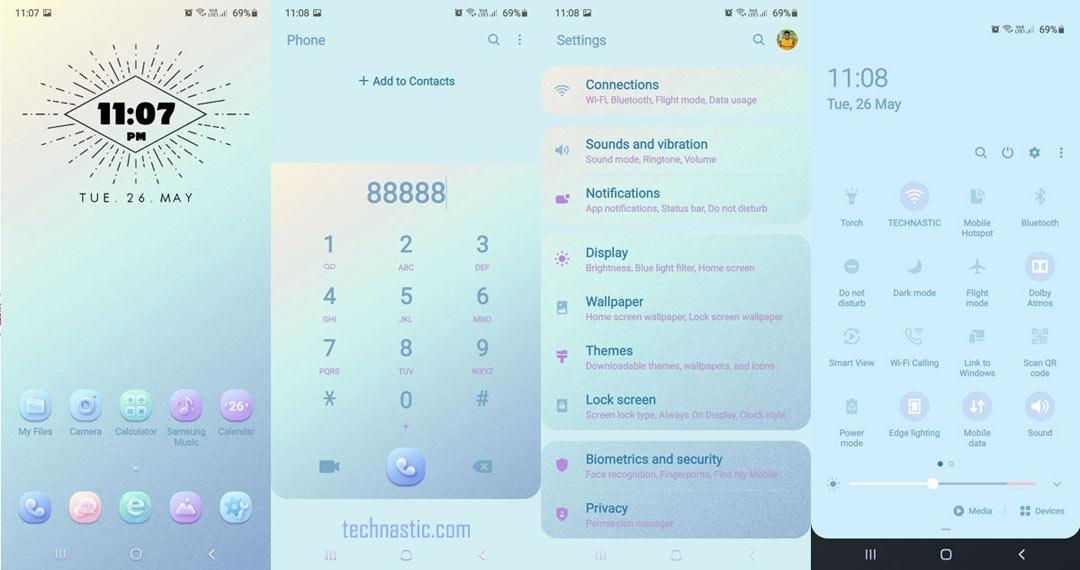 Now here is what I call a perfect example of how a non-white light theme should really be. I am a big fan of this free Samsung theme. Pure Gradation is a free theme from Aire Design studio with premium elements. The use of a gradient background, light color shades, and beautiful icons make this theme amazing. This is one of the best light themes for Samsung Galaxy devices that you must install.
Galaxy Themes Store search keyword: 'aire pure gradation'
16. RedM (Free)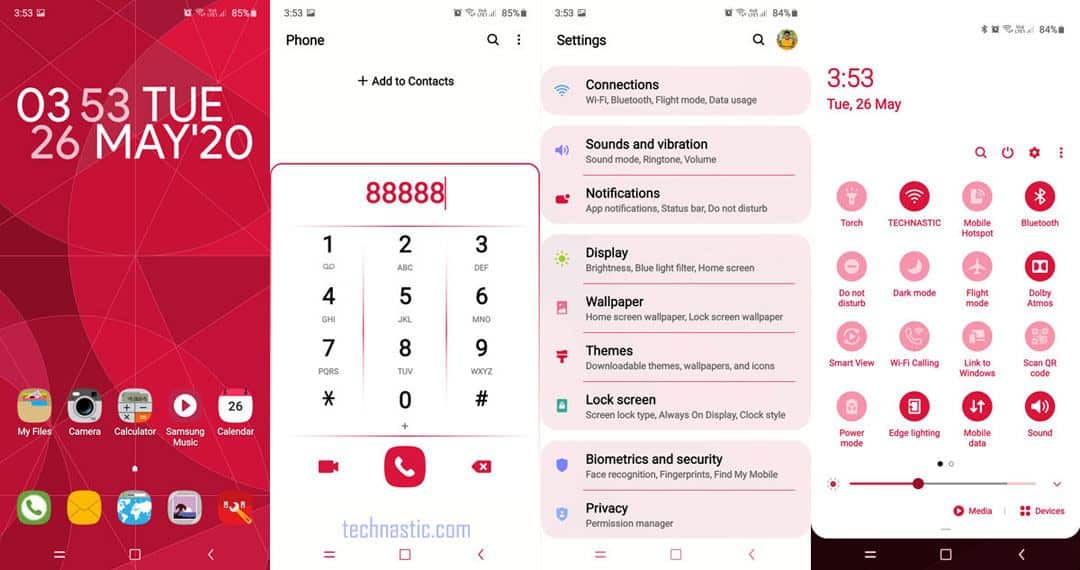 Here is another free theme by TMA or Atlantis theme studio. As its name suggests, RedM is a light theme with red highlight elements and a light red background in the Settings UI. This is the only theme in our list of the best light themes for Samsung that has red accents.
Galaxy Themes Store search keyword: 'tma redm'
17. Rio 2016 Colors (Free)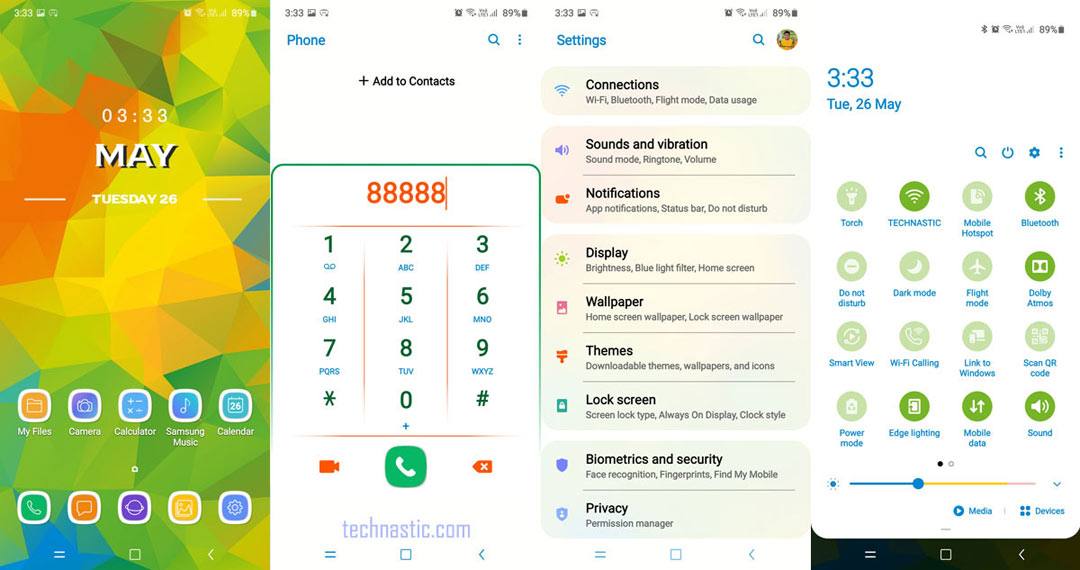 The name of the theme suggests that it is dedicated to the Rio Olympics (2016). However, since there is no branding on the theme wallpaper, it can be used in 2022 too. Rio 2016 Colors has a colorful wallpaper, a beautiful dialer skin, light yellow background, and yellow-green highlights.
Theme search keyword: 'tma rio 2016 colors'
18. Splash Evo (Paid)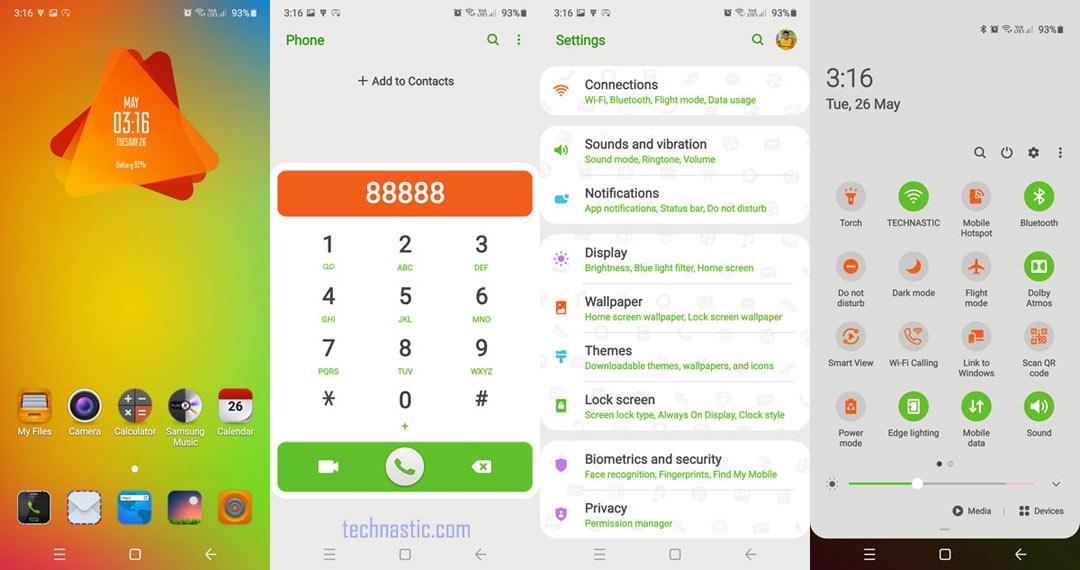 I have purchased a total of 5 themes by Invaser out of which 4 are dark themes. Splash Evo is the only light Samsung theme from the developer that I really like. The theme comes with a great icon pack, a nice dialer theme, and a beautiful combination of orange and green colors on a white base.
Theme search keyword: 'invaser slash evo'
19. Teal (Free)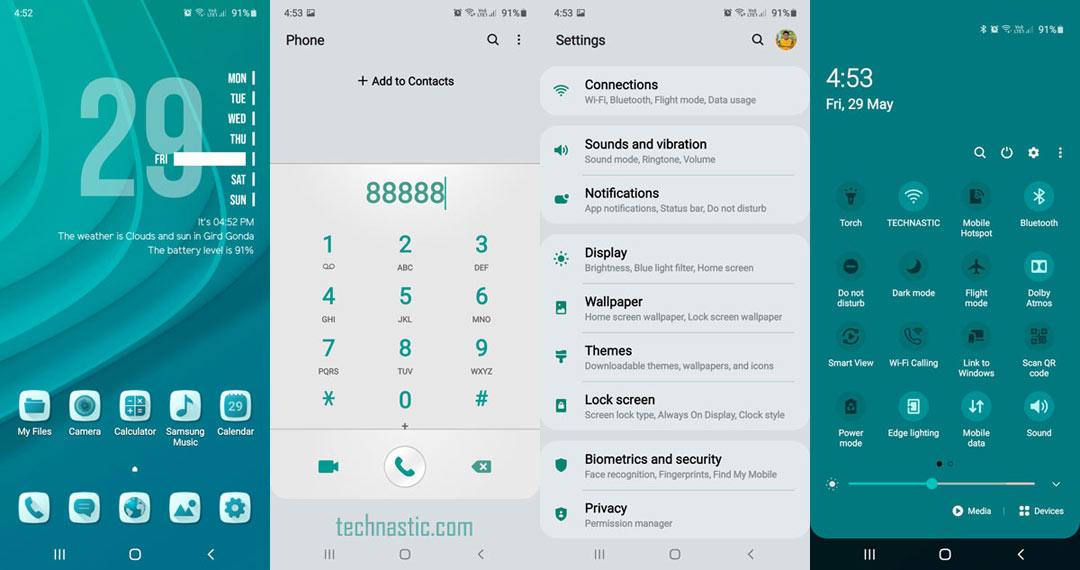 Sebastian Wolodkiewicz is one of the most renowned Samsung theme designers. He has received several awards from Samsung for his great themes. Sebastian Wolodkiewicz rarely makes free themes and Teal is one of those. The color scheme and simplicity may remind you of the Google Pixel default theme. It's one of the best free light themes available for Samsung Galaxy smartphones.
Galaxy Themes Store search keyword: 'sw teal'
20. Yellow Stripe (Free)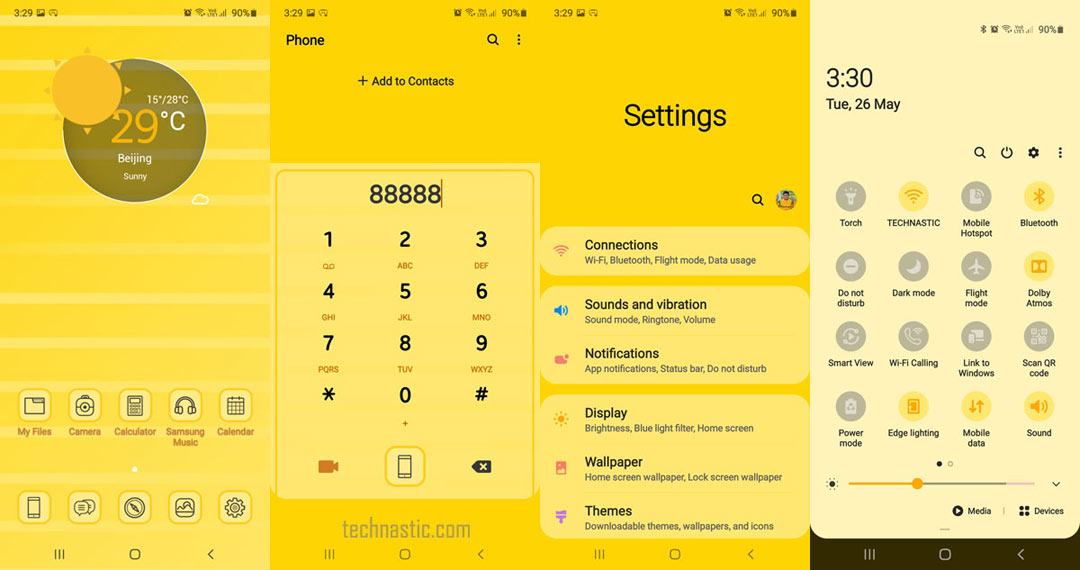 Finally, here is the 20th of the best light themes for Samsung One UI. Yellow Stripe is a very clean Samsung theme by MINU. It looks beautiful and if you like yellow, you must try this free theme.
Galaxy Themes Store search keyword:: 'minu yellow stripe'
I hope you would like my collection of the best light Samsung themes for One UI. Give them a try and let me know which themes you liked most. If you find some great Samsung themes that you think should be featured here, please tell us via comments.
Before you leave, however, do not forget some really informative tutorials that I wrote for Samsung Galaxy device users.