Still figuring out which is the best auto clicker for Mac? Well, we have got your back.  As in this post, we have compiled a list of the best auto clickers for Mac. 
Auto-Clicker is a handy tool when it comes to the simulation of real mouse clicks. But there are not so many options available for Mac devices. Still, we gathered a list of some good auto clickers available for Mac. These auto clickers are reliable and 100% safe to use. Without further ado, let' get on with the list. However, if you don't know how to copy the path of a file and folder on macOS, read our guide describing 5 ways to do that.
List of Top 5 Auto Clickers for Mac
MurGaa Auto Clicker 
MurGaa is an all-in-one automation solution for Mac devices, and Auto Clicker is one of them. Auto Clicker by MurGaa is a handy software for automated mouse clicks. The user interface of the software is pretty straightforward and simple. You can easily set your left or right mouse button for automated clicks. The best thing about this software is that it offers multiple ways to launch and stop the automated mouse clicking.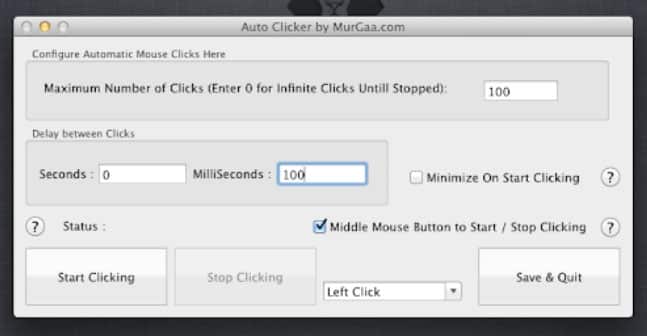 The software allows you to customize and set Auto Clicker according to your advantage and ease of use. You can easily set the number of clicks and intervals between the clicks. You can use this software on macOS or later versions. Just download this amazing tool from the original website and enjoy all the amazing features. Do not go for third-party websites that might be malicious or contain malware. 
Features of MurGaa Auto Clicker
Auto clicker for both left and right mouse clicks

Straightforward user interface

Easy-to-use features

Free tool for beginners

You can record mouse clicks

Unlimited automation for mouses
iClickMac 
iClickMac is an amazing auto-clicker software for Mac. It is a simple and straightforward tool. You can easily download it from the Mac App Store. A small window will pop up on your screen after downloading the software. You can set the interval between the clicks. After setting the time, click on the Start button and drag the cursor where you want automated clicks.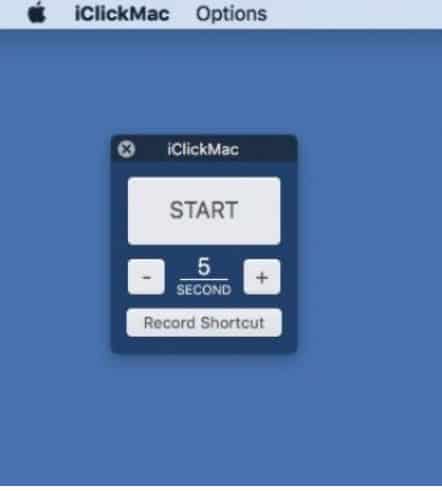 iClickMac is 100% safe to use, and it doesn't possess any malware or harmful viruses. The software is totally free of cost. But there are some issues with the application like you can't set the interval in milliseconds, and it only clicks 20 times. After that, you have to start the process all over again. iClickMac is compatible with Mac OS X.
Features of iClickMac
Runs on macro

Free to use software

Works on every website
DwellClick
DwellClick is another advanced auto clicker for Mac users. This is a paid tool but with so many beneficial features. Apart from the automated mouse clicks, it also works perfectly with the multi-touch trackpad. As an advanced tool, it requires patience and knowledge to master the process.
After setting the insertion point of automated clicking, you can start the process by clicking the F1 button. You can even drag the cursor to different locations without interrupting the process. Then you can use the Pop-up panel for double and multiple clicks. You can buy the software for $9.99 from the Mac App Store. DwellClick is compatible with Mac OS X 10.9 or later.
Features of DwellClick
Fully hands-free functions

Unlimited repetitive clicks

Single and double click options

Multi-touch settings

Works perfectly for a multi-touch trackpad and Magic Mouse.
Mac Auto Clicker
Mac Auto Clicker is a powerful and easy-to-use automatic mouse clicker. With its advanced features, gamers and others who need similar automation can free their hands from the mouse. It's better to save time and avoid annoying clicks. 
Mac Auto Clicker clicks indefinitely on a specific location you choose. One of Mac Auto Clicker's best features is that it offers various ways to start and stop the software. You can set the time interval between clicks according to your needs. You can set the interval in milliseconds or seconds. You can also set the number of clicks or fixed time to stop the clicker. You can download the software from the Mac App Store for free. Mac Auto Clicker is compatible with a number of Mac OS versions.
Features of Mac Auto Clicker
Records the automated mouse clicks

You can set a custom number of clicks

Supports single and double clicks

Multiple positioning for automated clicks

Free and open-source tool.
Auto Clicker 1.0
Auto Clicker 1.0 is a wonderful software that offers automated clicks above your expectation. This is safe and free to use software. Just download the software and let it do the clickings. You can configure the automated clicks at the current mouse position and begin the automation with the Start button.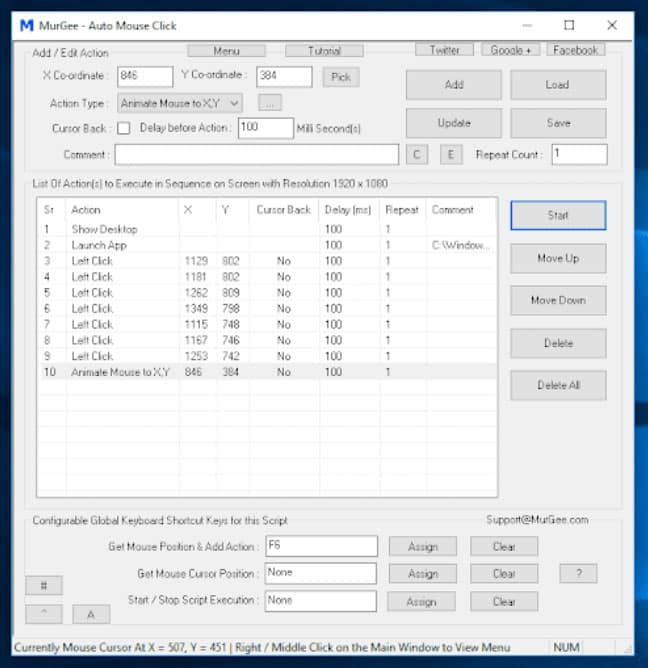 This software is compatible with both Windows and Mac, and its high-tech automation saves you from tedious mouse clicks. The software runs on a macro which allows you to record all the clicks. You can even set the time interval, click speed, and the number of clicks. The user interface is pretty straightforward with no complications. 
Features of Auto Clicker 1.0
Quick response

Full optional suite

Fast and efficient output generator

Compatible with Windows and Mac

Full access to all automated tools
Conclusion
After some deep digging, we have come down with this list. All of them are trusted and well-reviewed software. 
We hope this post suited your purpose and helped you choose the right one for you. Do leave a comment and your opinion in the comment box below. 
Read Next: How to Save WebPages as PDF on Mac and iOS