Most of our wallpapers on our devices are static wallpapers. The idea of a moving image or a dynamic wallpaper has been around for quite a while. It was Android though that made these more popular than ever as Live Wallpapers. iOS then popularized the parallax effect wallpapers with its 7th iteration. Meanwhile, the desktop operating systems, including Linux were lagging behind on those fronts. Developer Abe Masri took it upon himself to create a parallax wallpaper, animated wallpaper, and a cute clock wallpaper for Ubuntu. You can get the link to download the animated wallpaper app for Ubuntu from below.
These aren't three different wallpapers but a single app that allows users to set any of those kinds of wallpapers. The app is called Komorebi and it works on any Debian based distro, especially Abe's own KedOS Linux distribution. The background manager app offers fully customizable backgrounds that can be tweaked at any time. A number of wallpapers are included by default and range from a parallax-effect starry night sky that reacts to the movement of your mouse, to simple linear gradients.
Features
You can also choose to display time and date information on the wallpaper as a clock. If you're feeling geeky you can even have it display some basic system information such as live CPU and RAM usage data. Komorebi has been updated to version 2 which claims to be "faster, smoother, and better" than before. The code has been rewritten and it has gained new features as well. As of now, it allows you to set videos as wallpapers too.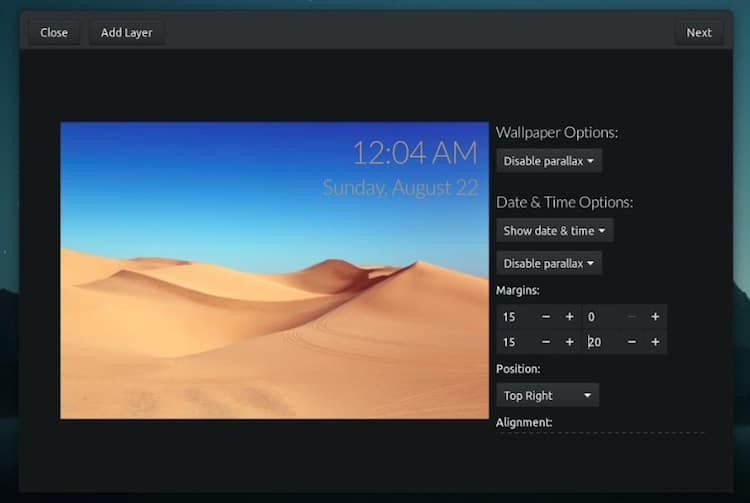 As with most animated or dynamic wallpapers on desktop wallpapers, Komorebi used to switch your usable desktop with a non-usable fancy desktop. This meant you couldn't place any shortcuts, files, or folders on the desktop. You could still access your desktop from the file explorer and place your files and folders there, you still wouldn't have seen them on the desktop though. Fortunately, the update has solved this problem.
Display static backgrounds
Showtime and date
Display simple system info (RAM, CPU)
Animate over time
Respond to mouse movement
Supports custom creations
Video Wallpapers
Create your own wallpapers using Komorebi Wallpaper Creator!
You should consider downloading the macOS Mojave dynamic wallpapers to beautify your Ubuntu desktop.
Caveats
A parallax or animated wallpaper certainly uses more resources than static wallpaper. This might not be ideal if you have a computer with lower specs or a laptop that's running on battery power.
Download Komorebi Wallpaper app for Ubuntu
If you're using a 64-bit version of Ubuntu 16.04 LTS or above you can download the DEB package from Github. Double-click on the downloaded package to install an animated wallpaper app on ubuntu and then run it normally like any other app. When you've set a wallpaper from the app, you can right-click anywhere on the desktop to access the Komorebi settings. It features checkboxes to allow you to enable or disable certain features and a drop-down menu lets you select from a list of available wallpapers.
Do you know the way to create a persistent Ubuntu USB drive? Check our detailed guide on the topic.