While not as popular as, say, Adobe Photoshop, Rainmeter is still a popular tool among those who like to personalize every bit of their desktops. And it has been so for a long time now. For the uninitiated, Rainmeter is a free desktop customization program that lets you completely transform the way your desktop looks like. I have hand-picked some of the best Rainmeter skins that give you modern and beautiful-looking widgets for your Windows 10 desktop.
Extremely powerful and customizable, it can be used to display a truckload of information (e.g., Clock, Network statistics, Processor usage, Email, RSS feeds) right on your desktop. If you've never heard of Rainmeter, you can check out my guide on Rainmeter customization for Windows users. If you're already a Rainmeter user and are looking for some cool skins, you don't need to wander anymore. Here we list the best modern looking Rainmeter skins for your desktop.
1. Win10 Widgets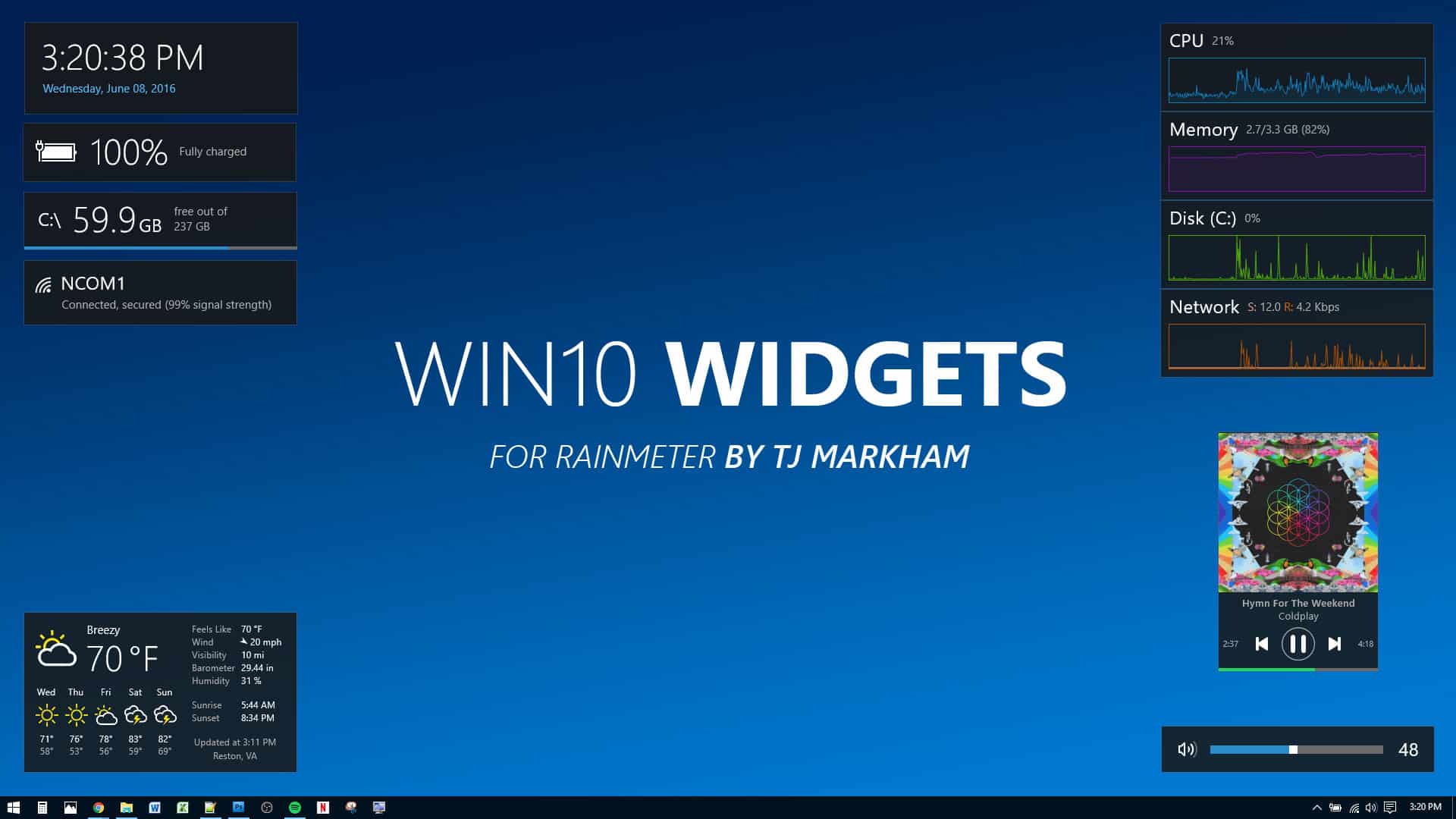 This is the only Windows 10 dedicated Rainmeter skin you're likely to find right now. Widgets were removed from Windows with the arrival of Windows 8 and are thus not a part of Windows 10.
Win10 Widgets looks to fill the gap through Rainmeter. This skin perfectly mimics the Windows 10 UI, and the widgets look great regardless if you have a light or dark background. This is also among the only skin that has variable sizes for its widgets. In my opinion, this is one of the best Rainmeter skins for Windows 10.
2. TECH-A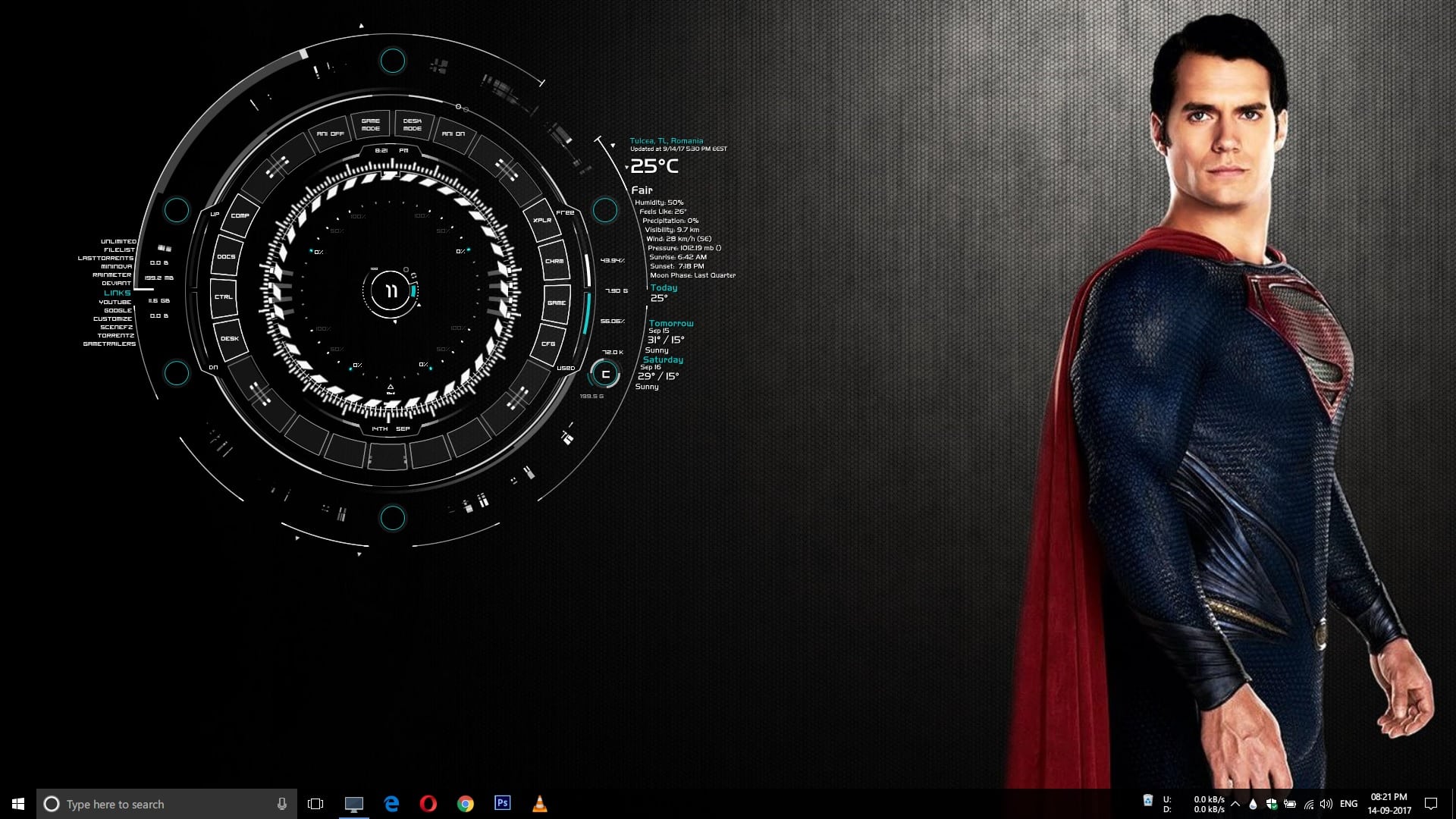 Futuristic and yet minimal, TECH-A is an awesome Rainmeter skin pack. It displays a horde of information, probably more than you can take. Apart from displaying information such as per core CPU usage, RAM utilization, and Time & date, it also contains shortcuts.
The shortcuts lead to system folders, disk partitions, and various websites or YouTube channels. All of that is included within and outside a rotating circular core. Any of these components can be easily removed as and how you see fit.
3. Harmattan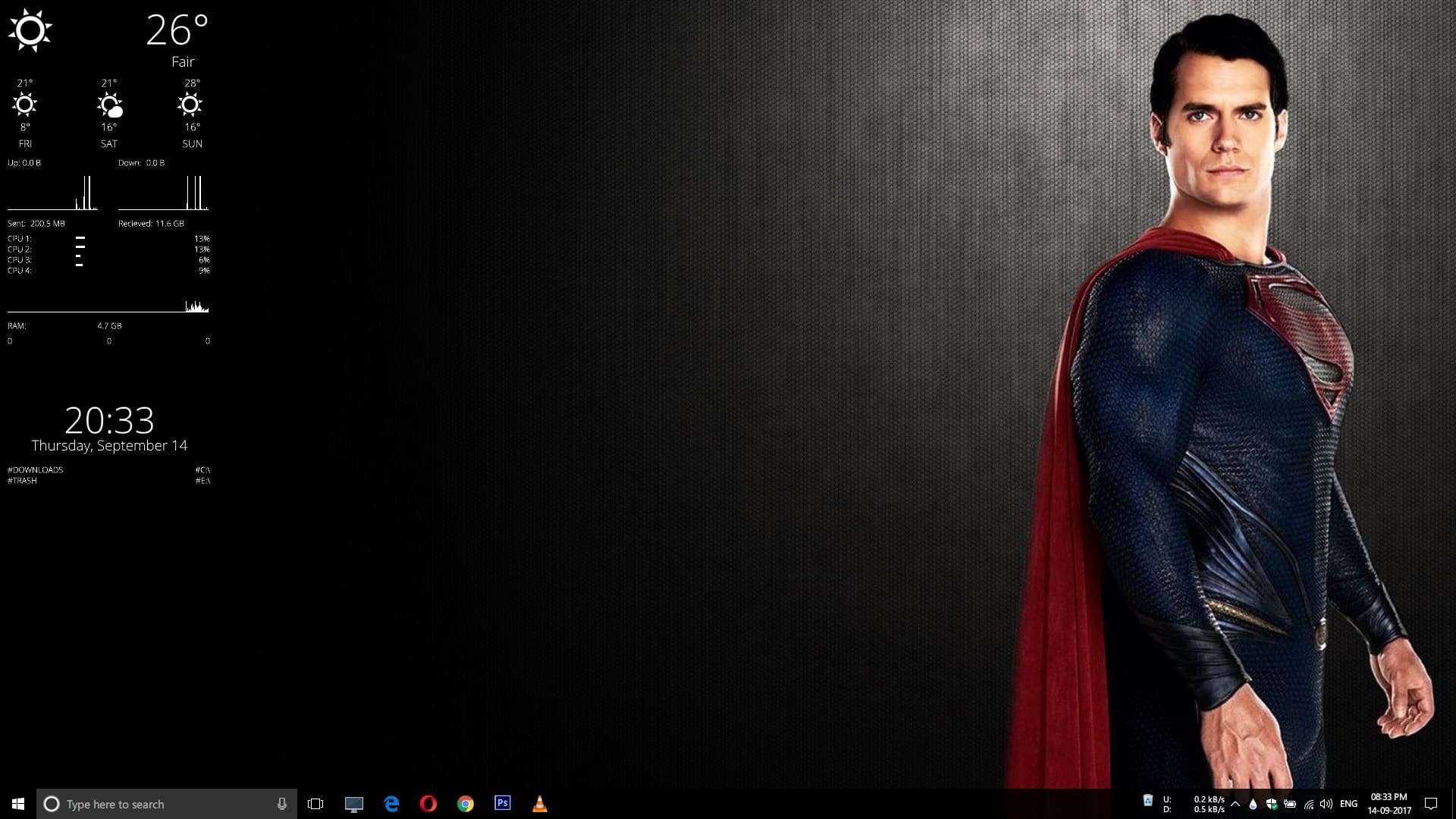 Harmattan only has one skin to load and there isn't much you can change about it. But it displays almost every bit of information you might need and looks good on Windows 10. The transparent background and white text mean it would look good only on darker backgrounds. If you're not someone who wants to be bothered setting up and customizing a skin, this is a good choice.
4. IronMan-Jarvis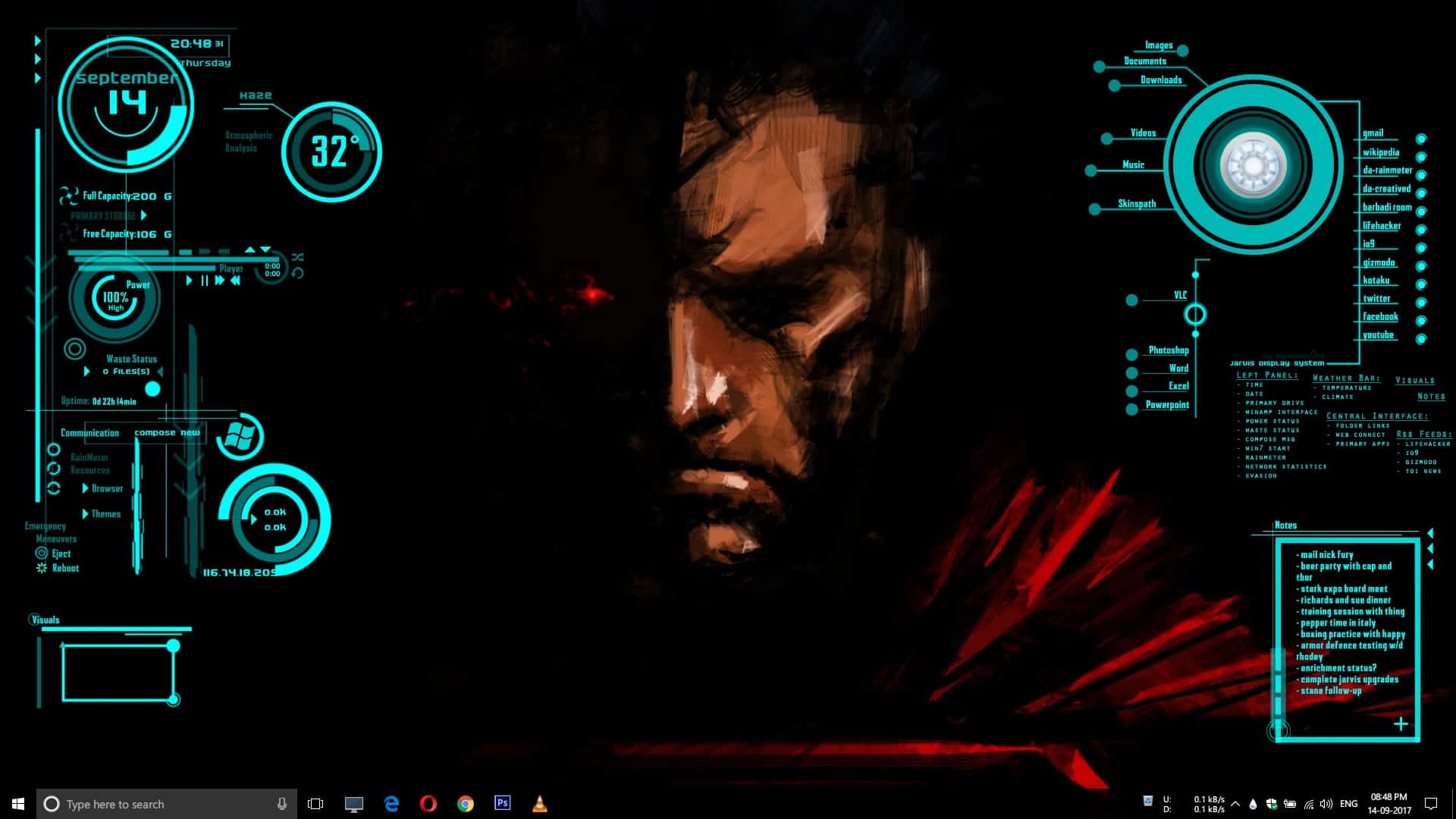 We've all seen Hollywood's version of a futuristic desktop and J.A.R.V.I.S from the Iron Man movies isn't very different. It may not be as clean or efficient but the cluttered informational screen does have its own charm. Thanks to Rainmeter, you don't have to be Tony Stark and build your own Jarvis.
Jarvis is super customizable, having multiple modules that can be easily re-positioned. It displays Clock/Date, Hard disk capacity and Temperature details, RSS feeds, and of course shortcuts to the system folders.
5. Avengers SHIELD OS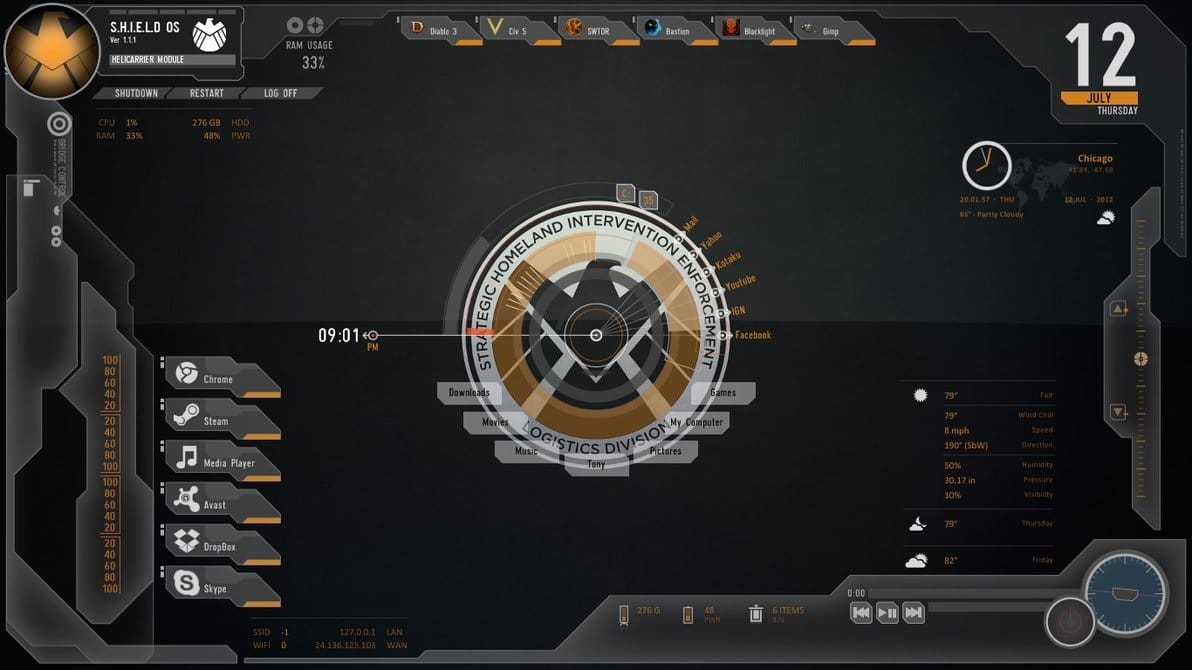 You can't order the Avengers to assemble as Captain America can. But you can always play Nick Fury while sitting at your computer thanks to this Rainmeter skin. The skin is available in multiple resolutions starting at 1366 x 768 to 1920 x 1080.
Apart from displaying the usual information such as date & time, RAM and CPU usage, it includes handy shortcuts to some common applications. These include Chrome, Steam, Media Player, Skype, Avast, Dropbox, etc. The skin also includes shut down and restart buttons and of course the SHIELD logo.
Don't miss: Add Windows Desktop Gadgets to Windows 10