When it comes to editing photos on phone, nothing is quite like Adobe Photoshop on the PC, but there are several apps that let you get things done much more easily. On your PC, until Windows 10 the choice wasn't as great. Apart from the obvious, that is Adobe Photoshop, your other options were tools like GIMP or Paint.Net. These have their own learning curves. There wasn't anything quite like the quick and easy mobile app experience. With Windows 10 though you are spoiled for choice thanks to the various photo editors for Windows 10 in the Microsoft Store.
These basic and user-friendly photo editors find their appeal amongst people who only look to apply effects filters. But the appeal is not lost on those looking for more serious editing as well.  It wouldn't be possible to try out every photo editor on the Microsoft Store for Windows 10. Especially since I don't do a lot of editing on my PC outside Windows 10. I've been on the lookout for such apps for the off chance that I just want to do something basic and don't want to load up the entire Photoshop app. So yes, all these apps mentioned below have been tried and found to be really great.
1. Matissa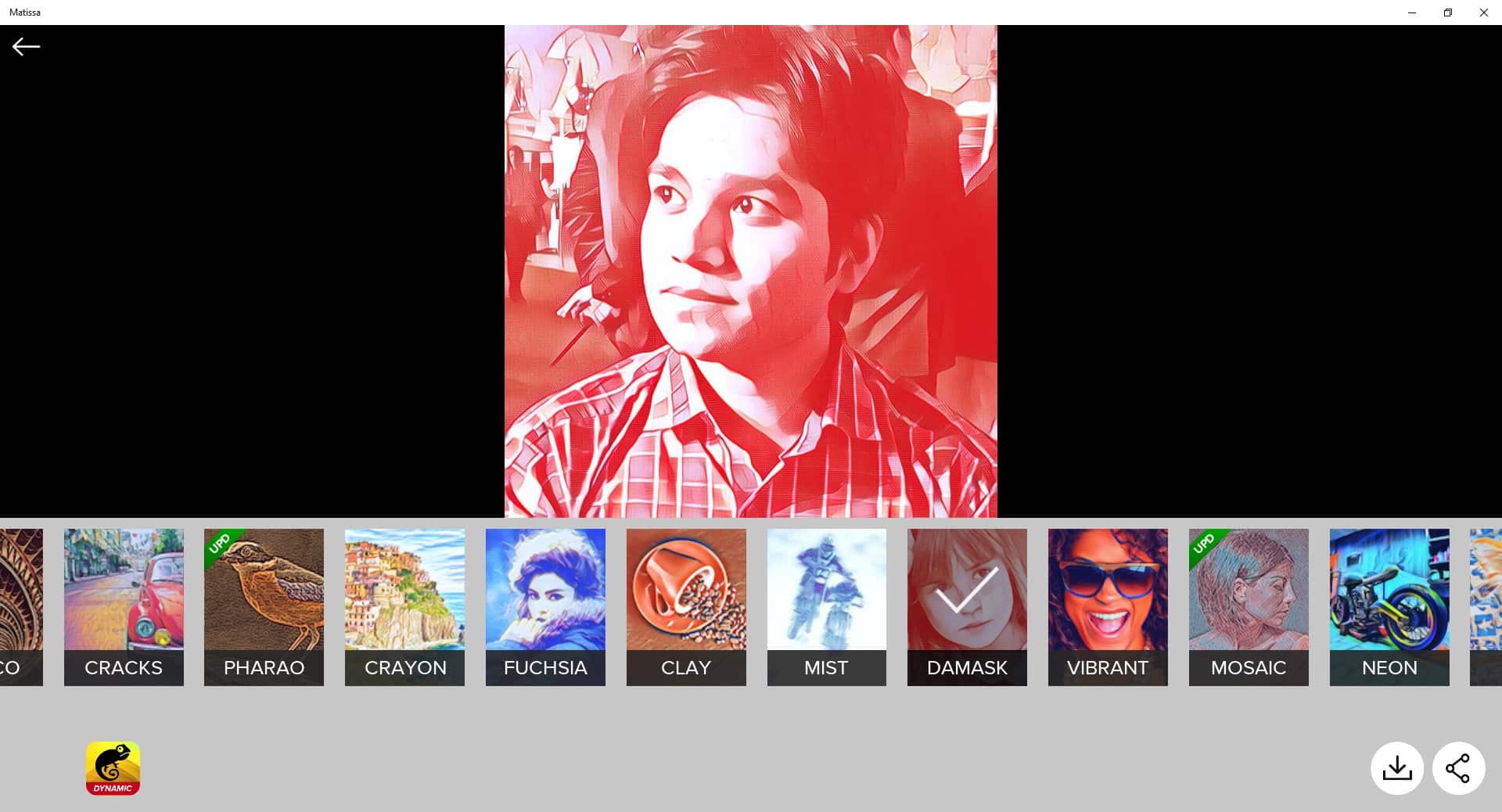 If you're looking to simply add a bit of a flair to your photos, Matissa is a great choice. The app is mainly intended to be used on mobile phones running Windows 10 and you can tell that the moment you launch the app. It still works very fine on a PC as it should, considering it is available for PCs. It launches in a portrait-oriented Window with only two options: TAKE PHOTO and USE GALLERY. Once you've taken a photo or selected one from your PC, you'll be required to crop it in a 1:1 aspect ratio. Then you can start playing around with about 40 artistic effects that may remind you of PRISMA from the Android/iOS worlds.
The selection of filters ranges from basic grayscale filters to colorful brush strokes. When you've found the effect or filter you like you can save the photo to your PC or share it directly.
Matissa – Download from Microsoft Store
See also: 5 Windows 10 Apps You Must Be Using
2. Fotor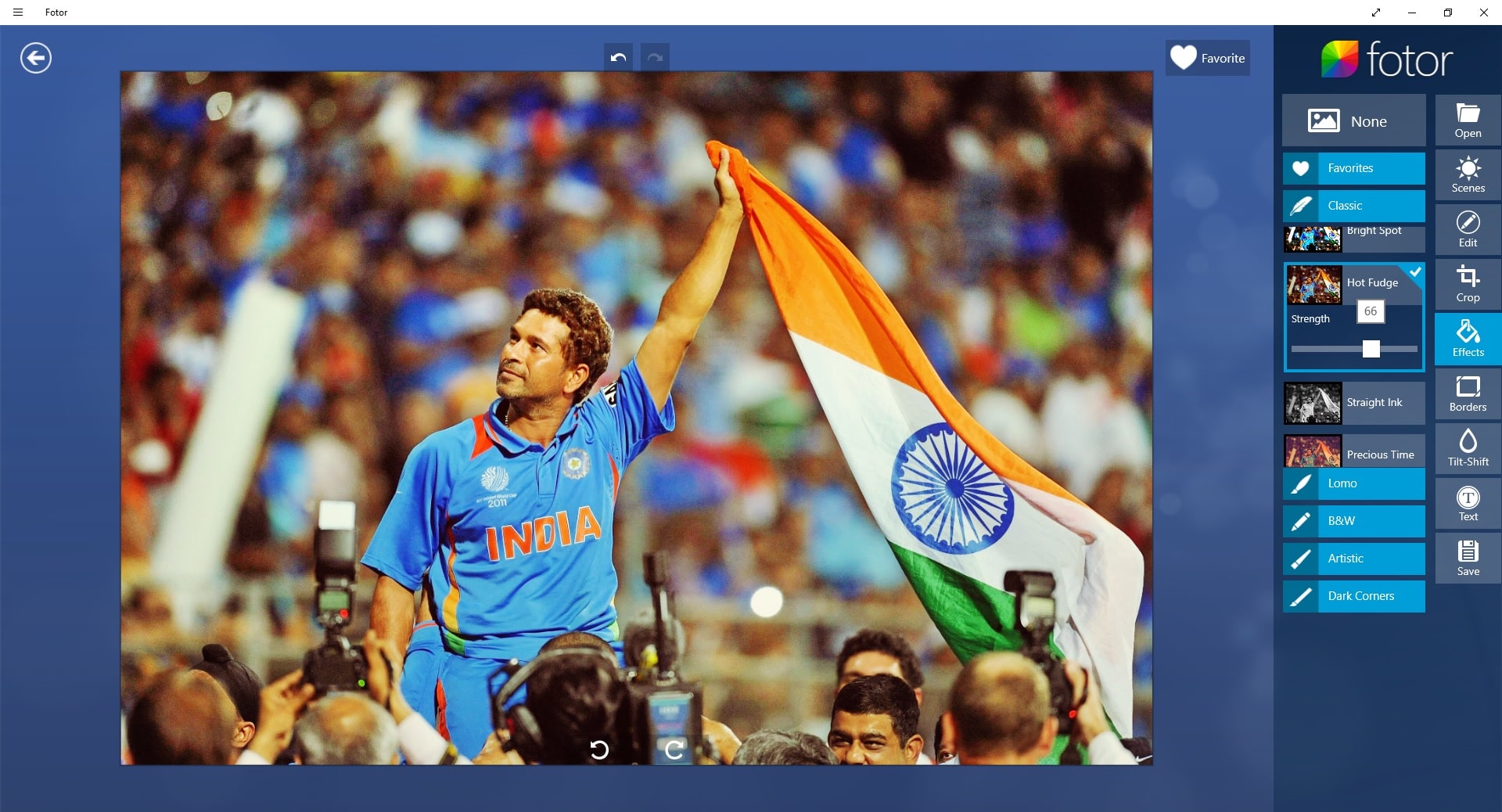 Fotor is a little more than Matissa, but it it isn't quite  Matissa. Of all the apps on this list, I've used Fotor for a much longer time than any other app.  It was one of the very first such apps available in the store, since the days of the tragic Windows 8 if my memory serves me right.  And once again, you can make a guess about that when you launch the app. It gives you only two options, on two very big tiles: Edit and Collage.  Collage allows you to stitch multiple photos together in a, you guessed it, collage. It's easy and simple but it is the editor we're going to talk about.
Right off the bat you can start selecting from various scene filters or click on a 1-Tap enhance button.  It can often work wonders with just a click and I can vouch for that. You can also manually edit settings like Saturation, Tint, Brightness, Contrast, etc. It lets you crop the image but unlike Matissa it isn't necessary. You can choose frames or apply filters. The filters, known as Effects in the app, are categorized into Classic, Lomo, B&W, Artistic, and Dark Corners. Collectively the number of effects is pretty decent but they're not like the artistic effects on Matissa. it lets you add text though, and even blur.
Fotor – Download from Microsoft Store
Don't miss: Stop Background Apps from Running on Windows 10
3. Fhotoroom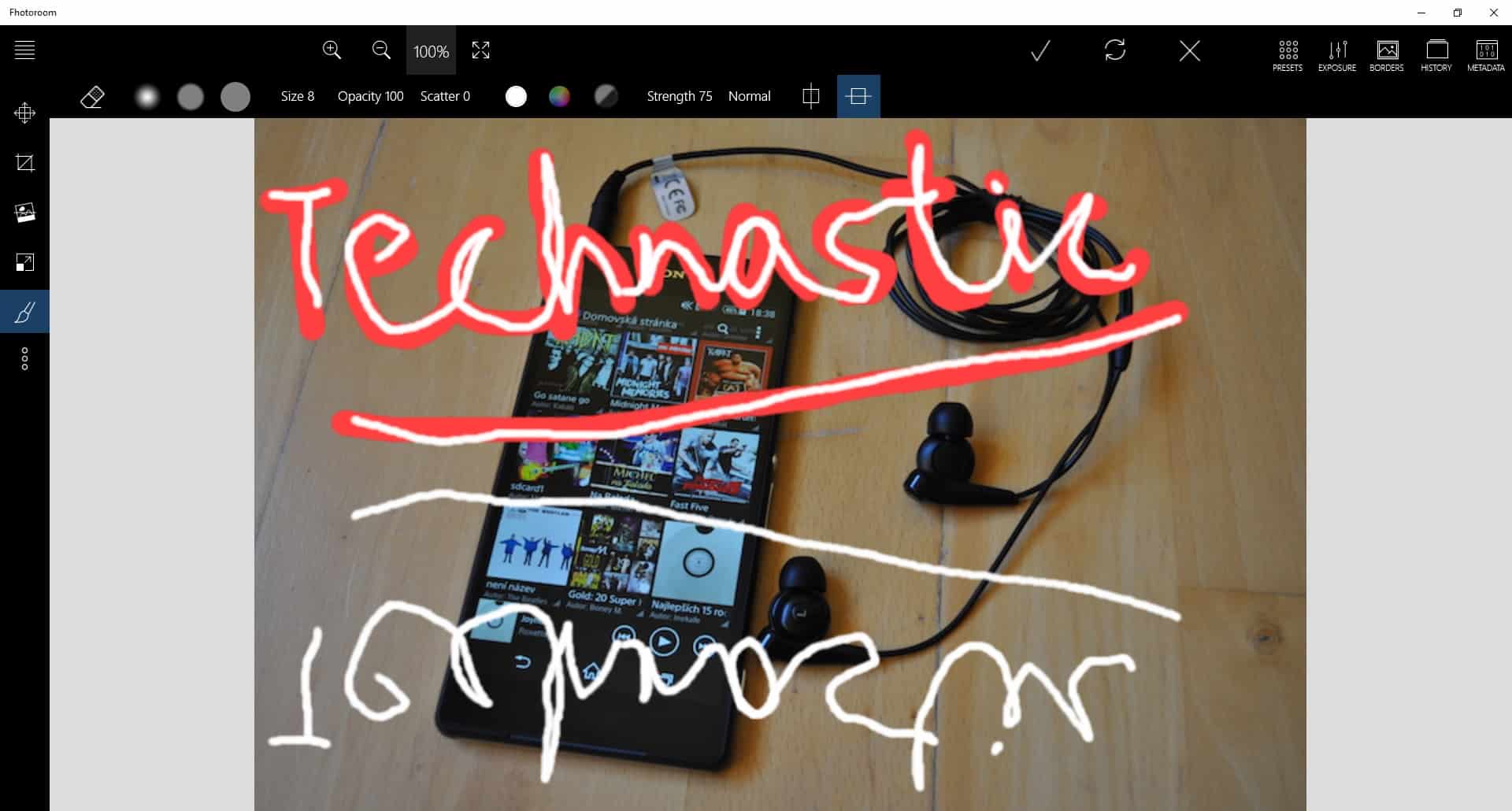 If Fotor was more than Matissa, Fhotoroom even steps over Fotor but it isn't quite Fotor. That is only because the number of pre-built presets, or effects or filters, whatever you want to call them, aren't quite there. There are only 17 filters out of which four are black and white. There are no artistic or Lomo filters here. These are all quite basic.  You can add borders but they're simply solid color borders, nothing fancy. There's a border blur that can be useful.
The real magic of the applies on the menus to the left. The Straighten option lets you play with the axis of the image. You can not only rotate images to 90 degrees and multiples of it but also to any angle you want. It lets you apply mirror effects at any angle as well. You can Resize the image and even draw on it with three kinds of brushes, of variable sizes, and colors. Clicking o the three vertical dots opens a whole new world of hidden secrets. The tools here include Color splash, Tiny planets, Tilt-shift, HDR, Lens,  and PanoRotate, to name a few. Fhotoroom is also available on Windows 10 mobile but the PC app lacks a few features in comparison.
Fhotoroom – Download from Microsoft Store
Must read: How to Install and Uninstall Fonts in Windows 10