Today we've got a nifty app to share called Windows 10 Auto-Night Mode which allows you to automatically switch between the dark and light themes on Windows 10.
Windows 10 has always had a dark mode/theme way ahead of macOS. However, it has also been pretty incomplete or inconsistent since not everything got themed dark. You could say, a complete dark mode had been in the works.  Google was also working on a dark theme for Android that they then pulled out from the stable version of Android Pie. Then Apple announced a full dark mode for macOS and it seems the other two companies are suddenly serious about rolling out a dark mode to their respective operating systems and apps.
To get a complete dark mode experience on Windows 10, you can enable dark mode in the Microsoft Edge browser as well.
Windows 10 Dark Mode
Back in October (or November for some of you), Microsoft finally completed the dark mode on Windows 10 by giving the much out-dated, legacy file explorer that's still present on Windows 10. With the October 2018 update, while the Dark theme on Windows 10 was complete, there was still something missing from the implementation.
The entire premise of a dark mode is that is is easier on the eyes, especially in the dark. Sure some people like a dark interface all the time, but some also prefer the light interface theme. For them, dark mode is just another option like night mode that only needs to be on during the night.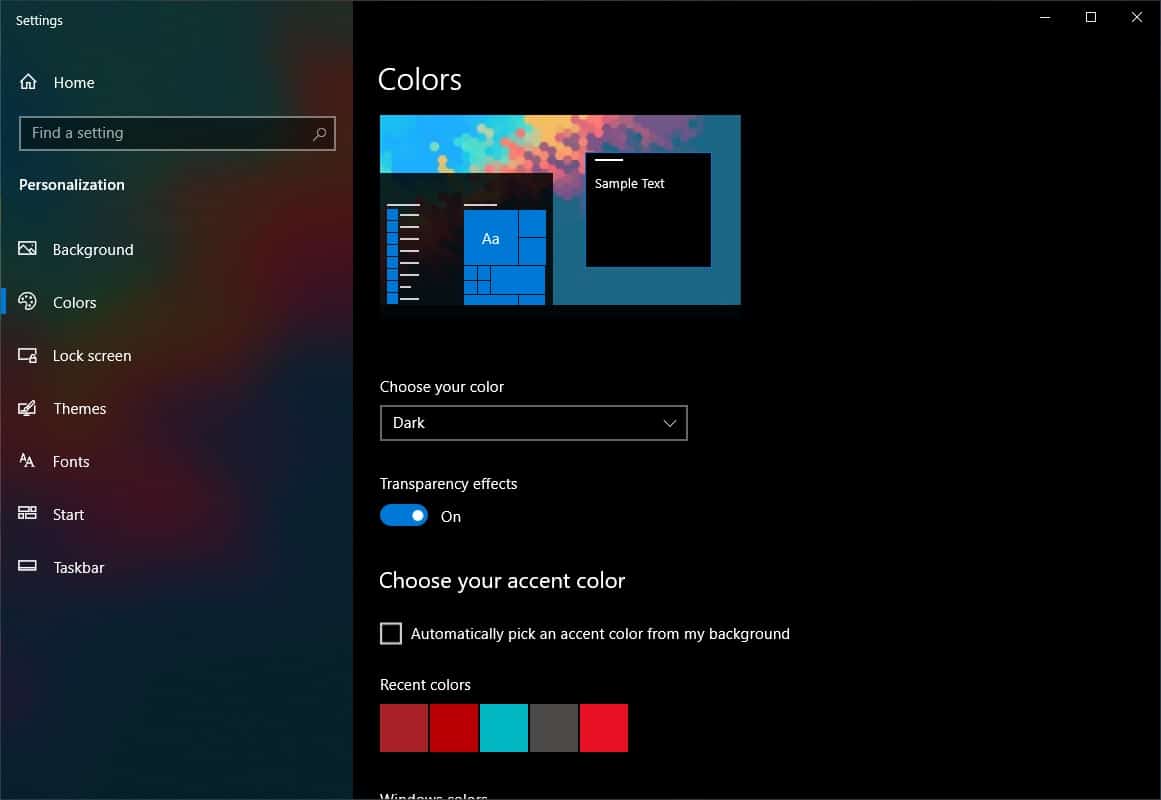 On Windows 10, this can be a problem because the OS does not automatically switch to the dark theme or dark mode automatically. There isn't even a quick toggle to turn the dark mode on or off. Instead, you'd have to manually go to Settings > Personalization > Colors to turn it on or off. You can see why this can be cumbersome if you had to do it every day after sunset or after a certain time when you usually turn off the lights in your home.
Windows 10 Auto-Night Mode
Auto-Night Mode is a free and open-source software solution that, if you couldn't guess, allows you to automatically switch between dark and light themes on Windows 10. It lets you enter a specific time at which the light theme is activated and then a time at which the dark theme is activated. If you check the box next to Use location services, it can even automatically set that time for you. By checking your location information, the app can determine the sunrise and sunset time for your location. It then switches the OS theme to dark after sunset and switches it back to light after sunrise.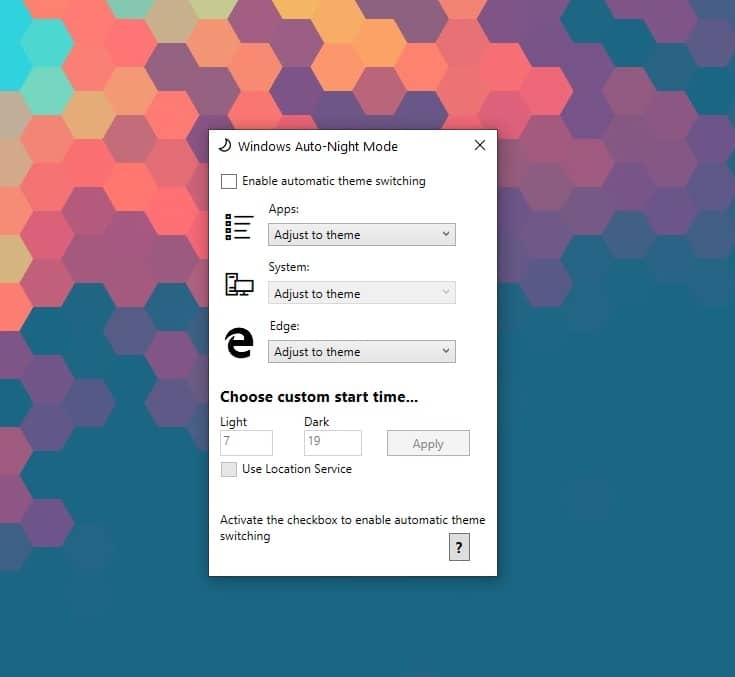 As you can see in the screenshot above, you can choose to theme just the system automatically while keeping Edge and other apps to a dark or light theme always. Or you could just let the system theme determine the themes for Edge and other apps. It's a simple app that does only what it says and there aren't many bells and whistles to confuse anyone.
When you try to install the app using the setup file provided, you may run into a Windows Defender SmartScreen warning. It's a known issue and the app is harmless. The warning is possibly triggered because the app will be changing some settings, like the theme settings. Just click More info on the SmartScreen dialog and then click Run anyway.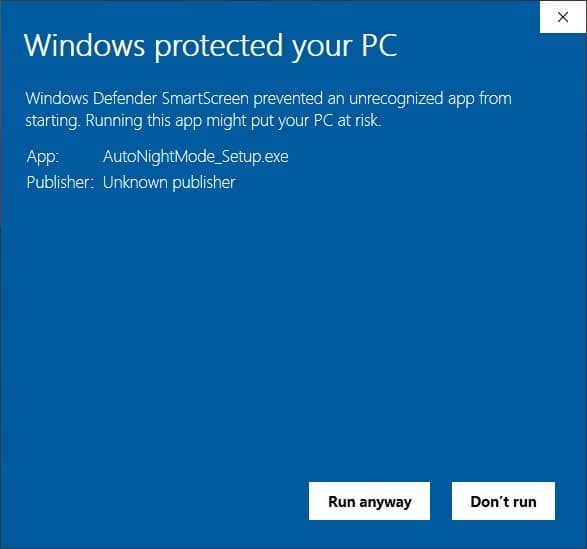 Set up a quick toggle to switch between dark and light themes

If you don't want it to switch between dark and light themes automatically, the app gives you another option. You can pin the app to your taskbar or Start menu. When you right-click on the start menu tile or the app's icon pinned on the taskbar, it gives you the options to select one of the two themes (Dark theme, Light theme). Thus, it provides you with a quick, easy toggle that Windows 10 should have provided in the first place. This way you can turn on dark mode only when you actually need to.
Read Next: How to Remotely Sign Out and Lock Windows 10 PC