Introduced in the Fall Creator's update to the Windows 10 Photos app, Story Remix is a new video and slideshow editor. It lets you add fantastic 3D animations in addition to music and transitions. Like Google Photos does on Android, the Windows 10 Photos app will use it's understanding to find content most relevant to you and stitch them together to create a beautiful video with a soundtrack, theme, and transitions.  You can keep the stories as it is or edit them, or you can create your own stories.
Not many people use the Photos app regularly for accessing their photos because, on a desktop, it just feels more natural to open the folder containing your pictures. And thus, many don't know about the new Story Remix feature. If you launch the Photos app by opening an image, you can't access the Story Remix mode. But if you launch the Photos app itself, you're directly taken to the Story Remix mode. Your pictures will slowly be indexed if this is your first time. Currently, there doesn't seem to be an easy switch to access Story Remix editor if you open the app by opening a picture.
You can use the search bar in the top right corner to make contextual searches. This includes searching pictures by the location they were taken at, content (cars, balloons, kids, etc.) among other things.
Create a Video project with Story Remix editor
Select Video project from the menu.
After that, select all the images and videos that you want to use to create your video project. Click the Add button in the top right one done.

You will then be asked to give a name to your video. Give it a desired name and click Create a video.
At this point, the video editor opens up. Here, you can edit, preview, and share your creation.
The app automatically adds transitions and a pretty nice soundtrack to create a video for you. You can preview it using the play button.
If you don't like it, you can select a different theme and the app will accordingly change the soundtrack and transitions. The Themes button is right there on the top-right.

Currently, there are 5 themes available to choose from – Adventure, Chilled, Classic, Electric, and Loved.
If you're feeling more creative, there is a Music button right next to the Themes button. It lets you add custom soundtracks to your video and also shows some recommended soundtracks. Furthermore, whichever track you choose, it is adjusted automatically to the length of your video.
There is also a 3D effects button which is only visible when editing a video clip, not images. To add 3D effects to your video, export it and save it and then edit it in the Photos app.
Specify image duration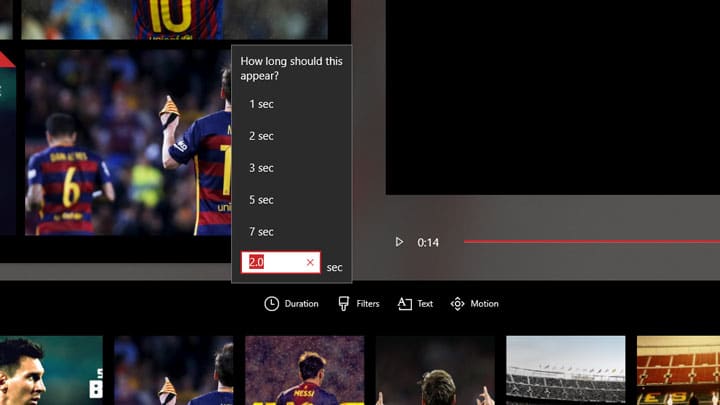 It is important to note here that any image you add to the video project will be displayed for a default time duration associated with it. You can easily change that by selecting an image and clicking the Duration button.