I have been using wireless neckband earphones for 4 years now and am kind of addicted to them because of the convenience they offer. It's the first time though that I decided to write a review of the Sony WI-C600N wireless noise-canceling headset I purchased a month ago. Since I also have 2 other wireless neckbands namely the Samsung U Flex and Sony WI-XB400, my Sony WI-C600N review will be based on my personal experience with those wireless headphones.
I am a music lover but I hardly use earphones for that. I love wireless earphones for stuff like talking to people because holding the phone to ear for a long time is a painful experience. Like many others, I find wireless neckband headphones more convenient than wired earphones and earbuds during work hours, commute, flights, and while driving (which I do a lot). Having used the Samsung U Flex for 2 years, I decided to get a good neckband headset that was better than the one I already had in terms of weight, battery backup, audio quality and supported the USB C-Type charging port.
After a lot of online research and reading users' reviews, I purchased the Sony WI-XB400 that offered technically everything I was looking for. It was very lightweight (22.7 g), offered a great battery life of up to 15 hours, audio with extra bass, and also supported USB Type-C. This earphone has got thousands of positive reviews and that really was a factor why I ordered it. Having used it for some days, I was a bit disappointed because it got automatically disconnected very often and the people on the other side of calls reported not getting my voice clearly.
So, the hunt for another neckband continued and finally ended up with an even costlier wireless headset Sony WI-C600N. It has now been a month since I have been using it. As a daily user, I rate wireless headphones on the basis of the following points:
The audio quality of the music
Voice quality for calls
Battery life
Stability of Bluetooth connection
Notification to alert the user of incoming calls
Multi-point connection
Weight
Ease of use
If I have to tell you which of my 3 wireless neckbands is the best, I'll name the Samsung U Flex without a thought. The only thing I don't like about it is its bulkiness.
Sony WI-C600N Review
Anyway, let's talk about Sony WI-C600N without any more diversions. WI-C600N is Sony's flagship wireless neckband headphone with the noise-cancellation feature. It comes with a 5-digit price tag of INR 10990 ($148.50) and that puts it among the premium segment headphones. So, does this earphone justify the price by offering the experience one may expect from it?
Sony WI-C600N boasts of some really cool features like NFC support, Digital Noise Cancellation, Digital Sound Enhancement Engine, Qualcomm aptX, HD voice in calling, USB Type-C, and a battery life of approx 6.5 hours with NC enabled and 7.5 hours without noise cancellation. All these things, however, are only on paper though and require a reality check and we would start with the design and build quality of the Sony WI-C600N.
What's in that Big Box?
Sony WI-C600N comes in an attractive white box and great packaging. Inside the box, you will obviously find the headphones, some extra silicone earbuds to fit your ear, and a 6-inch tall Type-C USB cable for charging.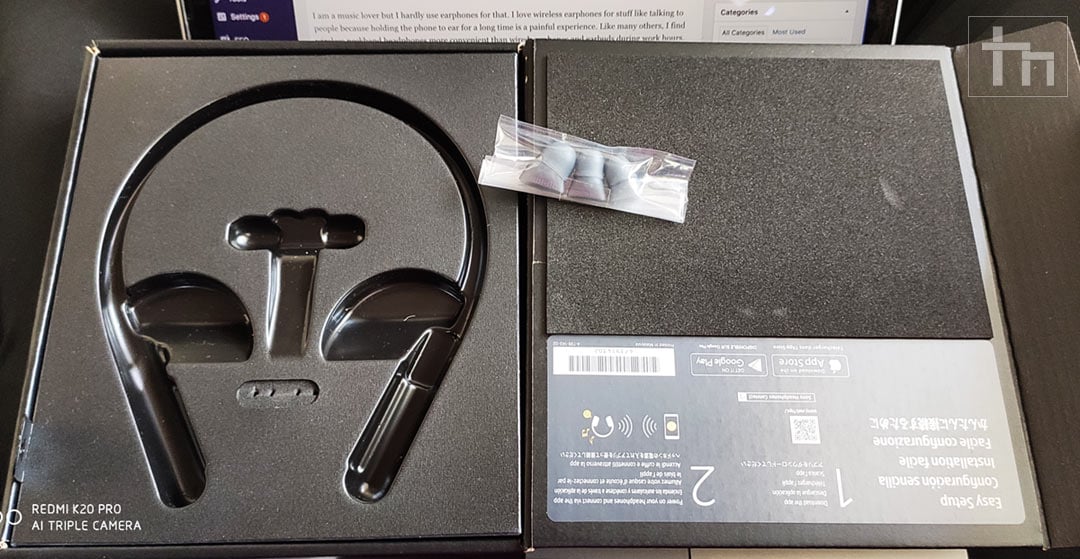 Sony WI-C600N Design and Build Quality
When it comes to the design of Sony WI-C600N wireless headphones, it does not have any wow factor. However, I still think it looks good. It is made of high-quality hybrid silicone rubber which feels durable and has soft touch. It's only on the cylindrical edges on both sides that you'll find some hard plastic used with the manufacturer's branding.
The lower end of the left cylindrical part houses the play/pause button that can also be used to receive and end calls. Just above that, there are volume controls and a power button. There's also an LED indicator that lights up when you turn the headphones on or off, connect it to some device, or put the device on charging. Then, there's also a USB Type-C charging port.
While the left side of the headphones is very much populated, the right side just has one button to turn the noise cancellation or ambient mode on or off. This cylindrical part contains the battery inside.
Sony WI-C600N weighs just 34 grams and that makes it really convenient to wear around your neck without constantly being aware of it. The flexible silicone neckband is comfortable because it's thin and feels soft. Thanks to the compact 6mm drivers used in the earphones that help keep them small for a comfortable fit.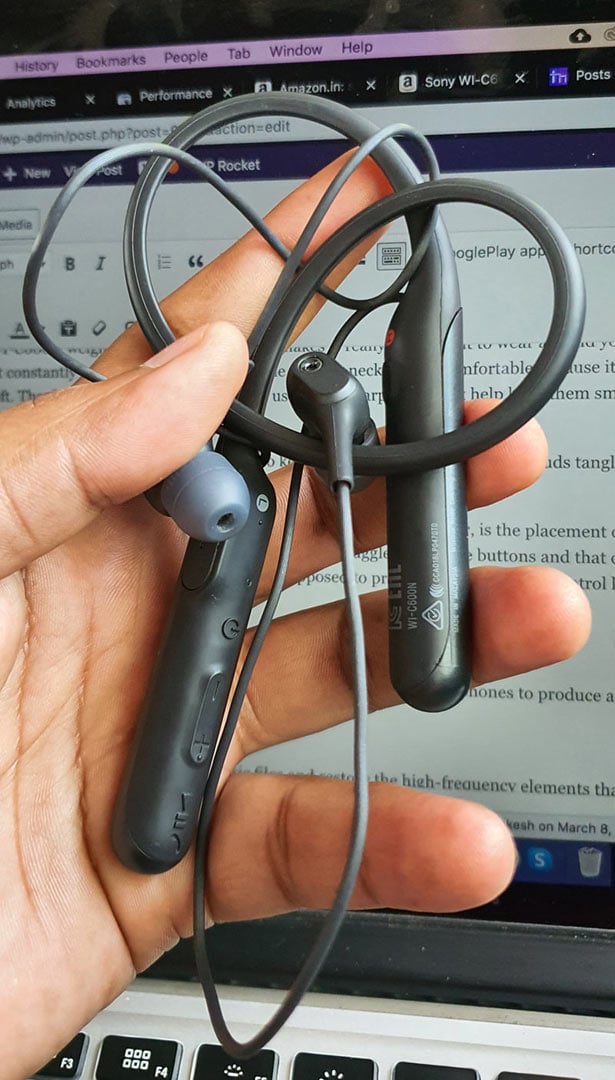 The earbuds have a Neodymium magnet to keep the wires connecting the earbuds tangle-free when they aren't in use.
One thing that I don't like about the Sony WI-C600N design, in particular, is the placement of the control buttons. Even after one month of regular use, I have to struggle to find the buttons and that doesn't feel cool at all. Also, to increase the volume, you are supposed to press the lower volume control key and vice versa.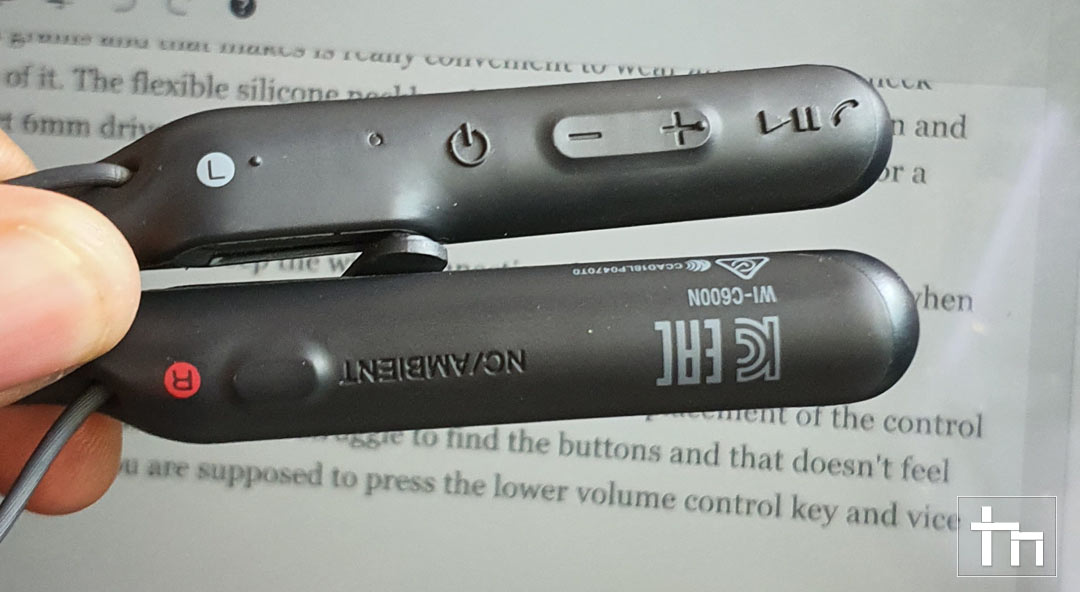 Performance, Audio Quality, and Sound Output
A 34-gram wireless neckband headphone with noise cancellation and a high price tag coming from a big brand like Sony is sure to create hype or curiosity about its real-life performance. I was really very excited after spending INR 10K on wireless headphones. All my older earphones were priced between INR 3000 to 4000. Having spent 2-3 times more for the noise-canceling feature, I really expected a performance that justified the price I paid.
Sony WI-C600N's audio quality is neither too good nor average. It offers a balanced audio output. The 6mm drivers do help make the headphones lighter but they have a negative impact on the function of noise cancellation. If you are an audiophile, you may not find the audio quality of the Sony WI-C600N very impressive. On the unit I got, the noise cancellation sometimes stops working. In my personal experience, Sony WI-XB400's sound quality is equally good. The only thing is, it doesn't have the noise-canceling feature but it's 3 times cheaper. As for sound loudness, Sony WI-C600N louder volume than most other wireless headphones.
Music Quality
Sony WI-C600N can be customized in many ways using the Sony Headphones Connect app. The headphones can read out the battery level if you press the Power button. Sony Headphones Connect also shows the battery percentage.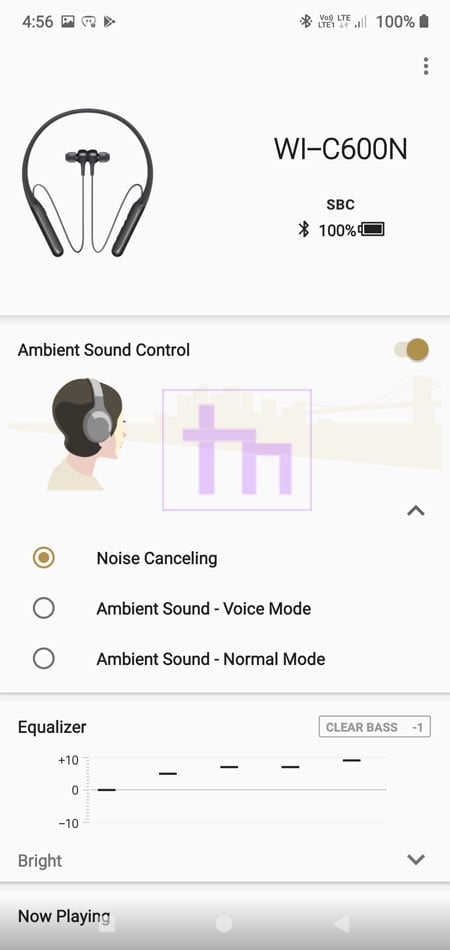 The app lets you select from 3 ambient sound modes:
Noise Canceling: It lets you enjoy immersive sound by eliminating all unwanted noises around you.
Ambient Sound – Voice mode: In this mode, the headphones catch only high-frequency sounds like human voices mute everything else.
Ambient Sound – Normal mode: Enable this mode if you want to hear all sounds coming from your surroundings while listening to music.
Using Sony Headphones Connect, you can also choose from 12 equalizer presets, namely Bright, Excited, Mellow, Relaxed, Vocal, TrebleBoost, Bass Boost, Speech, Manual, Custom 1, and Custom 2.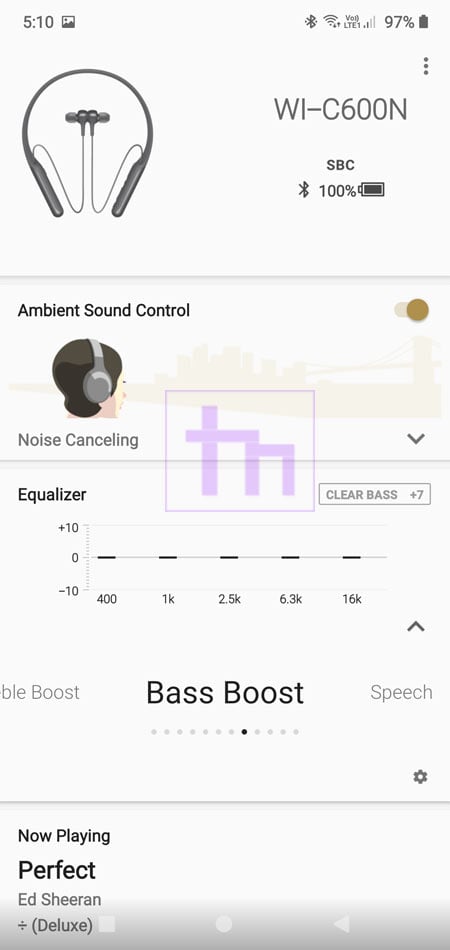 Next, you can also choose between two Sound Quality Mode priorities and enable or disable DSEE (Digital Sound Enhancement Engine). DSEE digitally boosts the sound quality of compressed music files. When I tested this feature by playing a compressed music file, it really gave better audio output as compared to the other headphones I have.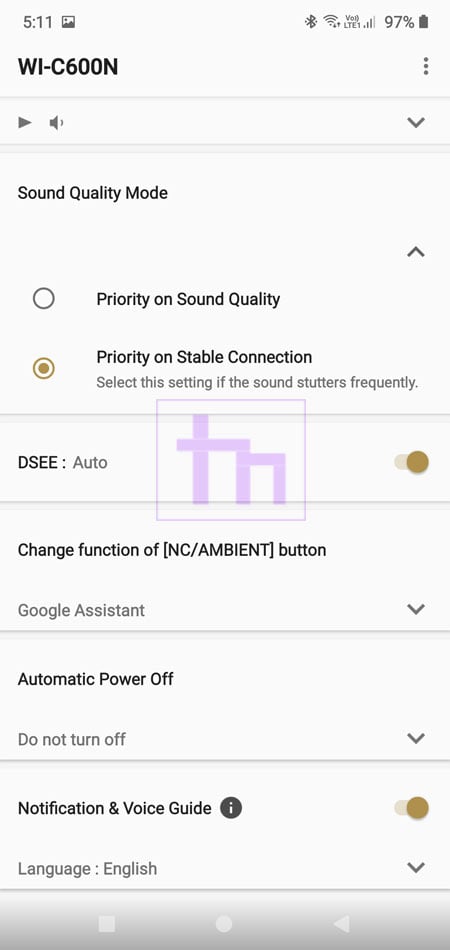 Audio Quality During Calls
While the sound quality of the Sony WI-C600N is good enough while playing music and videos, it surely disappoints during phone calls. I was excited about its support for HD voice in calling but believe me it failed me. It irritated me by the noises of my surroundings. I tried switching between the 3 modes in Ambient sound Control but it did not make any change.
Anyway, I decided to reconcile myself with this issue. However, the persons on the other side of the call kept reminding me that they couldn't hear me clearly as they hear some sort of constant buzz and noise along with my voice. At first, I took it for some network issue but when I switched to Samsung U Flex, they reported that they can hear me clearly.
The thing is if you are looking for a headphone just for music, you can go for Sony WI-C600N but if you also want a good experience during calls, you should go for something else.
As I hinted above, the headphone has some other performance-related issues too. For example, once you go out of Bluetooth range, your phone and headphones get disconnected and do not connect automatically when you are near your phone. You must reconnect your device and the headphone. I tried to fix the issue through the Sony Headphones Connect app but it didn't work. Another issue is, you don't get notified by any means if you can't hear the ringtone on your phone. Most wireless earphones support vibration to tell you that you are being called by someone.
Sony WI-C600N's Battery Life
Battery life is probably the biggest concern with any portable device, be it a smartphone, smartwatch, laptop, or wireless headphones. As for Sony WI-C600N, the OEM claims an average battery life of 6.5 hours with noise cancellation turned on and 7.5 hours when it's disabled.
To be honest, if a headphone can play audio for about 6 hours continuously on the go, it can be called decent enough. The battery department is where Sony WI-C600N performs most pathetically. I remember how it drained 74% of the battery in 12 hours without use. I attended just 2 calls while driving and by the time I got back home at 7 in the evening, only 36% of the battery was left. Usually, I use my wireless headphones most for calling and bingeing on NetFlix, Prime Video, ZEE5, and Hotstar. Whatever the official claims may be, I don't think my Sony WI-C600N offers more than 3.5 to 4 hours of battery life.
Verdict
Having read my personal view about the Sony WI-C600N, you might form a negative opinion about this headphone. If you are an audiophile and want a wireless earphone with amazing audio output, this one will not make you feel happy with what you get after spending INR 10,000. There are some really good options out there for cheaper. Sony WI-C600N is very comfortable for wearing because it is lightweight and has soft touch. Bad placement of control buttons and even worse experience during phone calls, is the biggest drawback of this headphone.
The more you pay, the more you expect and Sony WI-C600N clearly disappoints you on several fronts. It looks good, feels good, and sounds a bit better than some cheaper headphones. If I have to rate this headphone on a scale of 5, I would generously give it 3.1 stars. With that said, I would wind up my Sony WI-C600N review now.