Samsung just unveiled the new range of Galaxy S23 smartphones in their Unpacked event yesterday. While the S23 looks the same as its predecessor Galaxy S22, it does come with a new set of stock wallpapers. When it comes to wallpapers, Samsung always goes the extra mile with them. The Galaxy S23 wallpapers are no exception. In this post, you'll find all the static, live, and Dex wallpapers from the Galaxy S23, S23 Plus, and S23 Ultra in QHD+ resolution. You can download a total of 23 stock wallpapers and 4 live wallpapers in MP4 video format.
Whether you're a fan of Samsung phones or just love wallpapers, then you are in for a treat. Check out the new Galaxy 23 stock wallpapers, now available for download. Get your hands on these amazing and high-definition wallpapers for your phone, laptop, or tablet, and make sure your device stands out from the rest.
Samsung Galaxy S23 Stock Wallpapers
When it comes to wallpapers of the Galaxy S lineup, Samsung usually picks a theme and ships different color variants of the same wallpapers that go with the different colors of the phones. The S23 wallpapers duly complement the color of the Galaxy S23, S23 Plus, and S23 Ultra smartphones.
The wallpapers provided in the zip are in QHD resolution and PNG format. From colorful abstracts to soft pastels and bold geometric shapes, these wallpapers will add a unique flair to your device that you won't be able to find anywhere else. In addition to the regular wallpapers, you'll also find Samsung DeX backgrounds as well as animated or live wallpapers all of which look absolutely stunning. The Galaxy S3 stock wallpaper pack also included the One UI 5.1 wallpapers.
One UI 5.1 Wallpapers
The following 4 wallpapers are from the latest One UI 5.1 update. They are not Galaxy S23 wallpapers technically, but they do come with the device. The resolution of the One UI 5 wallpapers is 3000 x 3000 px.
Samsung Galaxy S23 Stock Wallpapers
Then, there are 11 stock wallpapers that are also in QHD+ resolution but their size is 3088 x 3088 pixels.
Galaxy S23 DeX Mode Wallpapers
You won't find the following 8 wallpapers if you own the Galaxy S23, S23 Plus, or S23 Ultra because they are used as backgrounds for the Dex Mode only. Since they are high in quality (3088 x 3088 px), you can use them on your PC or laptop as well.
Galaxy S23 Ultra Live Wallpapers
Finally, there are 4 beautiful live wallpapers with a resolution of 1440 × 3088. Needless to say, they are in MP4 format.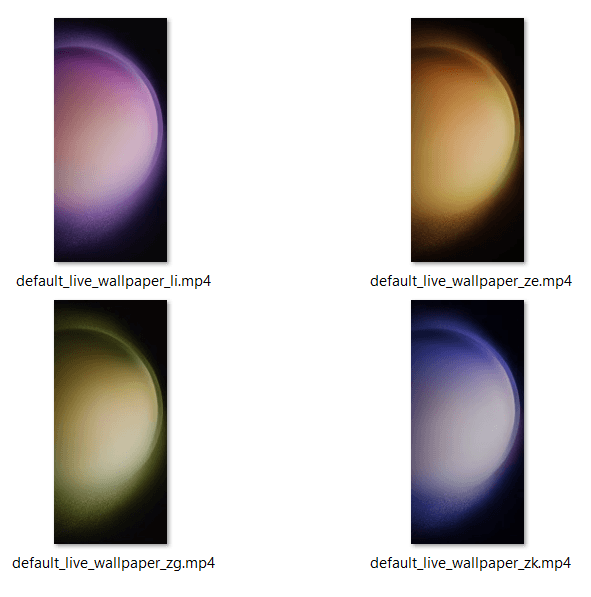 Download S23 Static and Live Wallpapers
If you like the wallpapers previewed above, you are just a few clicks away from getting your hands on them.
Samsung-Galaxy-S23-Wallpapers.zip | (153 MB)
If you don't want to download all the wallpapers from the S23 Ultra, you can download only the ones you like from the Google Drive links given below.
Read Next: List of 300+ Most Useful Websites in 2023