We've all seen desktops cluttered with icons and many of us even have one of those. I usually never keep a single icon on my desktop. Other than the fact that it ruins the aesthetics of an otherwise beautiful wallpaper, there is another reason. Once you decide to let a few icons live on your desktop the icon list grows like fungus. Before you know it is everywhere on the desktop. But desktop icons have a purpose. They allow you to access your most-used files and apps easily. Sometimes, when you're a professional, avoiding desktop icons is not a choice. This is where Stardock's Fences can come in quite handy as it lets you organize Windows 10 desktop icons for a cleaner desktop experience. Alternatively, you can organize your desktop icons view to list and details view as well.
Fences are basically like a folder group that we're now familiar with on our smartphones. It's a bunch of icons grouped together to occupy less space. You can place your icons, shortcuts, files and folders, all inside Fences on your desktop. This results in a much cleaner more organized Windows desktop and it also looks natural. It looks like an integral part of Windows, especially Windows 10. It is surprising that Microsoft hasn't learned something yet, considering the app has been around for about half a decade.
Organize Windows 10 Desktop Icons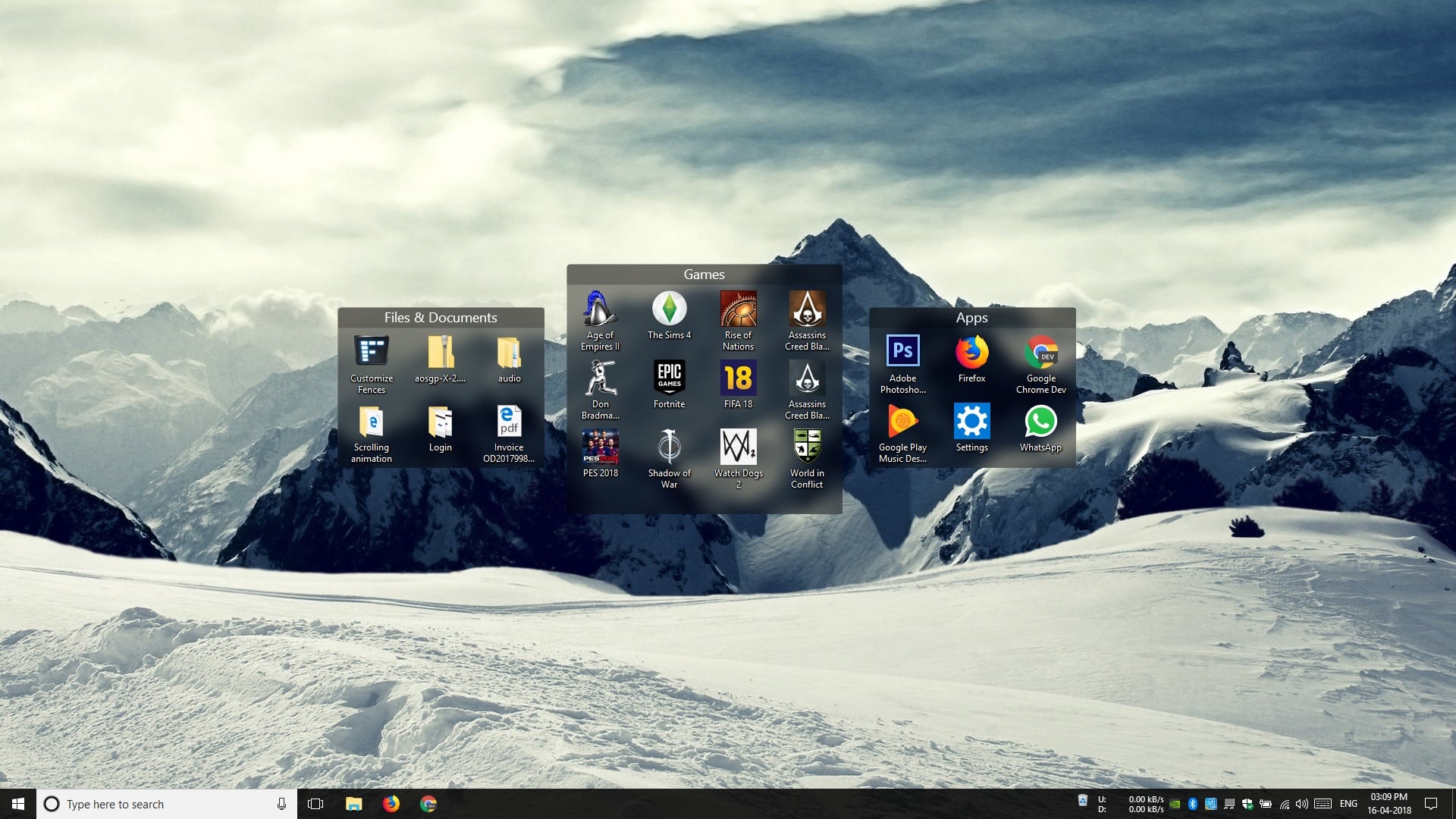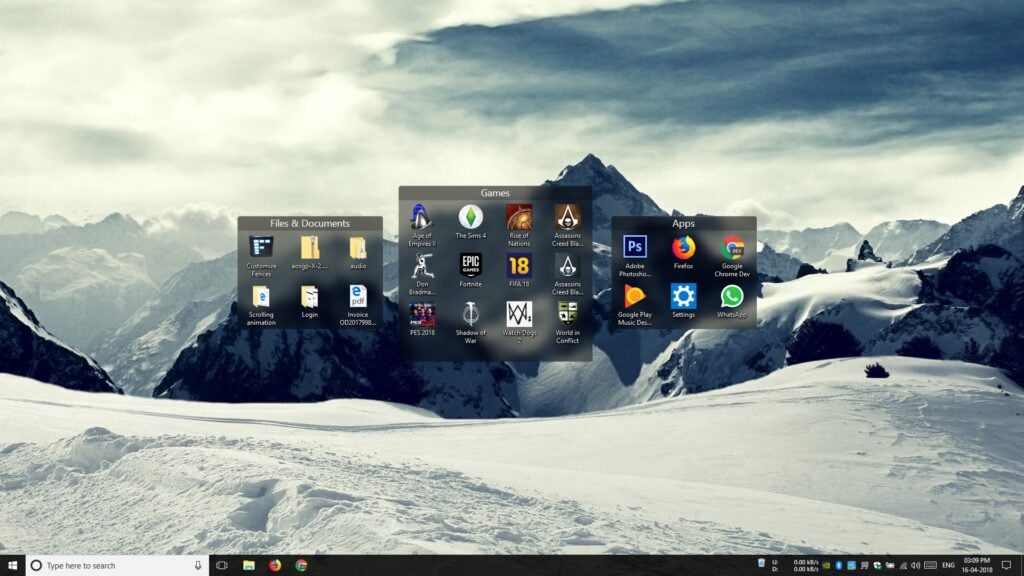 When you install Fences, it automatically sorts out all of your icons into a separate Fence except the Recycle Bin icon. All the icons work and behave exactly as before, double-click to open, right-click for options. To add a new icon to a Fence you just have to drag and drop it like you would on your smartphone. Similarly, you can move icons out of a fence too. You can resize or move the Fences around like you would resize or move around a Window.
You can fit as many icons as you want without worrying about the size though. Any icons that don't fit into the allotted space will simply be pushed below, and you can scroll down on the fence to see them. It takes care of screen resolution changes by preserving the desktop layout automatically. It also moves all fences to any new primary monitor that you connect to the computer. If you double-click on the desktop, Fences can even hide all your Fences and desktop icons. This is really convenient for people like me or those who like some privacy. When you want the icons they're simply a double-click away. This is also true for any icons on your desktop, inside or outside of fences.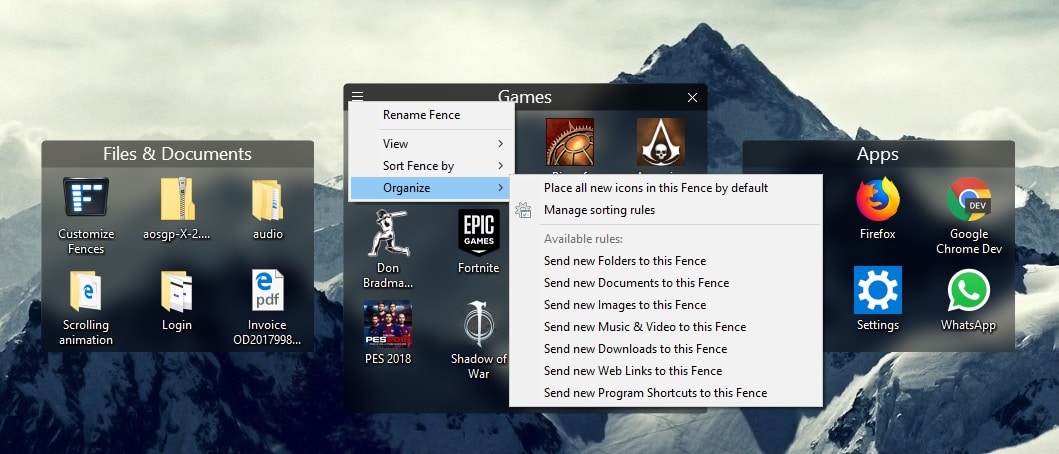 Each Fence has a hamburger menu icon that you can click to access the menu. Here, you can select to rename a Fence, also possible by simply clicking on its name, select your sort preference or Organize. Under Organize, you will be able to select various rules that define how new files, folders or shortcuts that land on the desktop are handled. You can make a fence the default fence for all new icons on the desktop. Alternatively, you can make it the default for only new folders, only new documents, only images, only music & video, Downloads, etc. If you take advantage of these rules you never even have to manually sort out your desktop icons.
Configure Fences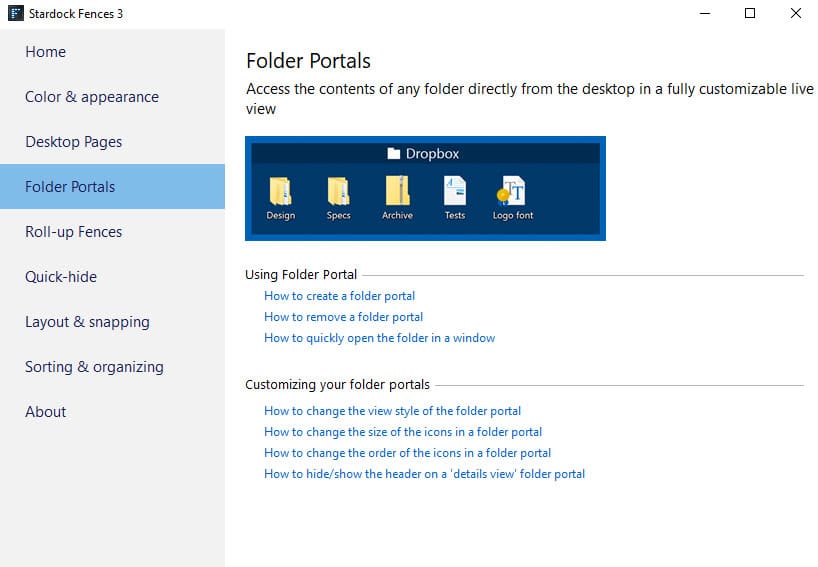 This is all just scratching the surface. The program has a lot more features once you're in the Configuration window. To access this, you can click on the Customize Fences icon that it automatically places on your desktop. Alternatively, you can just right-click anywhere on the desktop and select Configure Fences. Once you have configured it, you'll be able to organize your Windows 10 desktop to your liking.
Under Color & appearance, you can change both the color of the fences as well as the opacity. If you're using Windows 10, you can also enable the background blur. It allows you to change these settings for all the Fences at once or change individual settings for each fence separately. This can lead to quite a colorful desktop.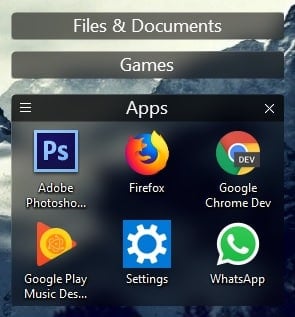 Folder portals let you display the contents of a folder and interact with it live on your desktop. It's like having a folder open on your desktop at all times. To do this, simply press and hold the Alt key while you drag and drop a folder on the desktop. Right-clicking a Fence's title bar and going to View lets you select an option called Rollup Fences. A rolled-up fence only displays the Fence title bar, thus helping save even more space. To view its contents and interact with them you simply have to mouse over on the fence.
Desktop Pages let you create different pages on your desktop with different Fences. This can be useful if you carry your laptop to work and you use a different set of files and apps at work and another set of them at home. To create or navigate between Desktop pages you just have to grab and pull the edge of the screen from the left or right. The configuration Window has a quick guide to almost every query you may have. Make sure to check those out. Not just that, you can also organize the taskbar icons by moving them to the center.
Download Fences
Fences is available as a free trial for 30 days on Stardock's website. This is enough time to make up your mind about it, after which it will cost you $9.99.
Once you have a clean desktop, you can make it look geekier by adding desktop gadgets to your Windows 10 desktop.