The popular image and video sharing platform Instagram is getting quite a few updates as of late. The latest to get hold of it is the Boomerang section that allows creating back and forth looping mini videos. With the latest Instagram update, Boomerang has got three new filters to make your short clips even more interesting. These are SlowMo, Echo, and Duo. Apart from these filters, the app now also allows you to trim the length of Boomerang. Let's have a look at each of these features and the steps to access them. On that note, check out the Best Apps to Create Instagram Stories.
Instagram's New Boomerang Filters
🐢 SlowMo
🗣 Echo
👯‍♀️ Duo

Boomerang has new creative twists that'll make you say yaaassssss. Try them all out today. pic.twitter.com/wp0A71RefL

— Instagram (@instagram) January 10, 2020
These new filters available in the Boomerang section of Instagram definitely make your short stories quite engrossing and fascinating. The first one is the SlowMo. As the name suggests, it slows down your Boomerang videos to half its original speed. The Echo effect adds a motion blur effect to any moving part of the video. The third and final one is Duo which rapidly rewinds your video backs and forth giving it a digitized and texturized look. If you wish to try out these effects, here are the steps to be followed. Moreover, refer to this guide to Save Your Instagram Photos and Videos.
Steps to Access these Filters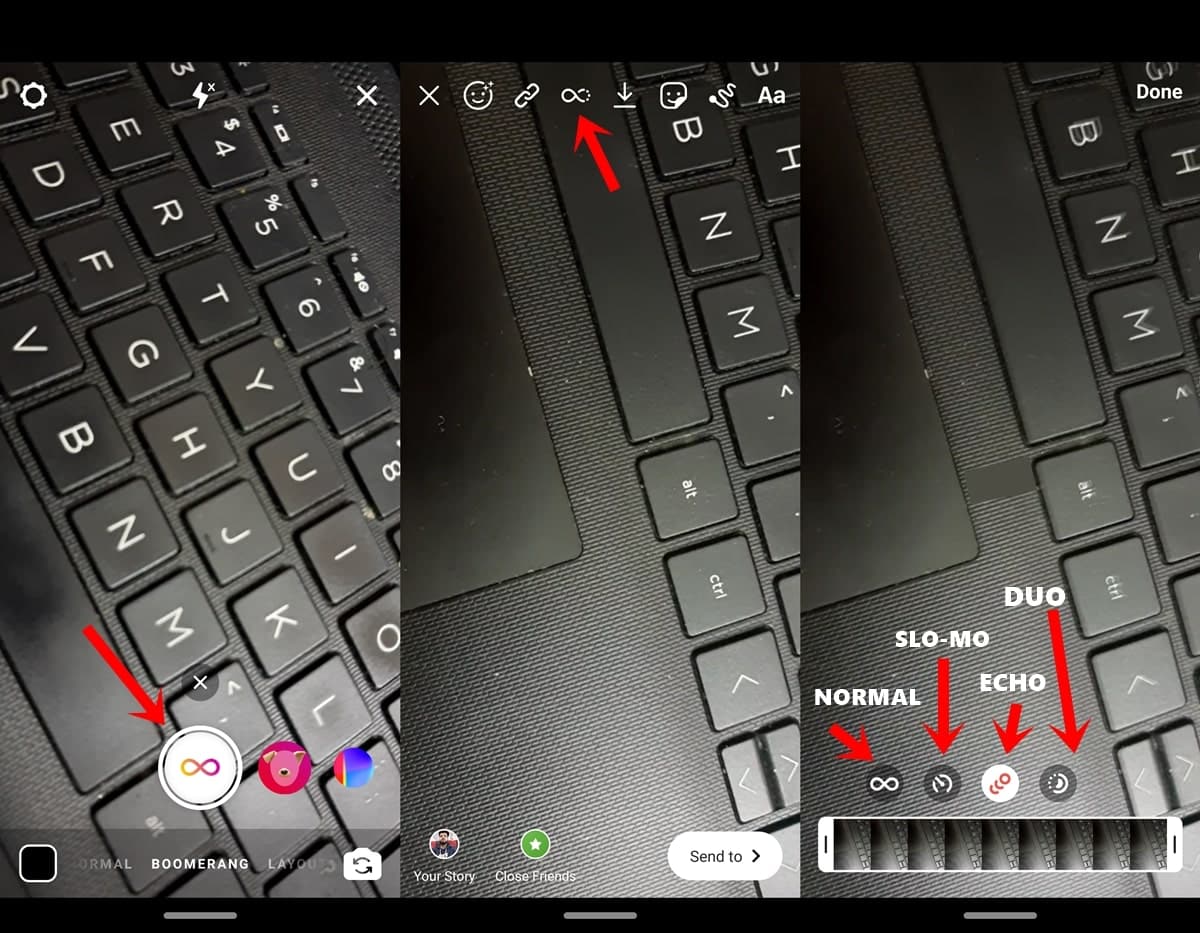 Open the Instagram app and tap on Your Story.
Go o the screen where you add a new story and tap Boomerang from the bottom menu.
Record a Boomerang of the desired length and then tap on the Infinite loop icon. This is where you could find the Instagram's new Boomerang filters.
You'll now have three filters to choose from. It starts with Normal, which is the default state of your story without any filter. The next three are SlowMo, Echo, and Duo, as mentioned before. Go ahead, upload your Boomerang with the desired filters and brag about it.
Don't Miss: How to Use Multiple Instagram Accounts on Android
So this was all about Instagram's new Boomerang filters. This comes after the app got a Layout update that allowed users to add up to six images in a single story. Earlier you had to take the help of its third-party app to do so. Now that is very much possible from within the Instagram app's Story section itself.
We would love to hear from you on these new filters. Which one is your favorite among these three? Drop-in your views in the comments section below.