Twitter is one of the most popular Social networking platforms to share your thoughts and opinions. As a personal note, IMO it's the best online platform to catch the latest trends and follow your favorite blogs, celebrities, and causes. It has a unique aura that attracts millions of users to post their little thoughts for the world to know. Moreover, who doesn't want to read those witty Twitter wars between your favorite celebs and those trendy hashtags? So, who unfollowed you on Twitter and Instagram? Let's see how you can find that out.
The more followers you have on Twitter, the more the chances of your tweets to reach the users. It is highly impossible to track your followers on a regular basis and see who followed you and who unfollowed you on Twitter. If you want to monitor your twitter stats and see who unfollowed you on Twitter, here are some of the best online services that help you monitor such things. With these services, you can try to improve your Twitter fan base and grab much attention from your followers.
Moreover, these services also let you manage your Instagram accounts which will help you track your Instagram followers as well. So, you can manage all your twitter fans and Instagram followers at one place.
Who Unfollowed You on Twitter and Instagram?
Today we will show you some of the best online services that help you find out who unfollowed you on Twitter and Instagram. The best thing about these services is that they are all free and you don't need to go through all the hectic credit card things. So, let's see how you can know who unfollowed you on Twitter and Instagram.
Crowdfire for Twitter and Instagram
Crowdfire for Twitter is my personal favorite service to check my unfollowers as it provides a multitude of options to manage your Twitter account. Crowdfire is also available for Android and iOS in the form of apps which is great for those who are on the move regularly. It provides many essential options like the unfollowers list, non-followers list, and your fans, etc.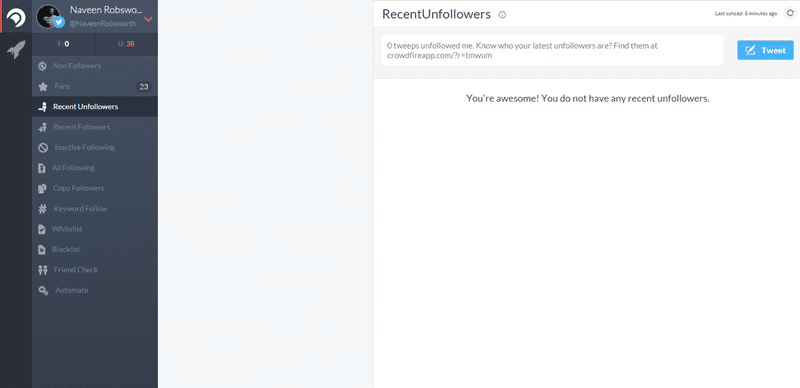 Once you're registered with Crowdfire, you'll receive Email notifications on a daily basis with a list of your new followers, unfollowers, and much more. You can also set an automatic direct message to new followers which will definitely gain their attention. Crowdfire can also be used to manage your Instagram account.
Unfollowers
UnFollowers is another online service that lets you manage both your Twitter and Instagram accounts. Once you signup with Unfollowers, you'll get a list of members who have unfollowed you recently. Much like Crowdfire, Unfollowers also have the options to view your followers, unfollowers, fans, etc. You can send an automated DM or tweet to your new followers to gain their trust.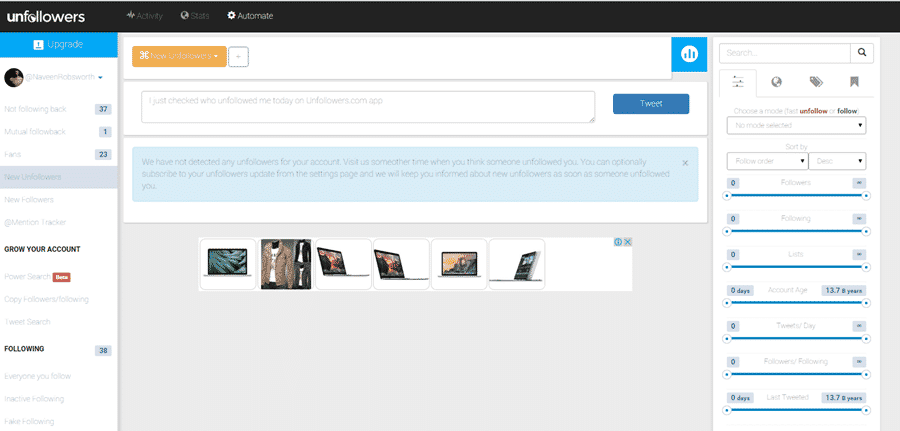 Strictly speaking, Unfollowers has more options than Crowdfire but the website design is a bit of bare bones with nothing eye-catching and bit messy. But if you're looking for functionality, it's one of the best apps that let you improve your Twitter fan base. You can also manage your Instagram account with Unfollowers.
Share this post with your tweet-hearts and Instagram buddies to get the most of these social networking platforms.
Read Next: Best Apps to Create Instagram Stories