Apple's App Store is a great place to download and install apps for your Mac OS but it isn't the only place. You can download many apps from third-party developers which are quite useful for many people. However, Mac OS X implements some great security measures to prevent you from accidentally running malicious apps that might or might not damage your computer. But in some cases, it also prevents you from installing legitimate apps from running on your Macbook. We have two methods using which you can allow apps from unidentified developers on Mac OS X.
There are many third-party developers who develop apps for Mac OS but some of them are unidentified developers. Mac allows apps only from the App Store and some recognized developers. So, if you're trying to install software from unknown developers, you'll get the below error.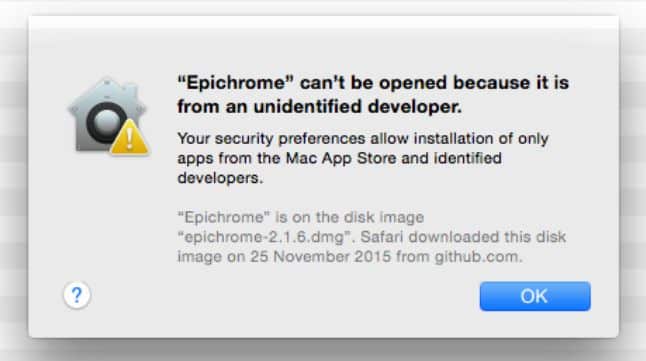 Apple has introduced a security feature called the Gatekeeper from OS X Mountain Lion. The Gatekeeper analyzes an app when you run it and determines whether it is authorized to run on your computer. If it fails to meet the requirements, the app won't be allowed to run on your computer. So, below are the two workarounds to open apps from unidentified developers in Mac OS X Yosemite and above.
There are 2 ways you can allow apps from unidentified developers on Mac OS X and below, we'll discuss both.
Method 1: Temporarily Run an App from Unidentified Developer
Open the location where you have placed the downloaded app/disk image file on your Mac.

Method 2: Change the Gatekeeper Settings
This method will allow all the apps/files from unidentified developers to run on your Mac without limitation. However, it is not recommended for starters to use this method as you may run some malware from unrecognized sources which might harm your computer. So, proceed with this method only if you're sure of what you're doing.
Open System Preferences. To do this, either click on the System Preferences icon in the Dock or from Apple Menu > System Preferences.

Open the Security & Privacy settings by clicking Security & Privacy in the System Preferences window.
In the General tab, click the lock icon labeled Click the lock to make changes at the bottom of the window.

Now it may ask for your credentials to authenticate the action. So, provide your login credentials and click Unlock.
Under the section labeled Allow applications downloaded from:, select Anywhere.
Close the settings window once you're done.
That's it. Now you can simply install apps/files from unidentified developers on your Mac. Let us know if you have any queries in the comments section.
Read Next: 8 Best WordPress Blogging App for Mac