Most of the software we use as a part of our daily chores usually keep track of the search history so it would be easy for you to access them again. We usually notice this behavior in the browsers and we have a habit of deleting it whenever we are done with the session. However, most of us fail to notice that some common software like Windows Explorer will also keep track of your searches so that you don't need to search them again when you need them.
On your Windows PC, if you click on the down arrow in the Windows Explorer address bar, you'll see the recent searches you've made. Microsoft has embedded this feature to help the user to navigate back and forth between the folders. But in case, if you want to delete the recently searched items in your Windows Explorer address bar, you can do that in few simple steps. So, let's see how to delete Windows Explorer Address Bar history on your PC.
How to Delete Windows Explorer Address Bar History
In this tutorial, we will show you two different methods to get this job done. Use the method which is at your convenience
Method 1: Delete from File Explorer
This is the easiest way to delete the Windows Explorer address bar history. For this, open the File Explorer by pressing "Win + E" on your keyboard. Now, right-click on the address bar and select the "Delete History" option from the context menu. That's it, the search history will now be deleted.

Method 2: Delete from Folder Options
The other option is to delete the history from Folder Option on your Windows machine. To open Folder options:
On Windows 8/8.1/10: In the Explorer, click on the View tab and click on the Options button. Select "Change folder and search options" from the drop-down menu.

On Windows 7: In the Explorer, click the Organize button on the toolbar and select "Folder and search options" from the drop-down menu.

In the General tab of the Folder options, look for the Privacy options at the bottom. Press the Clear button next to it to clear the File Explorer search history. You can also choose not to keep the history at all by checking the options in the Privacy options.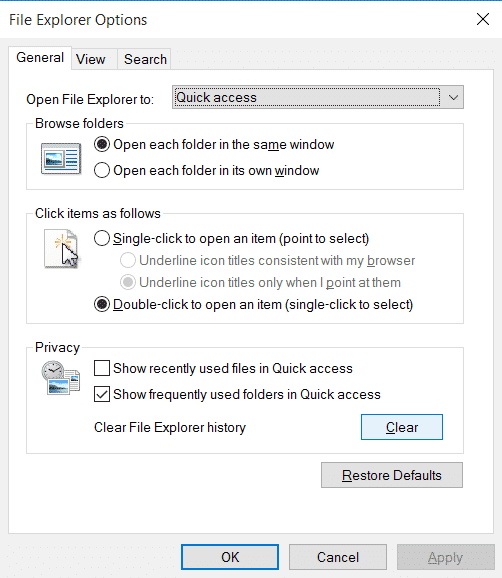 That's it. Let us know if you find this simple tutorial useful.