Google Podcasts is now finally available on the web for users to listen to their favorite podcasts without having to download the app. The podcast app is a fairly basic app and does not have nearly as many features as some of the other podcast apps. Moreover, the web platform is further stripped of some features. Nevertheless, the move to bring the podcast application to the web is a good one. It's highly likely Google will be adding more useful features to the Google Podcasts website in the following months.
Although, judging by the Android application, we do not expect much to change. The bare-bones podcast app is great for those who listen to podcasts occasionally. And before we go any further, you can check out the Google Podcasts website by visiting podcasts.google.com. The homepage resembles what you'd see on the Android app. Thus if you've used the podcast app on Android, you will be familiar with the website's layout. The minimal homepage shows some of the best podcasts in their categories. Moreover, you can also sign in to your Google account by clicking on the sign-in button.
Check out: The Best Wallpaper Apps for Android Phones
Unfortunately, signing in to your Google account does not bring up your subscriptions. This is a major feature that's missing from the web platform for Google Podcasts. However, it does show you recommendations based on your subscriptions. What's even more annoying is the fact that you cannot subscribe to a podcast via the web interface. Therefore, if you happen to find a great podcast channel, you'll have to memorize the name and find it on the Google Podcasts app to subscribe to it. Fortunately, the web platform keeps track of your playback. Therefore, you can continue a podcast from where you left off. You can search for podcasts via the search bar located at the top of the page.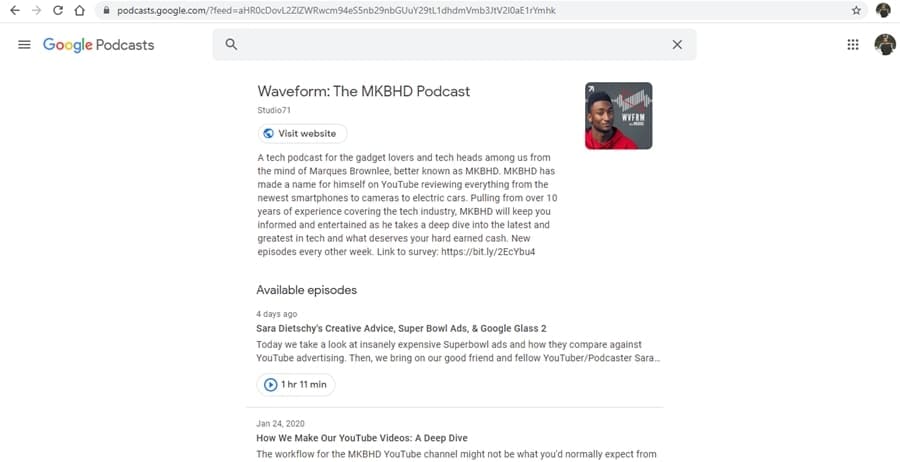 We're uncertain as to why the search giant decided to launch Google Podcasts on the web without these handy features. Hence if you were looking forward to using Google's podcast platform on the web, then you might be a bit disappointed. Other than that, the web platform is fairly usable and thanks to its simple UI, new listeners will find navigation a breeze. Nevertheless, having the option to stream your favorite podcasts on the web is now fairly easy. Moreover, you don't necessarily have to register or login to your Google Account to stream podcasts. Thus, you can play your favorite podcasts straight away. Now that's something we'd wish other websites offered as well. Who likes to register or login to use a basic service right? Feel free to leave your thoughts below about Google's web platform to stream podcasts.
Read next: 5 Best Music Apps for Ubuntu