Insync is a great app for Ubuntu that lets you integrate your Google Drive to Ubuntu. Not just that, you can also sync multiple Google Drive accounts.
Some years ago Gmail wasn't as popular as it is today, neither was Google Drive and many other Google services. Thanks to the massive success of Android though, these services had a great ride to success themselves. Most of us have an Android device and most of them do come pre-installed with Google Drive already. Anyone who's not already using another cloud service will find it easier to just use Google Drive. It also provides PC clients for Mac and Windows so your files are available across all your devices. On Linux (and thus, Ubuntu) though, using Google Drive is not a great experience. But it can be if you are ready to shell out a few bucks for Insync.
There is no official desktop client for Google Drive on Linux. The company promised to release one more than 6 years and 8 months ago as of this writing. The last time we were on the topic, we talked about a FUSE-based file system powered by Google Drive called Google Drive Ocamlfuse. It allows Ubuntu (Linux) users to access their Google Drive storage right from the convenience of their file explorer. While it is more convenient than using a web app, it still requires an internet connection. It doesn't sync your files to your hard drive or vice-versa.
Insyc – Google Drive Integration on Ubuntu
Insync for Ubuntu is a little different because it is an actual alternative to the official desktop syncing client. It's actually even better than that in many ways and is also available for Windows and Mac. Not only does it let you sync your Google Drive storage to your hard drive, but also to external hard drives and even NAS. It boasts of a few advanced features like that. Some of these are:
Sync Google Drive items to a centralized folder, which you can change anytime.
Any top-level Google Drive location can be synced to any folder locally, on an external drive or network drive.
Sync on demand and open files directly with their respective desktop apps.
Sync multiple Google Drive folders or sub-folders to any custom locations partially or completely.
Share, Create and Rename Google Docs right from your desktop.
Cross-platform support (Linux/Windows/Mac)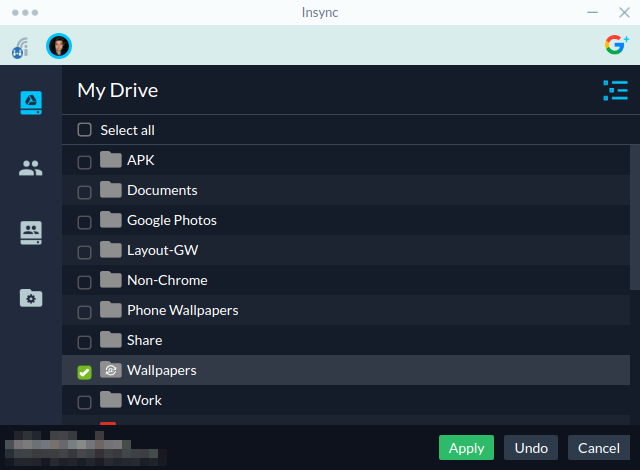 As just mentioned, Insync is available for all three major desktop operating systems. It claims to be running the same app on all the three platforms so no matter which OS you use, you get the same interface to work with. This is really great if you have multiple PCs with different operating systems.
Sync Multiple Google Drive accounts on Ubuntu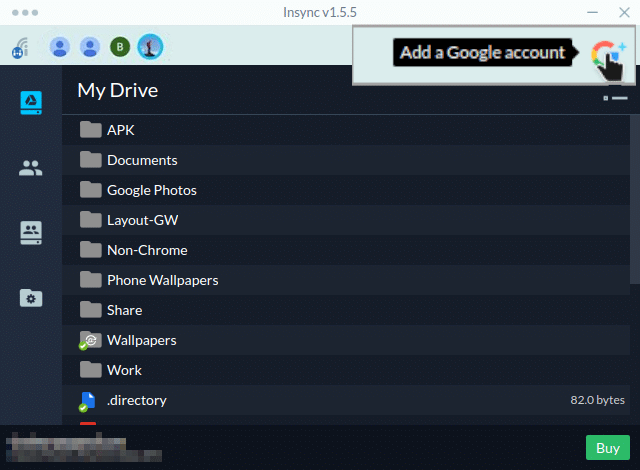 Half of the world does not own dual-SIM smartphones but almost everyone who has a Google account also has another. In many cases, several, for whatever reasons. Having multiple Google accounts means you also have multiple Google Drive accounts whether you use them or not. If you do though, Google Drive's official desktop client on Windows and Mac does not support multiple accounts. On the other hand, Insync does and it also lets you switch between them seamlessly.
Custom sync folders
You can easily change the default folder location for syncing from within Insync as well as rename it. All your currently synced files are moved along as well to the newly selected folder. This is something that's not very easy with the official Google Drive client. You can also easily select the specific folders that you want to sync while keeping everything else off your local storage.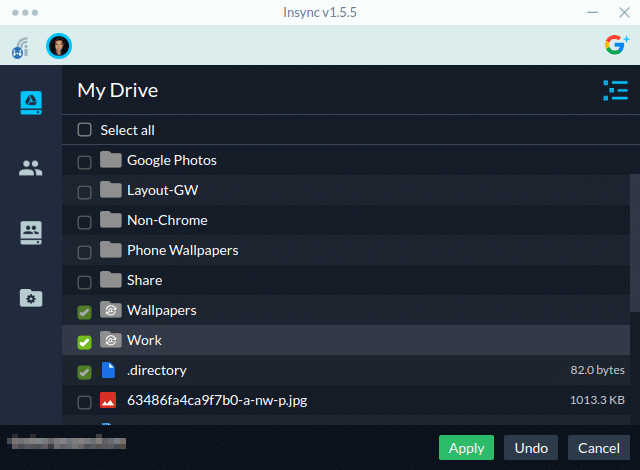 Not only that but you can also selectively sync sub-folders and files within folders or sub-folders.
Filter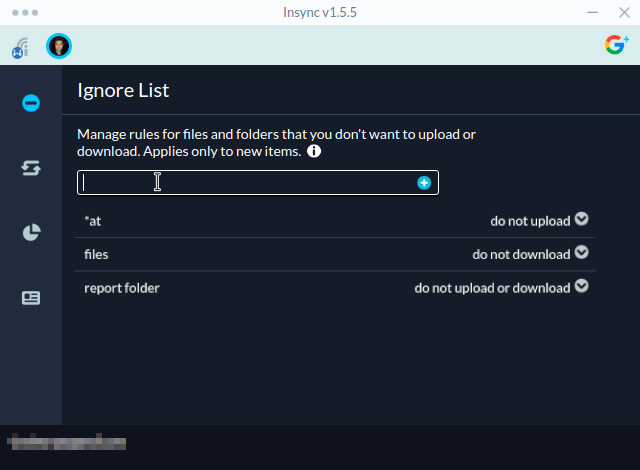 Insync also has features such as matchmaking and an 'ignore list'. These help users easily avoid syncing files and folders that they already have on their local storage or the ones they simply don't want to sync.
Download Insync
Insync for Ubuntu can be downloaded from its official website. Insync is great but unlike most Linux apps it isn't open-source. It isn't even free. But you do get a 15 days free trial and if you like it, you can buy a subscription.
Once you have Insync downloaded from the link above and installed, run it. A terminal window should pop-up, where you'll have to enter your system password. This is to allow Insync to integrate with your file explorer. Once the process is complete, press Enter to close the Terminal and wait for the Insync client to appear. When it does, click to sign in with Google Drive, sign in and allow the necessary permissions in the browser window that opens up ad you're ready to go.
Read Next: How to Edit Images on Ubuntu and with a Right-click