Google Chrome has an in-built file downloader module that lets you download different types of files (images, documents, zips, executables, audio files, etc.) from the internet. Chrome doesn't only download files but also performs a quick scan of the file for viruses and malware. For some unknown reason, the virus scan feature starts behaving weirdly and giving errors. It refuses to download even clean files that you are sure might not contain any threats. Fortunately, there are some quick fixes that can solve the "Failed – Virus Scan Failed" error in Google Chrome on Windows 10 and 11.
If Chrome or Microsoft Edge detects a potential malware or virus, it might give you the warning to keep away from a specific harmful file. You will still be able to download other files.

However, when the malware detector mechanism starts misbehaving, you can't download any file whether it's infected or not.
I recently had this virus scan failed problem on my Windows 11 PC while trying to download files using Chrome's downloader. I wasn't able to download any files at all. At first, I thought it was some temporary issue that will go once I restart Chrome and my computer. I even checked the McAfee and Windows security settings but nothing helped. Below are some workarounds that you should try to fix the 'Failed – virus scan failed' in Google Chrome, 'Couldn't download – virus scan failed' in Microsoft Edge, and 'Interrupted: virus scan failed' in Opera browser.
The tips given below will help you fix the virus scan failed error on all browsers. Let's check them out one by one.
Don't Miss: What's Windows God Mode Folder? How to Enable It
1. Clear Browsing Data in Chrome, Edge, & Opera
The virus scan failed error is not limited to Google Chrome only. You might encounter it in other popular web browsers like Microsoft Edge, and Opera as well. Clearing the browser cache and data should be the first and easiest thing you do to check if the problem is solved. Once you clear the browsing data, close the web browser and relaunch it to check if the virus scan failed error has gone or not!
Please check out my detailed tutorial on clearing browser cache and cookies in Chrome, Edge, Opera, and Firefox.
2. Try Uninstalling Browser Extensions
Sometimes we need to add extended functionality to our web browsers. Browsers like Chrome, Opera, and Microsoft Edge have dedicated stores from which you can install extensions for different purposes. While most of these browser extensions are good, there are thousands of them that contain adware and malware. If you can't download files or the virus scan fails when downloading them, a malicious extension might be responsible for them. Therefore, maybe it's time for you to take a closer look at the extensions you've installed and remove the ones that seem suspicious.
Open Google Chrome, Microsoft Edge, or Opera browser.
Type or paste the following URL into the browser URL bar and hit the Enter key.

Google Chrome: chrome://extensions
Microsoft Edge: edge://extensions
Opera: opera://extensions

You'll now have access to all the extensions installed in your browser.
Click on the Remove button next to the extension you recently installed or the one that looks suspicious.
Close your web browser and relaunch it to check if the virus scan failed error has disappeared or not. In case you still can't download any files, head to the next solution.
3. Clean Up Your Computer Using Chrome
Few people know that Chrome has a cool built-in feature that can scan your PC for viruses and malware and clean them. You can use the browser's scanner to ensure that your PC doesn't have any harmful files that might be causing the virus scan failed issue. Follow the steps described below to run a cleaning up.
Now, select Clean up computer. Alternatively, you can simply paste chrome://settings/cleanup into Chrome's URL bar and paste the Enter key.
On the next screen, click the Find button.
Wait for the scan to complete and when it does, close Chrome and relaunch it.
If the Failed – Virus scan failed issue is still there in Chrome, try the following tip.
4. Reset the Web Browser
Resetting your web browser to the default settings might help fix the virus scan failed issue in Chrome, Edge, and Opera.
Depending on your web browser, type or paste the following in the URL bar and hit the Enter key.

chrome://settings/reset
edge://settings/reset
opera://settings/reset

Click on Restore settings to their original defaults and then click the Reset settings button.
5. Turn off Your Antivirus Software Temporarily
Windows Defender or antivirus programs can behave very sensitively and weirdly sometimes. This proactive behavior on the part of antivirus software might block not only malicious files but safe files too. Just to make sure that your antivirus program is not conspiring to baffle you with the virus scan failed error, try to turn it off.
If you rely completely on Windows Defender for the security of your PC, go to Control Panel > System and Security > Windows Defender Firewall and click on Turn Windows Defender Firewall on or off. Turn it off and try downloading a file in your web browser.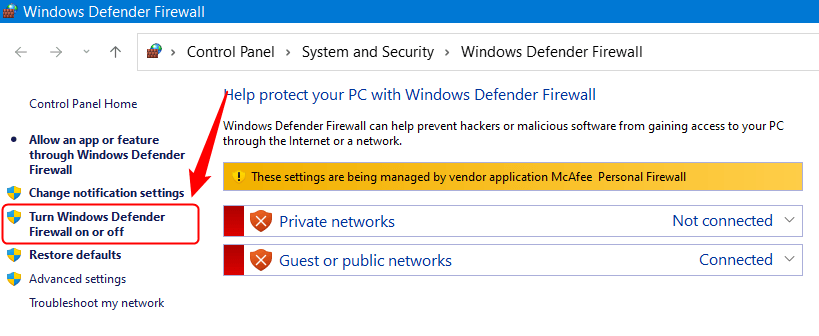 In case you use an antivirus program like McAfee, right-click on the antivirus icon in the Taskbar, and select the Change Settings option. Select Real Scanning and Firewall options and turn them off.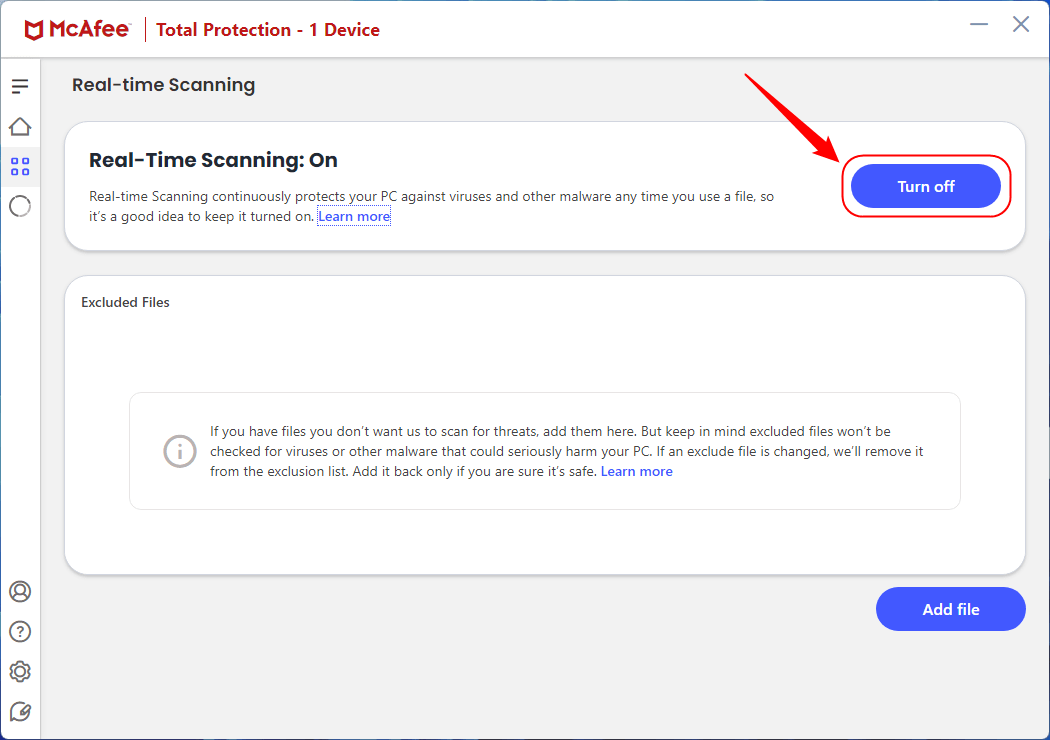 6. Tweak Registry Settings
There are lots of Registry Editor tweaks and hacks that let you customize various things and settings on your Windows PC. The following Registry tweak is one of the most effective methods that can fix the virus scan failed error on Google Chrome, Microsoft Edge, and Opera. Follow the steps given below but, before that, don't forget to create a system restore point and take a backup of the Registry Editor.
Open the Registry Editor. To do so, type "registry editor" in the Windows search box and click on Registry Editor to launch it.
Now, navigate to the following location in Registry Editor.

HKEY_LOCAL_MACHINE\SOFTWARE\Microsoft\Windows\CurrentVersion\Policies\Attachments

If you don't find the 'Attachments' key under 'Policies', go to the following path.

HKEY_LOCAL_MACHINE\SOFTWARE\Microsoft\Windows\CurrentVersion\Policies

Right-click on Policies and choose New > Key.
Rename this new key to Attachments.
Rename this new DWORD file to ScanWithAntivirus.
That's it. Close the Registry Editor window and restart your PC. The fix virus scan failed error should be gone now.
6. Install Mozilla Firefox Browser
I suppose that the tips to fix the "Failed – virus scan failed" error in Chrome, Microsoft Edge, and Opera would have solved the issue. However, if you are still unable to download files using via the built-in downloader on your web browser, I will suggest you download Mozilla Firefox. I have read in several forums that users having the virus scan failed error on Chrome, Edge, and Opera were able to download files in Firefox without any problem.
I hope you were able to fix the 'Failed – Virus scan failed' issue with the help of this tutorial. However, if none of these methods worked for you, probably you got only one solution left, and that is re-installing Windows. In case you come across some working method that's not mentioned here, please share it via comments.