Back in the day, I was so excited to try out Firefox because I had never seen anything other than Internet Explorer. I was equally excited about Chrome but it didn't take me long to dismiss it and stay with Firefox. But now that I am invested in Google's ecosystem, I don't want to not use Google Chrome. But love it or hate it, Google Chrome has outgrown the phase where it was the best web browser. Today it is simply a resource-hungry web browser be it your PC or even on Android. In case you are getting a completely black screen after launching the Google Chrome browser on your Windows PC, you can fix the issue by trying the tips given below.
The browser has seen its fair share of controversies too from privacy issues to an unmatched amount of battery consumption. Despite all its flaws though, Google Chrome remains the clear choice of the majority of Internet users. One of the issues I've been facing recently is Google Chrome going all black when maximizing a minimized Chrome window. Turns out, it's a common issue. Here are a few things you can try to fix Google Chrome black screen issue on Windows 10.
You may not like the black screen issue in Chrome, but if you want to view any website in night mode on any browser, you must not miss our tutorial on the topic.
Tips to Fix Google Chrome Black Screen Issue
Disable Extensions/Plugins
Ever since Mozilla Firefox introduced the concept of browser extensions, they've been a source of several headaches. Not that they're not useful, the positives clearly outweigh the negatives here. But sometimes you will come across a browser extension you think could prove useful, but ends up causing issues. It's not too farfetched to think an extension might be causing the black screen issue for you. Considering the extensions too keep getting updated in the background like Chrome itself, you never know which update could've been responsible. For a start, you should disable all the extensions at once.
Continue to use Chrome normally without them. If you still face the issue, at least you can be sure it's not because of any extensions. To get to the Extensions page, click the three-dot menu button in Chrome and go to More tools > Extensions.
If your issue is solved, you're going to have a hard time. The irony is not lost on me but its true, especially if you have a lot of extensions installed. But there's only one way of finding out the culprit here. Turn on a single extension and then test out Chrome for a while before turning on another. This way you can be sure which extension is the problem.
Switch the default GPU for Chrome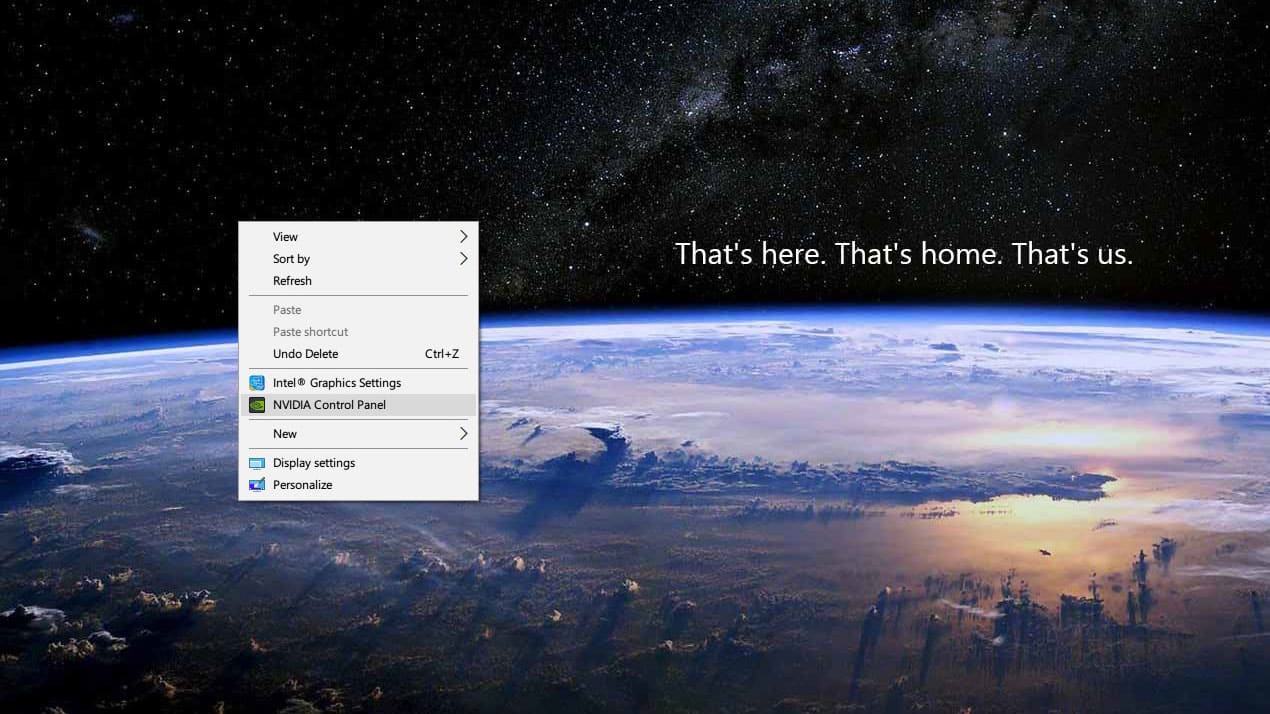 Modern Intel or AMD chips have a built-in GPU which may or may not be enough depending on the use-case. And programs like Google Chrome use the integrated graphics chip by default. If your PC happens to have a dedicated GPU as well, you might try switching to it and see if that helps.
Apparently, this fixes the black-screen issue for PCs with an Intel HD Graphics 500 GPU. Right-click anywhere on your desktop and depending on the GPU installed on your PC, you'll either have NVIDIA Control Panel or AMD Catalyst™. You can change the default GPU for Chrome here.
Disable Hardware acceleration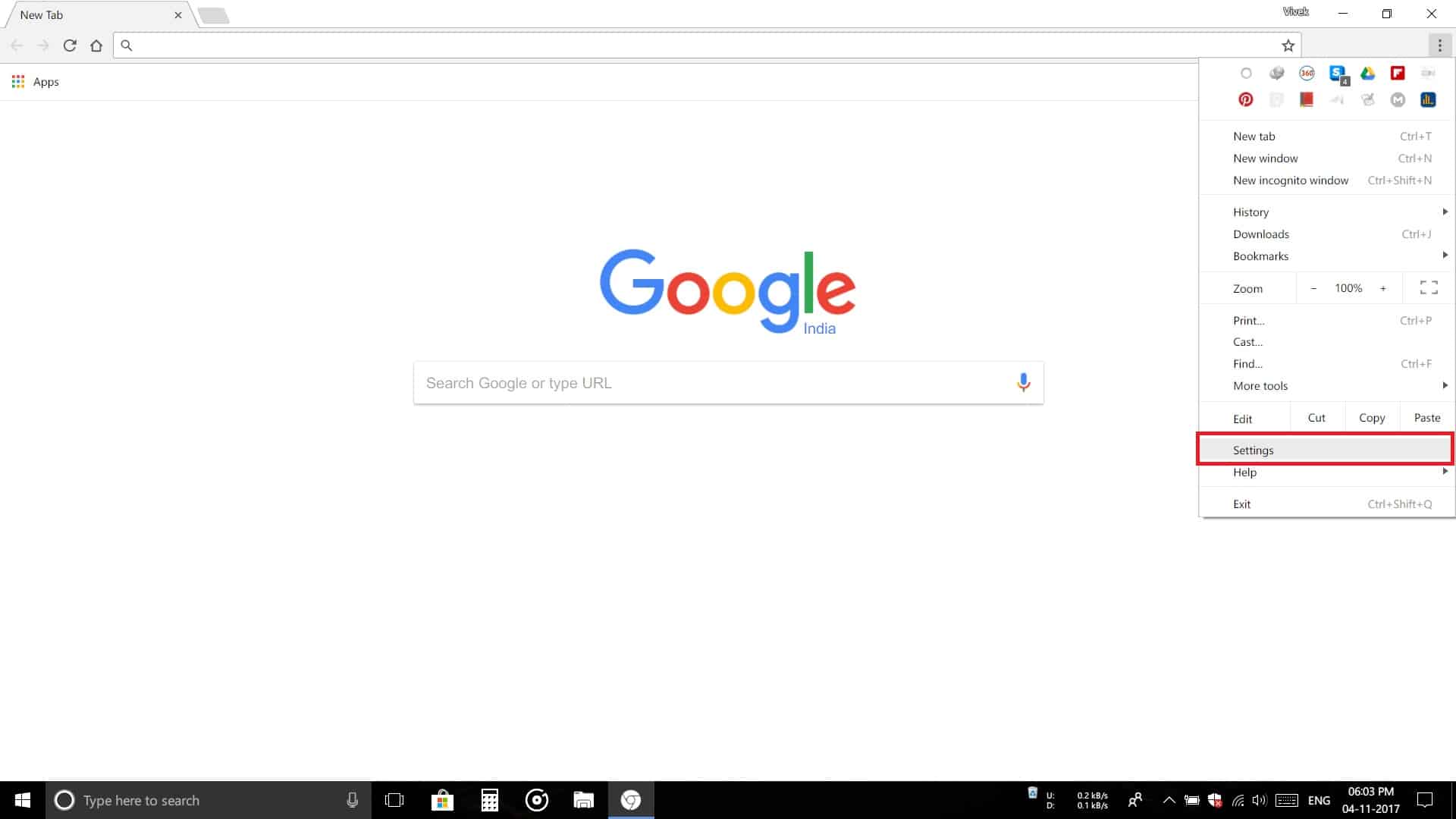 Google Chrome uses Hardware acceleration by default for better performance. But there are times when a user's hardware, the GPU to be more specific, can't cope with the demands. Thus resulting in black screens. This could also be due to a driver so it is not necessarily restricted to low-end PCs.
The best way to find out whether Hardware acceleration plays a role is to disable it in Chrome. To do so, click on the three-dot menu button in Chrome and go to Settings. Click on the hamburger menu icon in the top-left and go to System, listed under the Advanced subheading.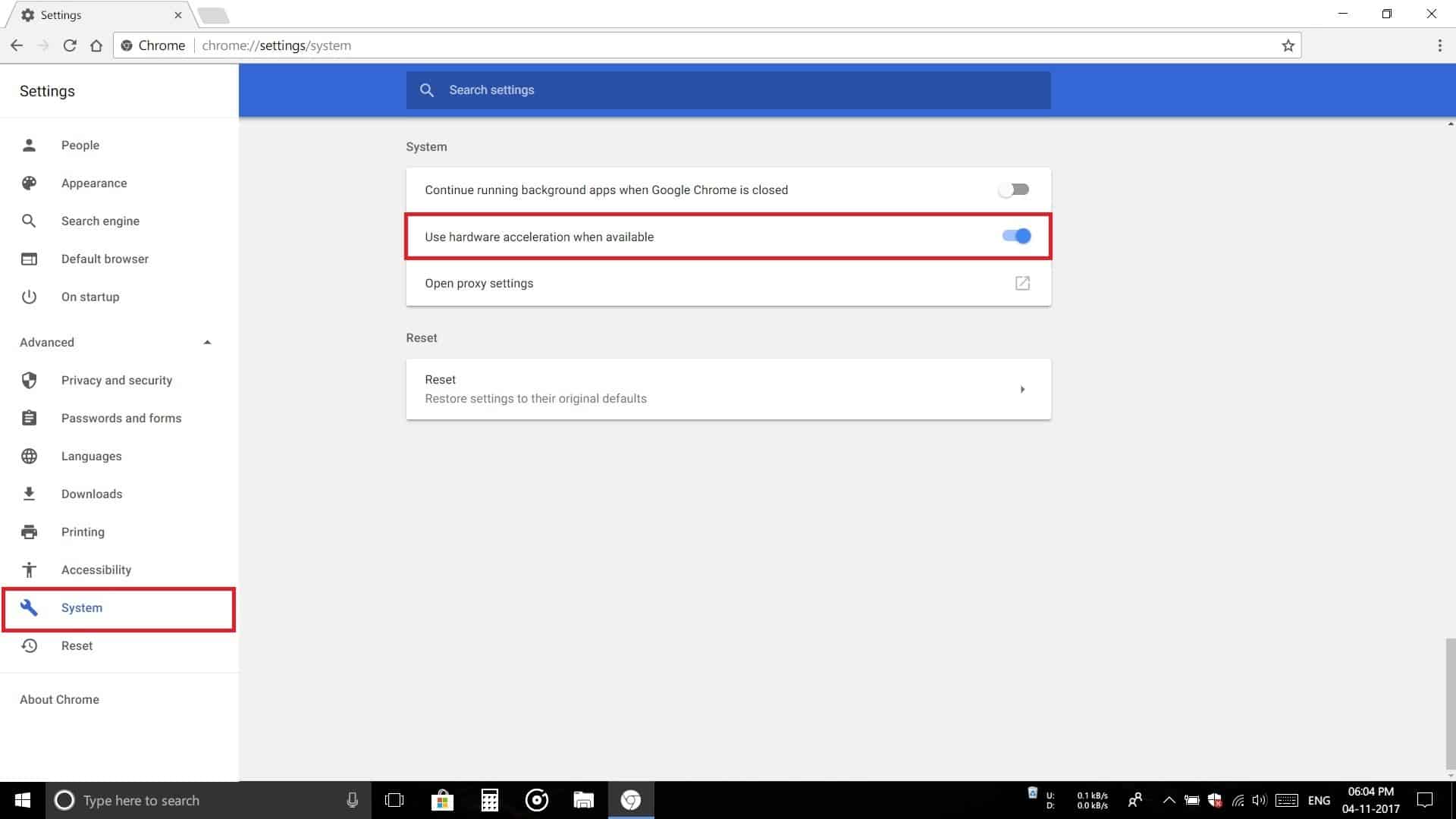 Toggle off the setting labeled as Use hardware acceleration when available. After this, you can start using Chrome as you normally do. Disabling Hardware acceleration fixes the issue for most users. But in case you still face the black screen, try out the next method.
Disable Chrome flags
Longtime Chrome users will certainly be familiar with Chrome flags, the name at least if not the function. Chrome's black screen issue can also be seemingly fixed by disabling certain flags. These are:
GPU compositing on all pages
Threaded compositing
Do SHOW Presents with GD
You may not necessarily find the flags on your specific version of Chrome and it's okay. In fact, most users on the latest versions of Windows and the latest version of Chrome might not find these flags. To disable Chrome flags, type chrome://flags/  in the address bar. Hit Ctrl + F on your keyboard and type in the flag names mentioned above to find them. Then click Disable under the flag to disable it.
Reinstall Chrome
When all else fails, there's always such ace in the hole, the last resort. But unfortunately, reinstalling Google Chrome might not get rid of the black screen either. This old-school method is still worth a try though.
Our next article describes the quick steps to manage Google Chrome notifications. Don't forget to check that out.