What makes a TV "smart" is its capability to stream online content and connectivity features. Whether you get a Smart TV from Samsung or some other manufacturer, they all come with pre-installed apps. Moreover, they also let you install more apps from the application store. If you don't like a SmartHub app and want to uninstall it, I'll be describing the steps to delete apps on any model on Samsung Smart TV whether it was released in 2014, 2015, 2016, 2016, 2017, 2018, 2019, or 2020.
Modern televisions may have become smart but they still have limited storage space. My Samsung Q70R Series (65″) has a storage capacity of 2.18 GB.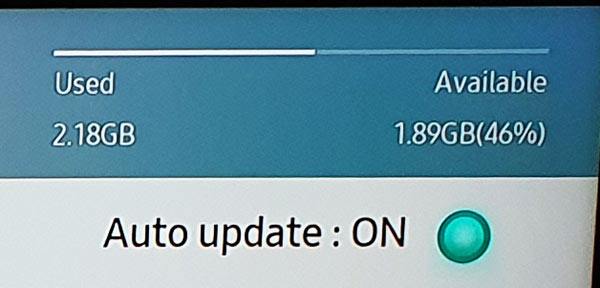 It means that if I install some more apps and games, its memory will be full in no time. To install more apps, I'll have to free space by deleting the existing apps. There may be various reasons why we might want to delete apps on our Samsung Smart TV.
If an app is not useful for you.
Sometimes, we install new apps but later discover that they aren't good enough.
Some people just don't like lots of apps. The more apps you'll have, the more effort you'll need to make to navigate to the app you want to use. By uninstalling apps, we can keep our Smart TV clutter-free.
Samsung Hub doesn't have hundreds of GBs of storage space. If you have too many apps installed on your Samsung Smart TV, you must delete some apps to add new ones.
Points to Note
Whatever your reason maybe, if you want to uninstall apps from your Samsung TV, this tutorial is just for you. Before you proceed, however, please keep in mind:
You won't be able to delete apps that come pre-installed on your Samsung Smart TV. The delete option for such apps like Netflix, Amazon Prime Video, etc. is greyed out or disabled by default. That's to say, you'll be able to delete only those apps that you installed from the Samsung App Store after getting the TV. I have found a hack to delete pre-installed apps but I am not sure that will work on all TV models and firmware versions.
Just in case you need the deleted apps sometime in the future, you can install them again whenever you want.
Before you check out the steps to uninstall apps, don't forget to take a look at how you can turn off the voice guide feature on your Samsung Smart TV.
Related Topic: How to Delete Apps on LG Smart TV
Deleting Apps on Samsung Smart TV
Below, we'll check the steps to uninstall apps on different models and series of Samsung Smart TVs released during the last 7 years. I'll start with the model of my TV that was launched in 2019.
Samsung Smart TV Models Released in 2017 – 2019
If your TV's model number starts with K, M, LS, MU, NU, RU, or Q (Samsung TV Q70R Series, for example) and you purchased it in 2017, 2018, or 2019, follow the instructions described below.
Press the Home Button on your remote to launch Samsung Smart Hub on your TV.
Press the Center button to open see the list of all apps on your Samsung Smart TV.
Now, highlight the cog-wheen Settings icon on the top-right corner on the screen using the Directional pad and open it.
You should see the list of all installed apps on your TV. Select the app you want to delete from your Samsung TV.
You'll see all the available options for specific installed apps as shown below. Highlight the Delete option and press the Center button.
When you're asked to confirm app deletion, select the Delete option.
You'll see a message saying "Deleted successfully".
Samsung TV TU/Q/LS Series (2020)
If you purchased your Samsung Smart TV in 2020 and it belongs to the LS, Q, or TU series, you should follow the steps provided below.
Navigate to the Settings option with a cog-wheel icon.
Open Manage Storage and you'll be able to select one or more apps you want to delete.
Having selected the apps to delete, choose the Delete option.
When you see a pop-up window with the list of selected apps, click the OK button.
When the apps are deleted from your Samsung TV, you will get the 'Deleted successfully' message.
On Older Samsung TVs
If you own a Samsung TV launched in 2016, 2015 or earlier, you should do as described below to delete apps. These quick steps will work on the E, F, H, J, K, KU, and KS series on the Korean giant's Smart TVs.
Press the Home button on your TV's Remote.
Go to Apps and click it.
You'll see your installed apps under the My Apps tab.
Select the Options button located on the bottom right corner of the screen.
Go to the Delete option and click it.
You can now select the apps you want to uninstall.
When you have selected the apps, click on the Done button.
Now click the Delete button and the apps you selected will be removed from your TV.
Deleting Pre-installed Apps on Samsung TV
Depending on geo-localization, the Samsung Smart TVs come with certain pre-installed apps including stock apps and a number of third-party apps like Netflix, Prime Video, and so on. While it's easy to delete apps that you have installed on your TV, deleting the pre-installed apps on a Samsung TV is not possible as the Delete option is greyed out for them.
It's easy to get rid of bloatware on Samsung Galaxy devices but on TV, things get complicated. Anyway, there's still a trick that might help you uninstall pre-installed apps on your Samsung TV, and below are the steps to do the same.
Press the Home button on your TV's remote.
Select Apps and click it.
Now press the Number button on your remote and type '12345' using the on-screen number.
Now select the OK option. The Developer mode will be enabled for the Apps section on your Samsung TV. Select the Close option on the pop-up saying, "Develop Mode is On status."
Highlight the Settings (cogwheel) icon at the top-right corner of your TV screen and click it.
On the apps settings page, highlight the app you want to delete.
Go to Lock/Unlock option and click it to lock the app.
Type '0000' (it's the default password). The app will be locked and you'll see a lock icon on the app banner image.
Now, go to the Deep Link Test option and click it.
On the window that pops up, highlight the Content id box and type anything using the on-screen keyboard. Click the Done button on the keyboard and select
You'll be asked to enter the unlock password. Don't enter the password and select the Cancel option.
The Delete option that was greyed out for the app previously, should be available now. As you can see below, the Apple Music app on my TV now has the Delete option enabled. If it's still greyed out, try restarting the TV a couple of times.
Click the Delete option and confirm your choice.
You can repeat steps 8 to 14 for any other pre-installed app you want to delete from your Samsung TV.
You should also check out my list of Samsung TV error codes and how you can fix them.
That's all about deleting apps on any Samsung Smart TV released between 2014 and 2020. In case you have any questions related to the topic discussed above, don't hesitate to ask.
Read Next: How to Update Samsung Smart TV via USB