Software or firmware updates bring new features, improvements, and bug fixes for better performance. If you own a Samsung Smart TV, you can make it smarter by installing regular software updates released by Samsung. You can download the Samsung TV software update file and install it manually by using a USB drive.
Samsung keeps rolling out software updates at times to add new features and fix bugs. Keeping the software of your Smart TV up to date is very important. The best way to update the software on a Samsung Smart TV is to turn the auto-update feature on. However, if the automatic software update is not available for you or you are getting some issues, you can download the update package for your TV and install it via a USB flash drive.
My Samsung Q60R has received 2 updates since I bought it back in October 2019. To be honest, I didn't notice any new features or new changes after those software updates. Below, I'll be describing the Samsung Smart TV software update procedure for all models released in 2016, 2017, 2018, 2019, 2020, 2021, 2022, and 2023.
Points to Note
Keep in mind that the steps to update the software on Samsung TVs might differ from Series to series and model line up. Depending on the year your Samsung TV was released, the Smart Hub and Settings UI or appearance of the menus may vary. Also, please remember that a software update might reset your Samsung Smart TV's settings to default.
Steps to Enable Auto Update on Samsung TV
The screenshots attached below have been taken on the Samsung Q60R series Smart TV from the 2019 lineup. If you don't want any software updates at all, skip this part and read our tutorial on turning off automatic updates on your Windows 10 PC.
Note: Before you proceed, make sure your Samsung Smart TV is connected to a Wi-Fi network.
Go to Settings and click it.
When the Settings menu is launched, scroll to the Support tab, highlight the Software Update option and click it.
On the next screen, go to the Auto update option and click it to enable automatic software update on your Samsung TV.
To check if there is an update available for your TV, go to Update Now and select it.
Your TV will start checking for updates and prompt you to install it.
Since I enabled Auto Update during the initial setup after I purchased my TV, it's already on the latest version.
Samsung TV Software Update via USB
If you are unable to update your TV via the inbuilt software updater for some reason, you can download the latest firmware update for your TV model and install it locally using a USB flash drive. If you want to update your TV's software to fix connectivity issues, you should check out my guide on troubleshooting and solving the internet connection problem on a Samsung TV.
Warning: Do not turn off your TV or unplug the USB memory drive while the new software is being installed. Doing so may cause a firmware error or serious damage to the mainboard of your TV.
Visit the Samsung Download Center page on your computer.
Click TV and Home Theater under Select your product type or click Enter Model Number and fill in your TV's model number there. You can find the model number of your TV on the manual that came with it. You can also find it by going to Settings > Support > About this TV. Check Model Code under Product Information. In my case, it is QA55Q60RAXXL.
On the Samsung Download Center page, click on TVs and select your TV type. I selected QLED TVs.
Now, you will be asked to make a selection of your TV lineup and model number. Alternatively, you can also enter the model number of your Smart TV.
When you have selected the Year Line Up and model number, the CONFIRM button will be highlighted. Click on it.
You'll be taken to the Manuals and Downloads page.
If you want to know about the details of the firmware such as the compatible model numbers and changelog, click '?'.
Now click the download button to initiate the firmware download for your Samsung TV.
When the file has finished downloading, locate the downloaded ZIP file, and extract it.
Open the unzipped folder. You'll find another folder inside it.
Copy this folder to a USB flash drive. Please make sure you don't copy the folder inside some folder on the USB drive otherwise your TV won't find it.
Turn off your TV and plug the USB flash drive into a USB port located at the backside of your TV.
Turn on the TV.
Now press the Home button on the remote and navigate to Settings > Support > Software Update > Update Now and then select Yes.
Select the USB option when prompted. Your TV will scan the USB flash drive for the availability of the software update package. You'll see a 'Scanning USB' notification on the screen.
When the software package is detected, follow the on-screen instructions.
The whole software update process takes just a few minutes to finish and when it is completed your Samsung Smart TV will restart automatically.
If your TV starts normally, it indicates that the software update went well. In case you want to confirm the update, Go to Settings > Support > About this TV and compare the Software version mentioned there with the one shown on the firmware download page.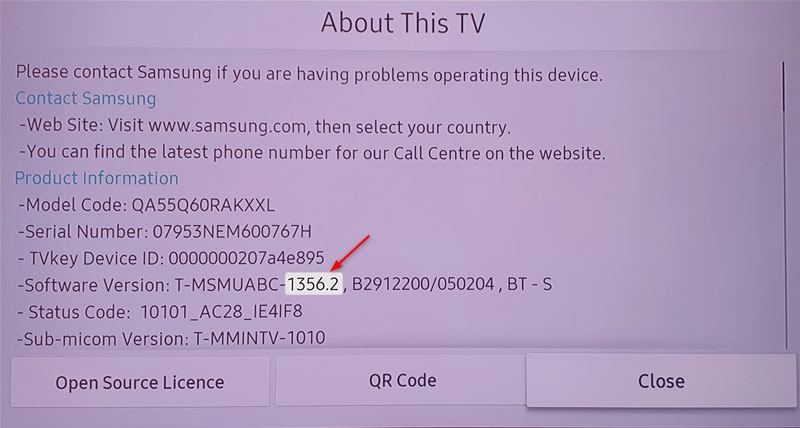 Steps to Update Samsung Smart TV Apps
What actually makes TVs really smart is their capability to install apps. Samsung does not allow sideloading apps on its Smart TVs (Android TVs are exceptions). You can install apps from the Samsung App Store via the Apps section. However, you can easily delete installed apps on your Samsung TV and enable the auto-update feature so that the apps you use stay up to date. Below, we'll see how we can update apps on a Samsung Smart TV.
Press the Home button on the Samsung TV remote.
Navigate to Apps and click it.
Now, highlight the Settings icon on the top-right corner of your TV screen and click it.
On the next screen, highlight the Auto update button and click it to enable auto-update for apps on your Smart TV.