Privacy is a big issue these days and Google is at the forefront of it along with Microsoft and Facebook, in a negative way. But as it turns out, Chrome OS by Google is one of the most secure and easily lockable operating systems on the desktop. That's probably because it is still in its early days but by turning a few toggles off you can make sure Chrome OS sends almost nothing to Google about you. Here are some ways to enhance privacy on the Chromebook and Google Chrome browser.
Before you check out all the privacy settings on your Chromebook and Chrome browser, don't forget to check out this huge list of Chromebook shortcuts.
Data sync encryption
Typically, web browsers store all the data on the device they are installed on. This includes your bookmarks, history, saved passwords, etc. These days though we use multiple devices to browse the web. Not being able to access your bookmarks, history, etc. on all your devices can be a real pain for some people. This is one of the reasons most people prefer to use Google Chrome even if it may not be the best browser on a particular platform. Chrome is everywhere and it can sync your data.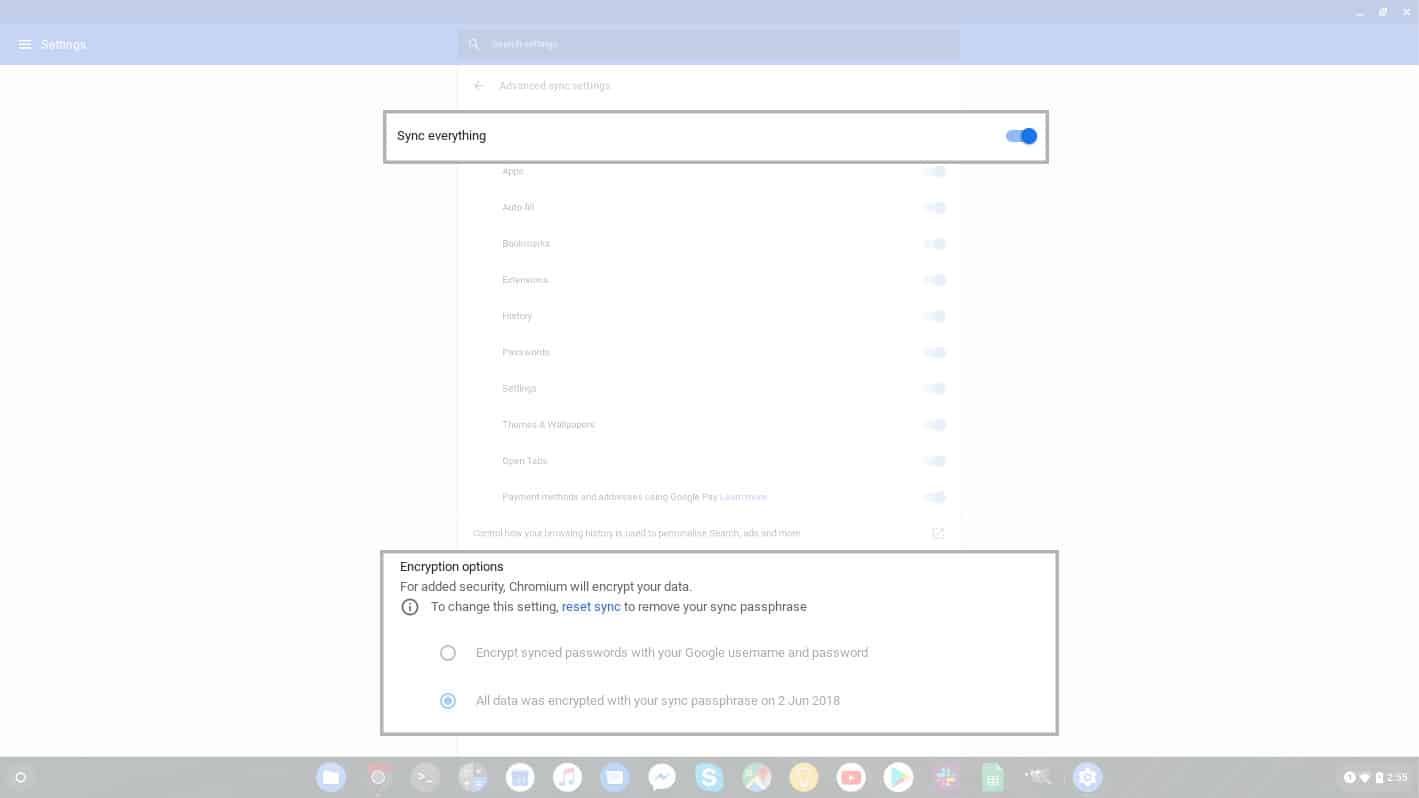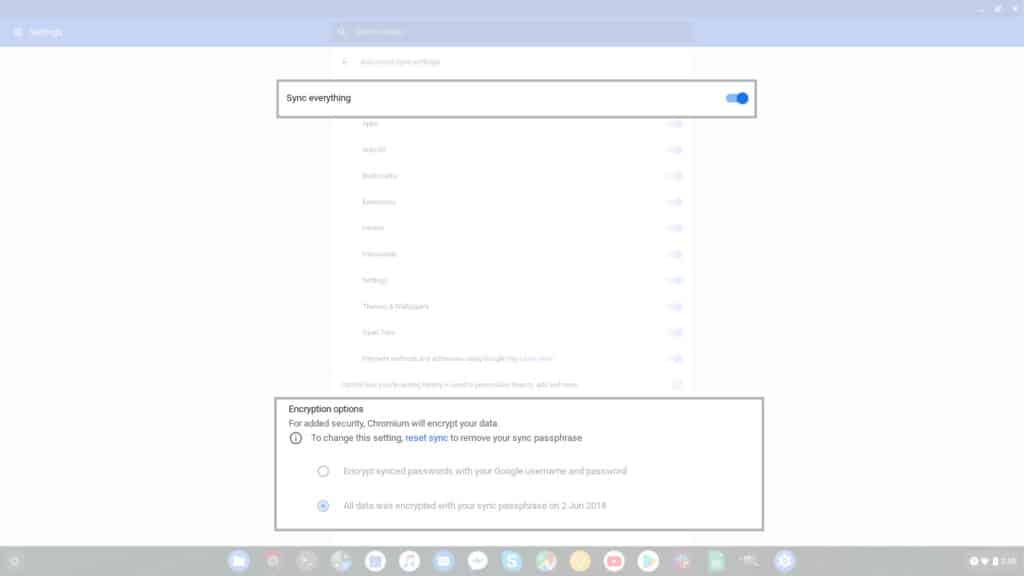 However, this is achieved by sending your data and storing it onto Google's servers. If you're concerned, you can disable auto-sync completely in People > Sync by turning off the Sync everything toggle. If you value having your data available across multiple devices at all times, you can choose to encrypt it with your own passphrase. Encryption options are located right below all the sync toggles. You'll be asked to enter a passphrase and once set up, you'll have to enter this passphrase on every device that you want to enable sync on. It may sound like a chore but you only have to do it once. And this ensures that nobody can access your data, not even someone at Google.
You need to be very careful about this though because Google doesn't store this passphrase on their servers. That's the whole point of it, after all. But that also means they can't help you recover it. So if you forget it, the only option is to reset sync which means wiping all your synced data and starting fresh. But don't worry, all the data that you already have on your browser will not be wiped. Only the data stored on Google's servers in an encrypted form.
Location tracking
Websites have always been able to get an idea about your location from your IP address. These days though almost all our devices ship with a built-in GPS and browsers like Chrome support it too. This means websites can now also get your exact location. Granted, Google Chrome asks you whenever a site requests location access before granting it. You get to decide whether you want to share your location data or not. In most cases, this isn't really necessary. Facebook, for instance, requests location access but it works quite alright without it too.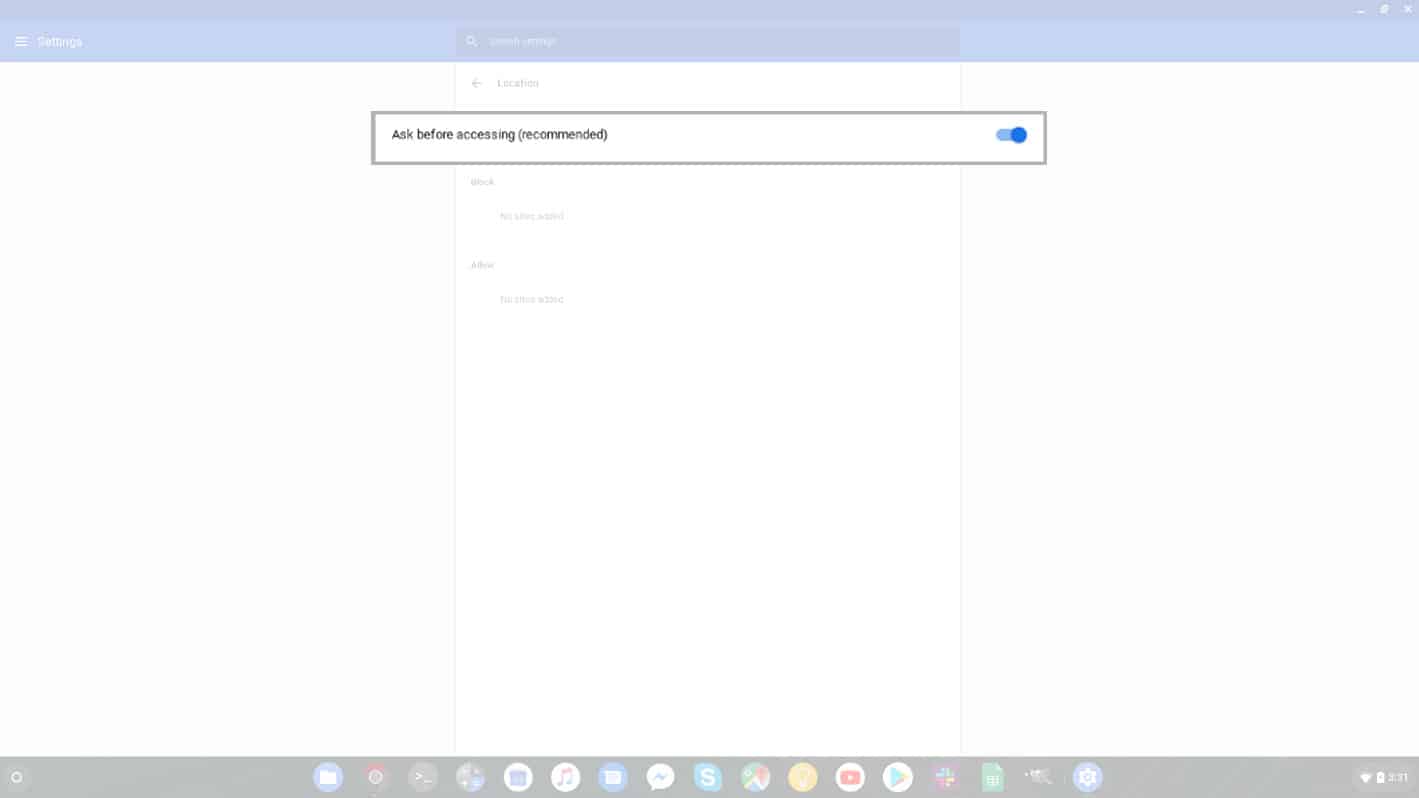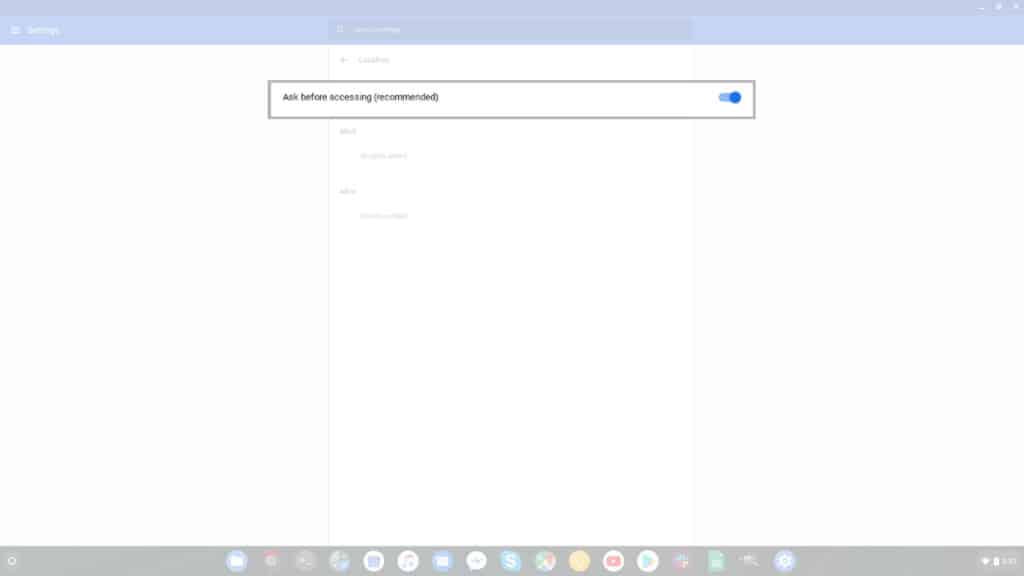 If you don't use services like Google Maps often on your Chromebook or PC, you can completely disable location access in Privacy and security > Content settings > Location. If you do, you don't need to disable it but you might want to take a look at the list of websites that have been granted access to your location and the ones that have been denied.
Addresses and Payment methods
Whether you stay offline for most of your day or stay connected all the time, filling out online forms is unavoidable these days. Even if you're someone who isn't that into tech, you make someone else fill out your details but you still end up giving out your details. Chrome, in order to make it easy for users to fill forms, stores information such as names, phone numbers, addresses, etc. If you have sync turned on for this, this information also ends up being with Google. If you're not comfortable with Google knowing your exact address, even multiple addresses, you can disable this feature.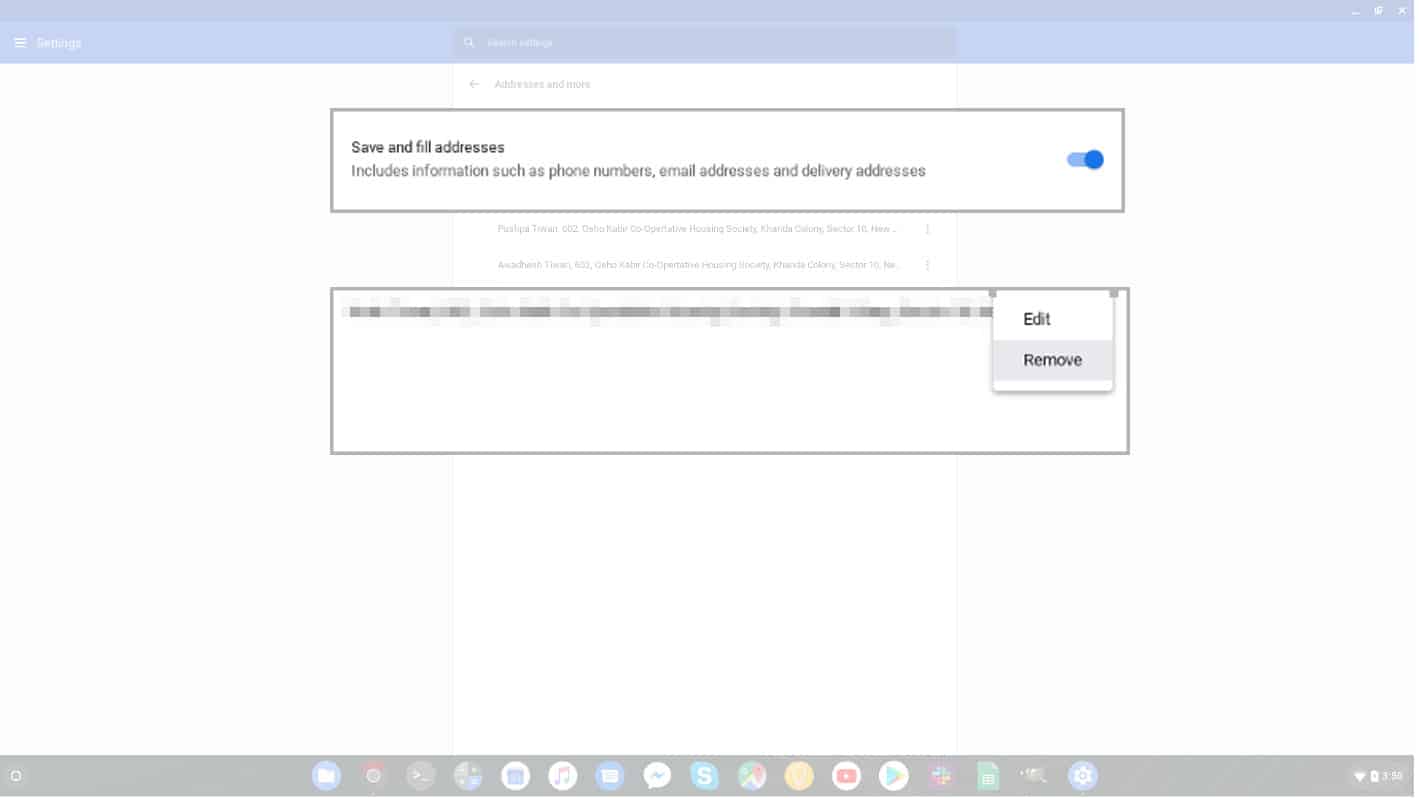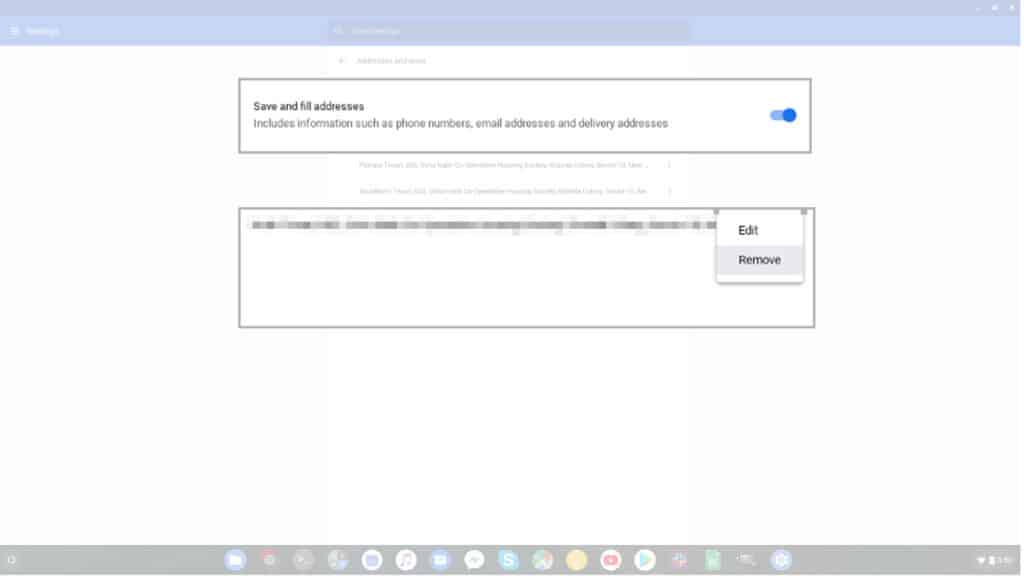 Go to People > Addresses and more and turn off the toggle labeled Save and fill addresses.  If you already have a few saved addresses, you can remove them by clicking on the three-dot menu button next to them and selecting Remove.
Similarly, Google also saves information about your payment methods such as your credit or debit card. You can view this in People > Payment methods. You can disable this feature as well by turning off the Save and fill payment methods toggle. However, as long as you're not giving away your password or the OTP your bank sends you, you should be safe because Chrome never saves the password.
Cookies
Cookies are an integral part of web browsing and without them, your browsing experience would be nothing short of hell. These help websites store your login information, or information about the items in your shopping cart, etc. Without cookies, anytime you visit a webpage you would have to start from scratch. So yes, they're essential. However, there is no limit to what a website can store in these files. Some sites could store information that isn't particularly helpful in your browsing, such as cookies saved by ads.

Fortunately, Chrome lets you limit the use of cookies. Go to Privacy and security > Content settings > Cookies and turn on the toggles for Keep local data only until you quit your browser and Block third-party cookies. Keep in mind though that if you enable Keep local data only until you quit your browser you'll have to log into sites every time you close and open your browser. So you might not want it turned on after all.
Chromebook Privacy and security settings
Apart from the ones mentioned above, there are some more settings you should enable and disable. Let's talk about the ones you should enable first. These are called Safe Browsing and Do Not Track and you can find similar features on most browsers, not only Chrome. On Chrome, you can find toggles for these under Privacy and security. Safe Browsing helps you avoid malicious or poorly secured sites. Do Not Track prevents websites from monitoring your online behavior. Some websites do this to provide you a better browsing experience but this also means over time they're able to build a profile of you.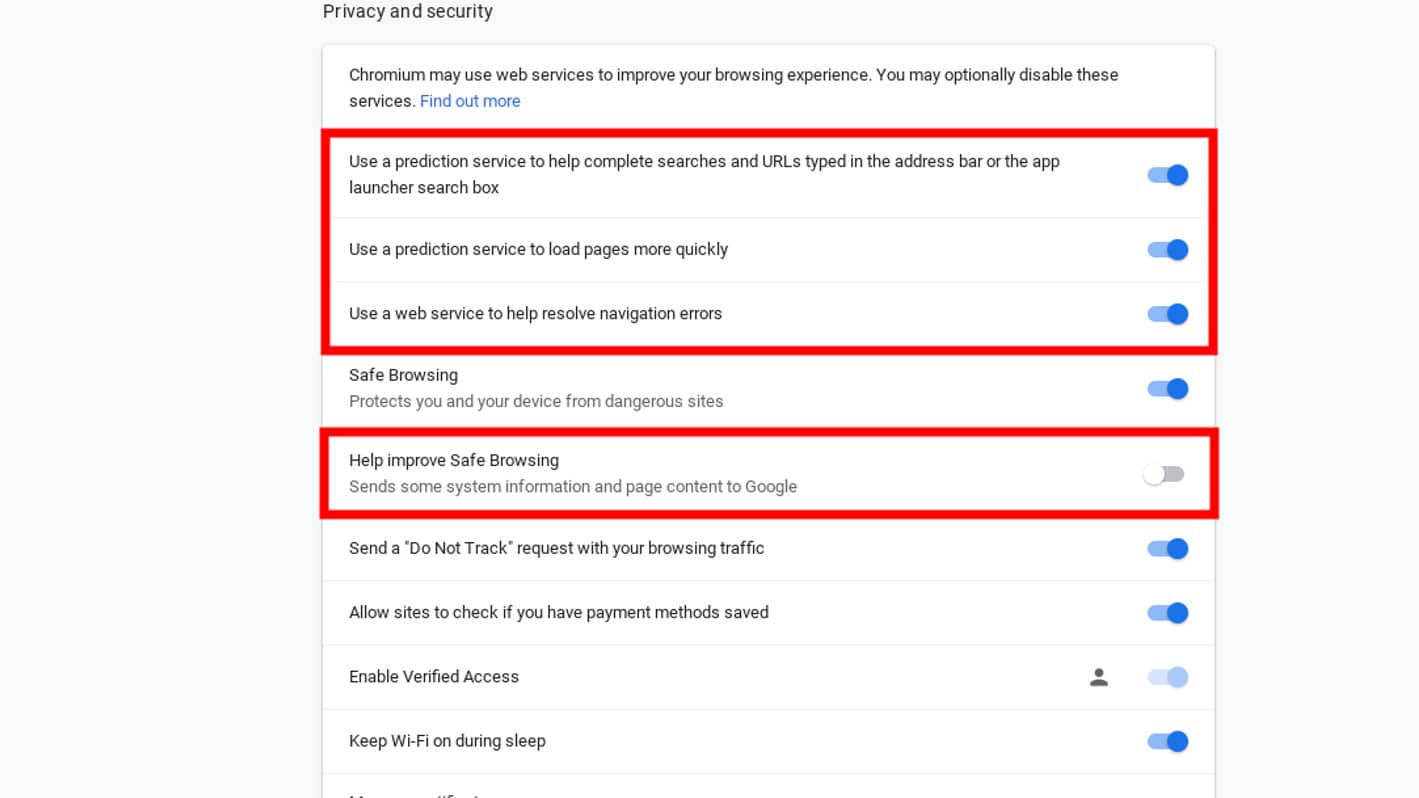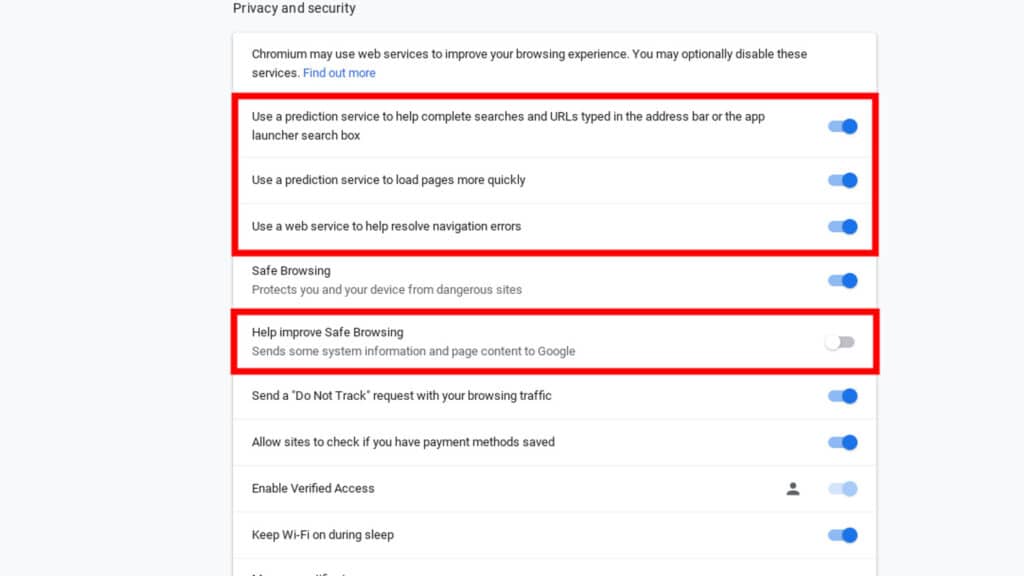 As for the settings you should disable, these are quite a few, highlighted in the screenshot above. You can find toggles for all of these under Privacy and security as well.
That's all about privacy on Chromebook and Google Chrome browser. Having tuned all the above-mentioned settings, you should also try these PDF editors on your Chromebook.
Read Next: Top 5 Games for Chromebook You Must Try