If you are a regular internet surfer or a browsing addict you may have come across various articles, pictures, or a page of whom you wanted to take a screenshot for further use. Windows have its own Snipping Tool for taking screenshots but it's not one of the best in business. There are many screenshot tools available for taking screenshots on Windows 10. Some of these tools are free while others are paid. Some are good while others are not. In this article, I will tell you about 5 awesome tools for taking screenshots on PC along with their pros and cons.
Before we check out these tools I would like to tell you the basic features which you should look for in a screenshot tool:
Take screenshots of specific resolutions
Easy share to cloud services
Fast loading and lightweight
Basic image editing features
Full-screen capture
Annotations (Arrows, Highlight, Tags, Blue, Text)
Save images in multiple formats
Support for shortcut keys
While some of these screenshot tools are available for Windows and macOS both, you should also take a look at these 3 methods to capture a screenshot on Mac.
FastStone Capture
FastStone Capture is one of the best tools available for taking screenshots. Some of its features are:
Capture with keyboard shortcuts
Multi-output window
Screen recording support
Touch screen support
Multi-tab support
Annotation support
Join side by side images
Crosshair, magnifier and color picker
Saving your image in multiple formats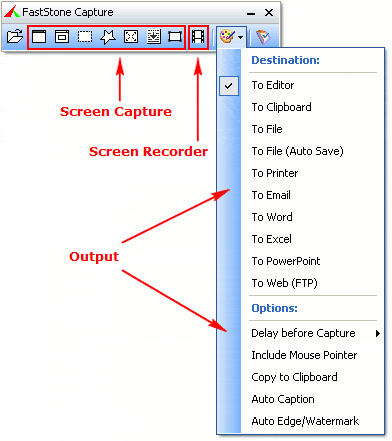 One of the most amazing features which FastStone boasts of is it allows you to capture multiple areas of the screen in a single screenshot.
Pricing
FastStone Capture gives 30 days free trial and then you can buy it at $19.95
Pros of FastStone Capture
Video support
Multiple format support
Feature-rich
Best editing tools
Different options for screen capture
Cons of FastStone Capture
Price
Download and Install FastStone Capture
PicPick
PicPick is a smaller and more developed version of FastStone Capture. It is lightweight and has most of the features in common to FastStone Capture like Capture with keyboard shortcuts, multi-output support, annotation support, multi-tab support, image editing tools, Image saving in multiple formats, etc.
However, you should note that PicPick doesn't have the option of recording your screen. So if you are looking for video capture FastStone Capture is the one for you. But PicPick has the additional functionality of sharing the captured images directly to Evernote, Facebook, Twitter, drive, and many other top websites.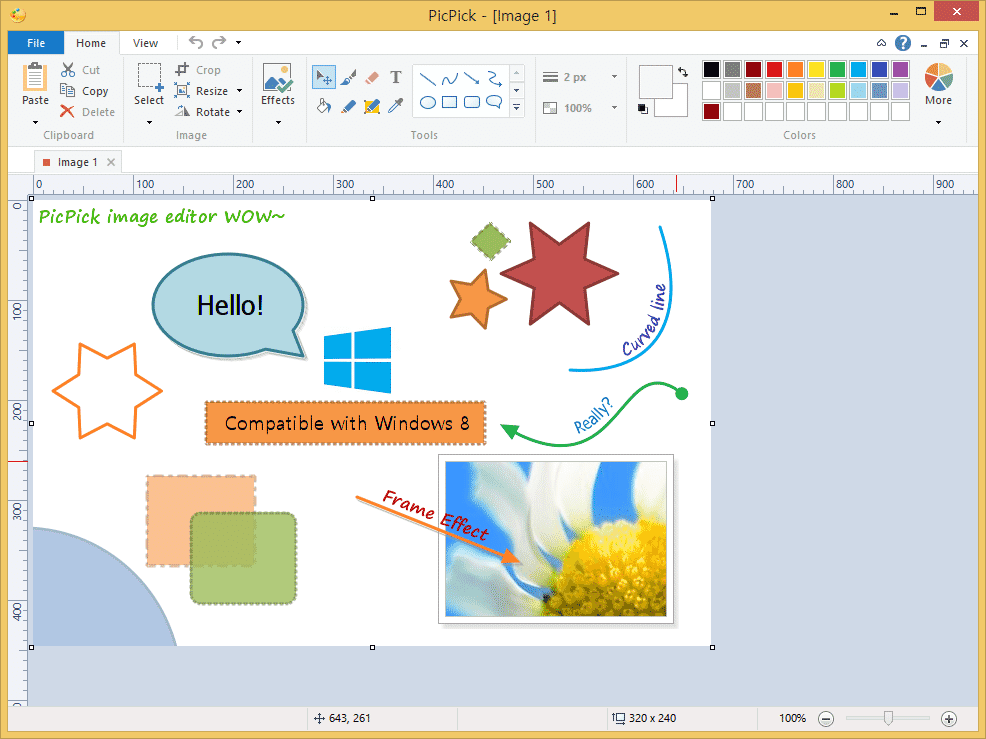 The user interface of PicPick is clean and looks similar to Microsoft Paint. You can see most of the editing options on the right of the top menu. PicPick has some of the awesome drawing options. Let us give a brief view of some of these options:
Crosshair: This is one of the coolest features PicPick has got. It is used to identify the dimensions of an on-screen object. Just set up 2 reference points and the crosshair will determine the dimensions between these reference points.
Protractor: This is similar to the "dee" that we used in school. It is used to measure angles. This tool sets up a virtual protractor on the screen to measure angles.
Pixel Ruler: The name says everything. This tool puts a ruler on the screen to measure your screen in pixels.
Download and Install PicPick
Price
PicPick is free for personal use and it is priced at $24.99 for the commercial license.
Pros of PicPick
Excellent and unique features like Pixel Ruler, Protractor, and crosshair
Simple and modern user interface
Good capture options and feature list
Cons of PicPick
No screen recording support
The scrolling of the screenshot has to be configured.
Skitch
It is made by the developers of the most popular note-taking app Evernote. Some of the features of Skitch are:
Mobile app (Android/iOS) is available.
Captures rectangular areas on the screen.
Annotation features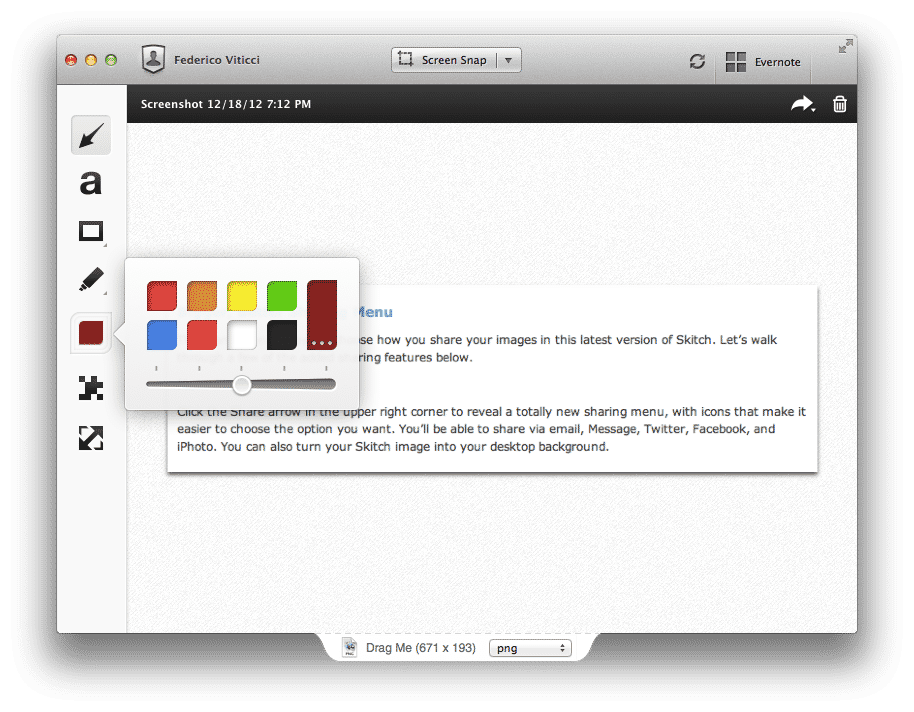 On the top, there is an option called "Screen Snap". Use it to capture the screen.
Download and Install Skitch
Price
Skitch is free for both personal and professional use.
Pros of Skitch
Easy to use
Simple interface
Final images appear professional
Price
Cons of Skitch
Limited features
No keyboard shortcuts
Snagit
Snagit is a free screenshot tool by Techsmith. This company also has another screenshot tool named "Snagit". Jing is a less versatile and free version of Snagit. But Jing is useful for simple screenshots. The most mindblowing thing about Jing is that it does not have a screenshot. It rests on the corner of your screen and shows it options when we click on it.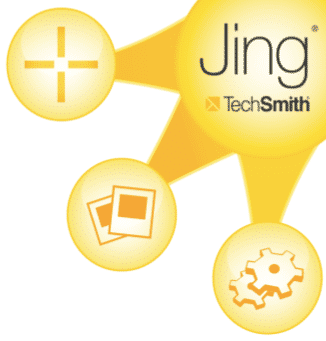 We can use on-screen options for taking a screenshot or customize keyboard shortcuts for taking screenshots. After you take a screenshot, Snagit will open a small screen where you will have basic editing options, annotate and adding text options. You can save the image directly after editing is done.
The sad thing is these are the only features available in Snagit as it was designed to be a minimal tool having limited features.
Download and Install Snagit
Price
Snagit is free for both personal and commercial purposes.
Pros of Jing
Lightweight
Free
Easy to use even for non-technical users
Cons of Jing
Limited features
Screenshots are saved only in png format
Nimbus Screenshot
Nimbus Screenshot is a chrome and firefox plugin and after installing, it appears in the extension area of the browser. Some of the features of Nimbus Screenshot are:
Capture scrolling area
Screen recording
Capture part of a screen
Keyboard shortcuts
Start with a blank image
The standout feature of Nimbus Screenshot is that it can take a scrolling screenshot of only a part of the screen.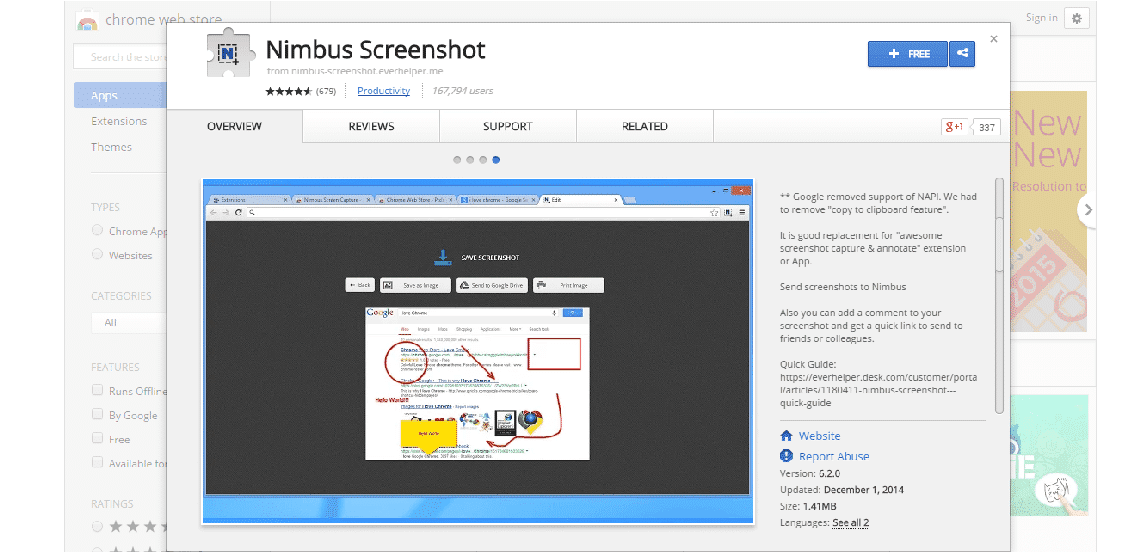 For taking the screenshot, just click on the extension icon or you can use the keyboard shortcuts for the same. After taking the screenshot, you will be guided to 3 options- save, edit or discard. You can further perform any of these tasks by selecting one of these options.
Now you may be wondering that if Nimbus Screenshot is a browser-based screenshot tool, will it be useful for taking screenshots of other windows? The answer is yes. Below is the procedure for the following:
Open the "blank image" from the extension.
Nimbus Screenshot will open the editor for you.
Now choose the options which say "Capture from the desktop".
Once you click the button, you will see all the open windows.
Choose the one you would like to capture.
These were the features of Nimbus Screenshot.
Download and Install Nimbus Screenshot For Chrome
Price
Nimbus Screenshot is free.
Pros of Nimbus Screenshot
Lots of capture options
Free
Video Support
Cons of Nimbus Screenshot
No multi-tab interface.
Image editing features are basic
Limited file format support
This was our list of 5 awesome tools for taking screenshots on PC. You can share your list and give us more suggestions in the comment box below.
Read Next: 10 Google Chrome Keyboard Shortcuts