Tweet Tray is a neat little cross-platform app that lets you tweet right from your desktop. It is a distraction-free Twitter app that lets you Tweet quickly.
Social networking websites are a hot topic these days internationally and not because of good reasons as they were just a few years ago. When revolutionaries came online, so did politicians and our social networks are more prolific political battlefields today than anyplace else. Twitter may not have as many users as Facebook and it's not really a place for everyone. But it has the most important users like Presidents and Prime Ministers, CEOs, big brands, and of course, your local and global celebs. If you're into Twitter, you probably tweet a lot. How would you like to tweet right from your desktop without even opening twitter?
Tweet Tray
For long, Twitter has had a deeper OS integration with Apple's macOS allowing users to compose and post tweets from the Mac desktop. This functionality hasn't been present on Windows or Linux. No one probably even cared until @jonathontoon switched from Mac to Windows. He did miss the Twitter integration and decided to do something about it. The result, after much hard work, of course, is Tweet Tray. It's a cross-platform desktop app that lets you compose new tweets on your desktop.
For someone who uses Twitter frequently, this can be really handy. Imagine you're working on something, coding an app may be, and you suddenly want to share something with the world or your followers or friends. Wouldn't it be just convenient to click a compose tweet button on your desktop, type it out and hit tweet, instead of opening up the website and completely taking you off your work? This also means you won't be distracted by other parts of Twitter such as your glorious feed and other people's tweets.
It's built using the Electron framework like many cross-platform apps from free-lance developers and also using React, Redux, and Styled Components. It doesn't even have any disadvantages that pop-up while using apps that aren't built natively for a platform since it is designed for brief use and then be out of your way.
Features
Cross-platform
Custom profile color
Night mode toggle
Send images and GIFs with your tweets
Open with a keyboard shortcut
Proxy support via CLI
Install Tweet Tray
Tweet Tray is an open-source and free app and it works on Windows, macOS, and Linux. The project's Github page provides an installer file for Windows, Mac, and Ubuntu as well as an AppImage for any other Linux distributions.
Using Tweet Tray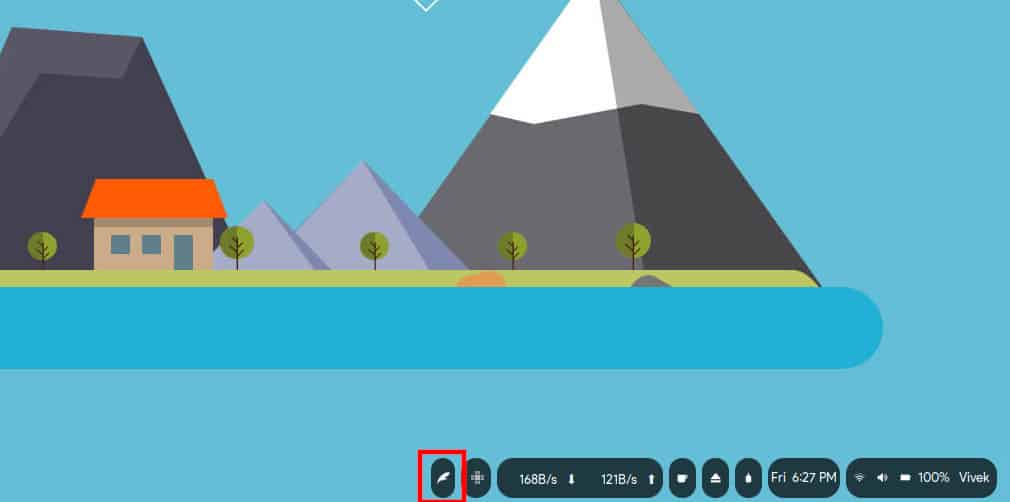 Once you have it installed, launch it from your app launcher, Start Menu, or wherever you launch apps from. When you do, nothing really happens but you should be able to see a feather icon in your system tray which means that the app is running. Depending on your operating system the system tray will be on the bottom-right (Windows), top-right (macOS), or wherever you have it placed in the case of Linux. Click on it and select Compose Tweet.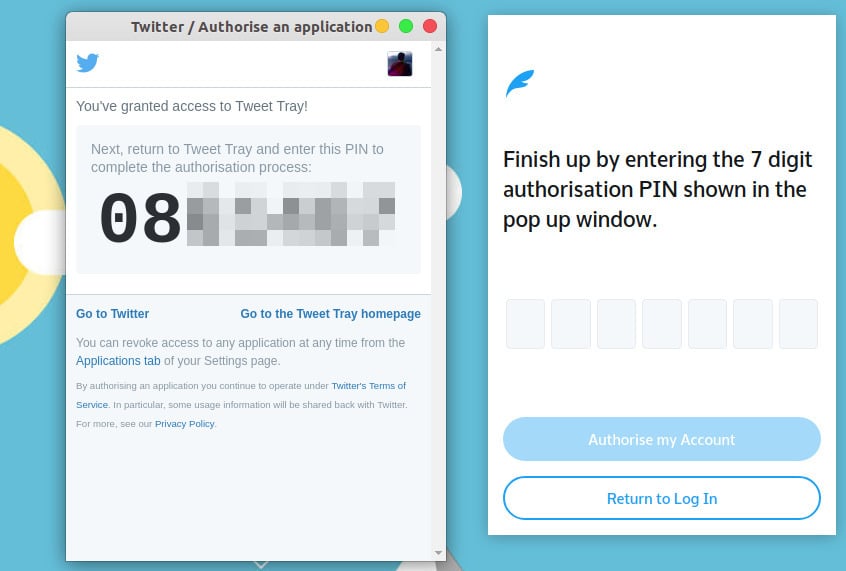 A new window should then open up where you will be required to log in with your Twitter account. Once the authentication is complete, you can start composing a tweet with a click of your mouse anytime, any place. As you type your tweet, you can see a round-circular character count meter around your profile icon. It fills up giving you an idea of how much more you can type in the tweet. You can also add a picture if you want, and when you're ready just click Tweet. In case you want to bold your text on Twitter, read our handy tutorial.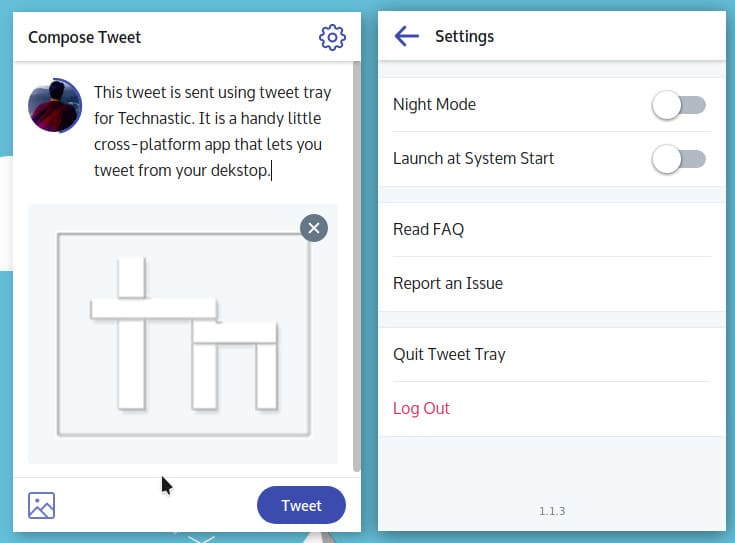 You can also turn on Night Mode in the settings which can be accessed by clicking on the cogwheel icon in the top-right. While you are in the settings, you might also want to turn on the toggle for Launch at System Start. It does what it says, that is, makes the app automatically launch at system startup which is pretty much the point of having such a utility.
Read Next: 20 Nova Launcher Tips to Enhance your Experience