Realme has a bunch of different smartphones at various price categories. The Realme XT, Realme X2, and Realme X2 Pro sport AMOLED displays. Thus, the company has included a Screen-Off Clock feature that works like Samsung's AOD. In case you are unfamiliar with the Always-On Display feature, there no reason to fret. It simply means that certain information such as the battery stats, time, and notifications are shown at all times on the screen. Using the steps given below, you can enable the screen-off clock on Realme smartphones.
Thanks to the AMOLED technology, it does not drastically increase power consumption. Thus, you can enable the Screen-Off Clock feature on your Realme device with an AMOLED display. Unfortunately, the AOD on Realme devices does not support notifications at the moment. Users will only be able to glance at the date and time. It will be great if Realme decides to add support to display notifications on the Screen-Off Clock. Nevertheless, here's how to enable the feature on your device.
Steps to enable Screen-Off Clock
Enabling the Screen-Off Clock on Realme devices is fairly easy and involves just a few steps. Follow the guide below to enable the feature on your Realme device.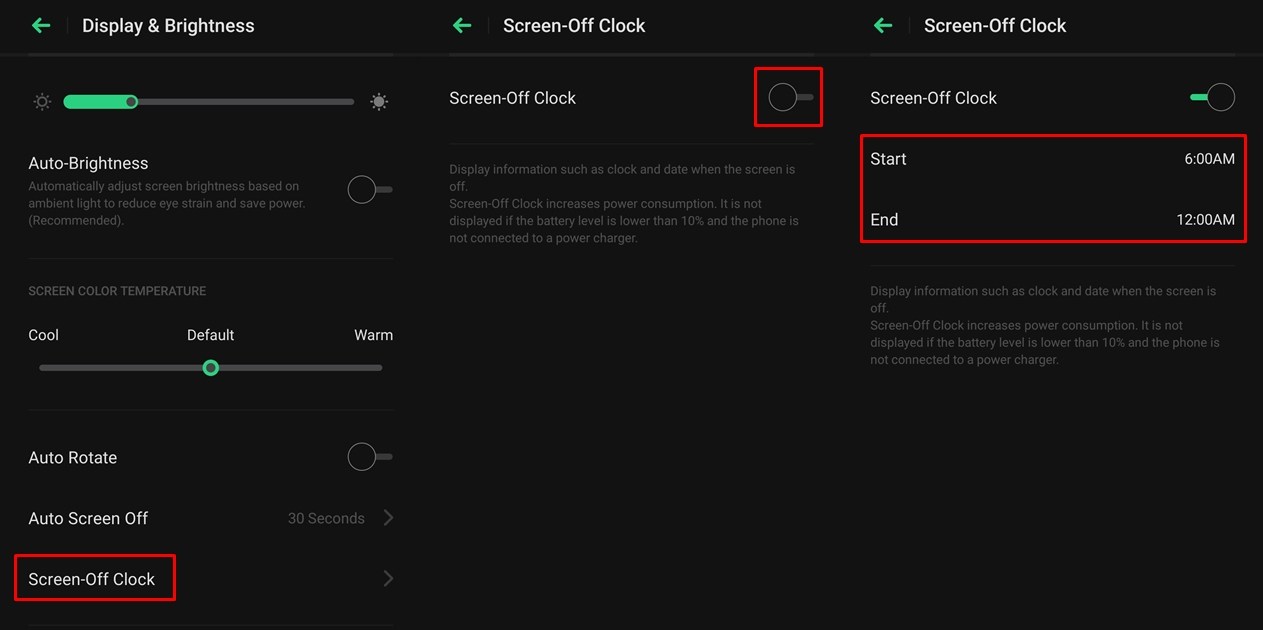 Open the Settings app and go to Display & Brightness.
Tap on Screen-Off Clock.
Enable the feature by tapping on the on/off slider.
Once the feature has been turned on, you can adjust the start time and end time.
Tap on Start and select the time you want the Screen-Off Clock to begin displaying the time and date.
Then tap on End and select the time at which you want the feature to turn off.
Check out: How to Mirror your Android Device to PC using Scrcpy App
That's it. You have successfully enabled the Always-on Display on your Realme device. The time and date will now always be on the screen between the start time and end time you selected. After the selected hours, the AOD feature will turn off automatically. Turning off the Always-on display will help save a little battery. But most importantly, it's a good way to prevent screen burn-in. Although, the clock and date keep moving around every now and then to prevent the same pixels from being active constantly.
The Screen-Off Clock will only be active when the device's battery is above 10%. Thus, if your phone is low on juice, the AOD will automatically turn off to help save battery. Moreover, it will be enabled once again after you charge the phone. If you're a Windows user, you can also check out how to view multiple time zones in the Windows taskbar. These apps let you customize the look and feel of the Always-on Display and offer greater functionality than Realme's basic Screen-Off Clock.
You may also like: