Most smartphone users spend their lives with the default settings of their devices. They don't have enough interest to dig deep into their device settings. For instance, most Android users hardly know about Developer options. If you are a smartphone enthusiast and want to explore more about your smartphone, you must try the MMI and USSD codes on your Android device. In this post, however, we would focus our attention on the list of Realme secret codes using which you can access the engineering mode and test hardware components, touch screen, Bluetooth, WiFi, audio, vibration, and sensors, and diagnose several issues.
I tested around 70 MMI codes on my Realme X2 but very few of them worked. The Realme secret code to enter the engineering mode (*#*#4636#*#*) didn't work as well. Most of the dialer codes that worked until 2021 have stopped working because the manufacturers like OnePlus, Oppo, and Realme have blocked them recently citing security concerns.
List of Working Realme Secret Codes
We have mentioned the list of working secret codes for Realme smartphones with screenshots below. However, I would suggest you check out our list of 80 Android secret codes before you proceed.
1. Check the IMEI Number
Whenever we make a list of secret codes for smartphones, it's customary to start with the most commonly known and universally working code which is an open secret. No matter which phone or tablet you use, you can check its IMEI (International Mobile Equipment Identity) number by typing *#06# in your phone's dialer.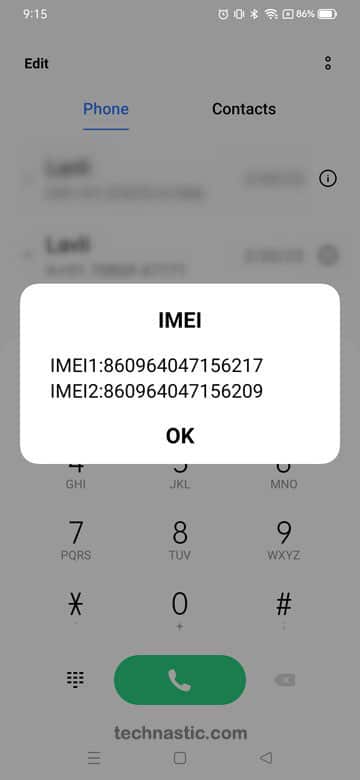 2. Display IMEI Info with Barcode
There's another secret code that works across devices from OnePlus, Oppo, and Realme to display the IMEI numbers of phones with their barcodes. Try *#66# in your phone's dialer.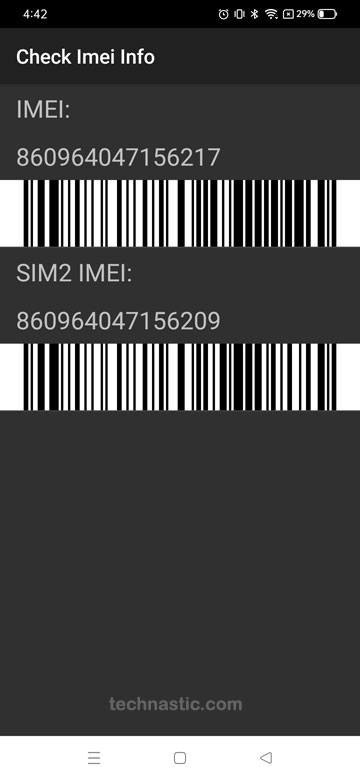 3. Display the OS Version of a Realme Phone
Realme devices run a customized version of Android called Color OS. If you want to check the version of the Color OS installed on it, you can use a secret code for that. Open your phone's dialer and type *1234#.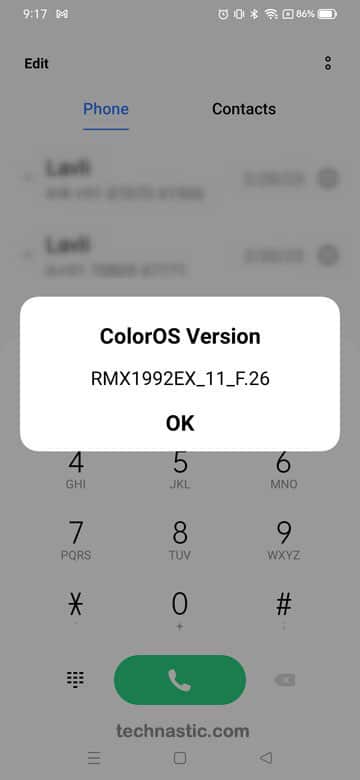 4. Check the SAR Level of Your Realme Phone
Specific Absorption Rate (SAR) is used to measure the rate at which radiofrequency is absorbed per unit mass by a human body. The Government approved level differs from country to country. The SAR limit for mobile devices is 1.6 W/kg. Tests for SAR are conducted against the head with the device transmitting at its highest certified power level in all tested frequency bands.
To check the Maximum SAR level of your Realme device, type *#07# in the dialer.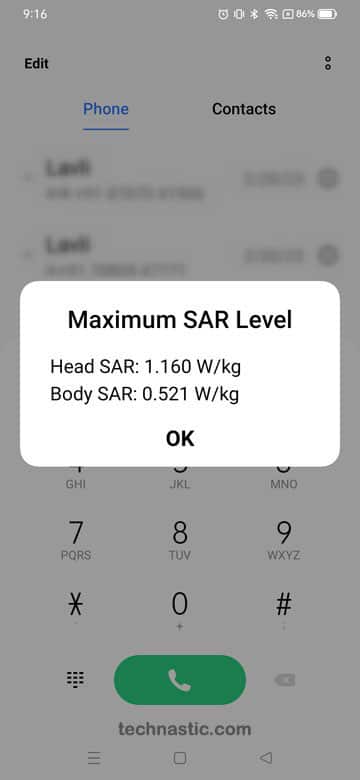 5. Display the Software Version of a Realme Device
Normally, you can get the technical specification of your phone's hardware and software by navigating to Settings > About phone on any Android device. However, if you want to get more detailed information about the version of Android, kernel, OTA, baseband, etc., you can try *#6776# on your Realme phone.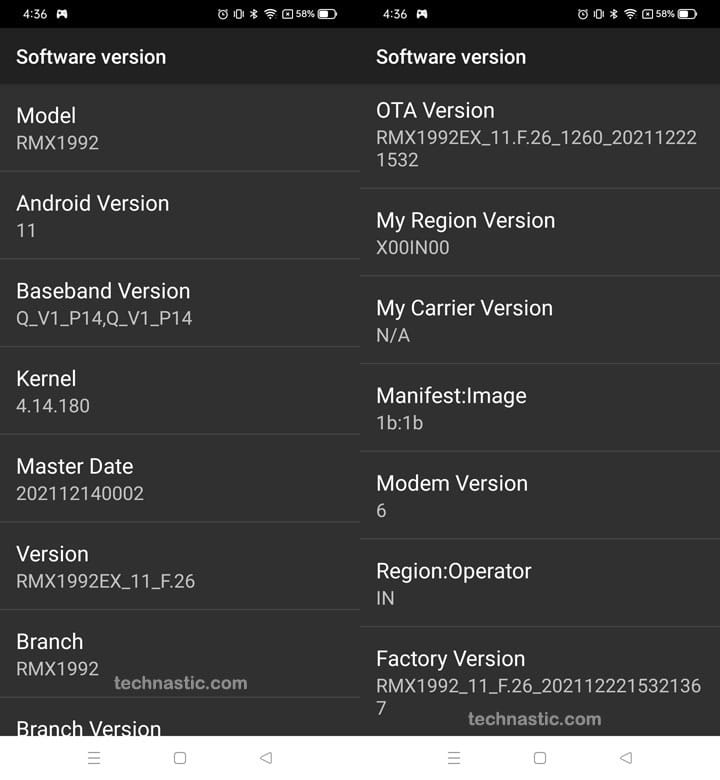 6. Realme Engineering Mode Code to Display the PCB Number
The code(*#*#4636#*#*)  to access the Engineering mode on Realme devices doesn't work anymore. I remember using *#888# a couple of years ago to enter the Engineering mode. Realme seems to have limited its function. Typing *#888# in the dialer still takes to the EngineerMode but now it displays only the PCB number with a QR code as shown below.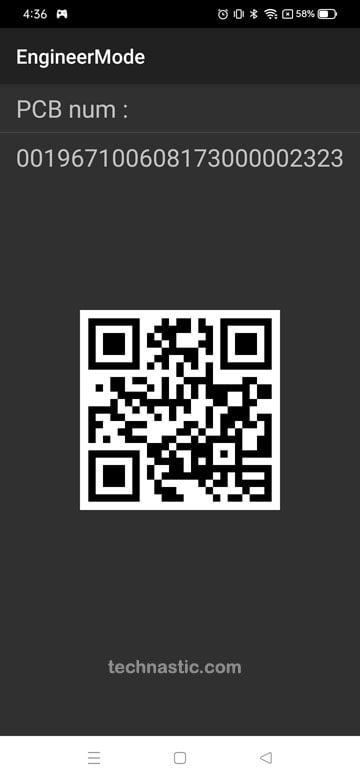 7. Report Device Issues to Realme via Feedback
Realme smartphones come with a pre-installed app called Feedback. This app can be accessed only by using a secret code. Feedback lets you capture logs, report bugs, and share your feedback with the OEM. Using this feature, you can report issues related to phone calls, audio, Bluetooth, GPS, mobile network, Wi-Fi, lag, stability, overheating, power usage, charging, camera, sensor, touch, keyboards, and so on. The Feedback app also supports screen recording so that you can show the problem in action.
Please note that you can't access Feedback via the app drawer or device settings. Just type *#800# in the dialer, agree to the terms, and you'll enter the Feedback page on your Realme phone.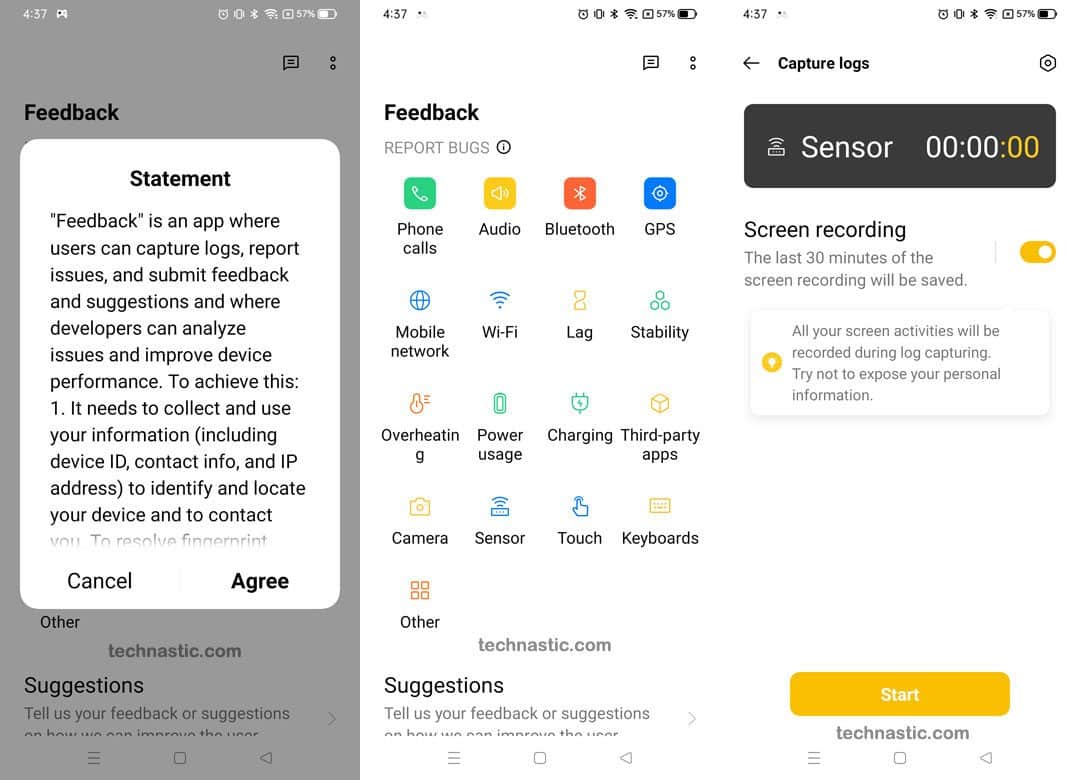 8. Display Calendar Info
You can use *#*#225#*#* as a secret code on your Relme device to get information about the Calendar app. It shows the total number of holidays in your country and the events marked in your Google account.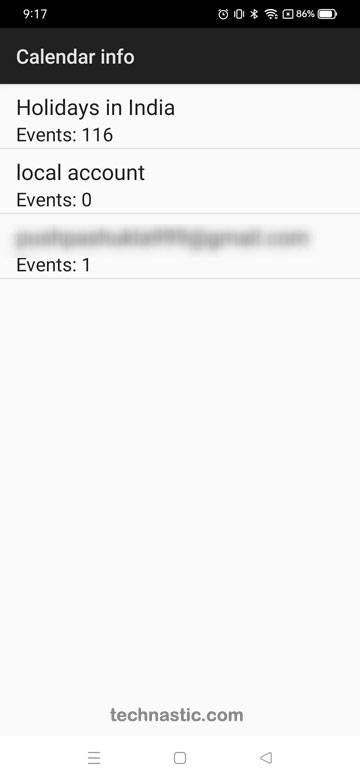 9. Display FCM Android Diagnostics Page
FCM or Firebase Cloud Messaging is a cloud-based cross-platform messaging technology. It's used on all Android devices. By using *#*#426#*#* on your Relme phone, you can access the FCM Diagnostics page. It contains key information to troubleshoot issues related to message delivery. Once you enter the FCM interface, you can tap on the Events button to check the event log.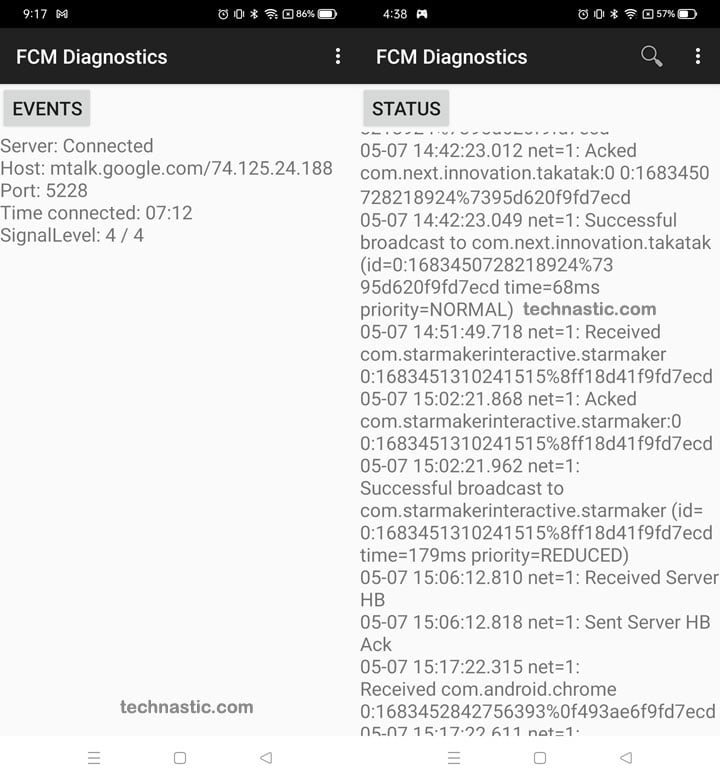 10. Wipe out Your Phone's Internal Memory
We all know that we can perform a factory reset on any Android device from Settings > Backup and reset. However, there is a secret dialer code using which you can wipe the internal storage of your Realme phone without going to settings. Just open your phone's dialer and type *#*#2947322243#*#*. Please be warned to use this code with caution because it may wipe your data without warning.
Miscellaneous Secret Codes for Realme Devices
Below are a bunch of more secret codes for Realme devices that you can try. Depending on your phone model and software version, some of them might not work.
*#*#7594#*#* ➡ Using this Realme secret code, you can change the behavior of the Power button by making it turn off your device directly without triggering the Power Menu.
*#*#64663#*#* ➡ Perform QC test on Realme devices
*#*#759#*#* ➡ Acess the Rlz Debug Ul
*#*#8350#*#* ➡ Disable voice dialing logging mode
*#*#8351#*#* ➡ Enable voice dialing logging mode
*#*#7780#*#* ➡ Reset your Realme device and erase all phone data like images, videos, documents, apps, settings, etc.
*#*#1111#*#* ➡ Display FTA Software version
*#*#2222#*#* ➡ Display FTA Hardware version
*#*#0*#*#* ➡ Device LCD display test
*#*#0289#*#* ➡ Device Audio test
*#*#7262626#*#* ➡ Perform network field test
*#*#0842#*#* ➡ Vibration and backlight test
*#*#0588#*#* ➡ Proximity sensor test
*#*#0283#*#* ➡ Packet loopback test
*#*#34971539#*#* ➡ Get detailed information about the camera software version
*2767*3855# ➡ Completely wipe your phone and reinstall the firmware
*#*#273283*255*663282#*#* ➡ Create an instant backup of the media files stored on your Realme phone
It's time to wind up our list of Realme secret codes. Try them and let us know if they work for you. Also, if you know about any working code that is not mentioned here, please share them and we'll update out list.