Microsoft was pretty proud when it introduced Cortana to the Windows 10 desktop. It may not be the best but it definitely is right up there with Google Assistant and Siri. But Cortana makes it a bit difficult to like it even if you really want to. And this is not due to a flaw in the AI assistant but because of Microsoft's decisions to make it exclusively use Edge and Bing. This wasn't the case until April 2016 though. But today, any searches you do through Cortana are sent to bing and opened in Edge, whether it is your default web browser or not. Luckily there were people who wanted to use Cortana but hated Edge just enough to do something about this. So here is how you can make Cortana use Google search and Chrome instead of Bing and Edge.
Use EdgeDeflector to make Cortana use Google Chrome
First of all, you'll need to make sure Google Chrome is set as your default browser. To do this, open the Settings app. 
Go to Apps > Default apps then click on whichever browser is set as your default browser under Web browser, possibly Edge. Select Chrome and you should be good to go. 
Now download EdgeDeflector and double-click on it to install it.
Once it is installed make a search with Cortana and click on the option with the under-text Search the web.  
It might take a couple of seconds but soon you'll be asked which program you want to use as the default for Cortana web searches. 
Select EdgeDeflector and check the box that says Always use this app, then click OK.
Your searches will now open up in your default browser from now on.
In case that does not happen, go back to the Default apps settings and click on Set defaults by app at the very bottom. 
Select Chrome and click Manage. Here, set Chrome as the default for everything.
Use Chrometana to make Cortana use Google Search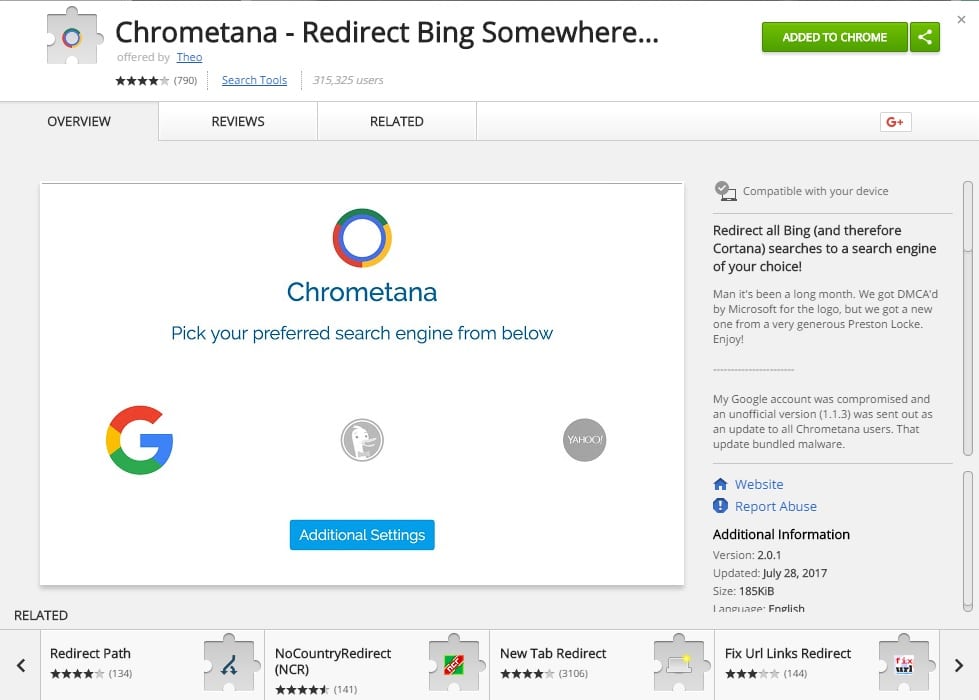 If you're happy with the new Bing + Google Chrome dynamics, your work is all but done. But seriously, nobody "Bings" these days, at least I don't know anyone who does. So obviously there are many who would want to swap Bing for Google. A chrome extension named Chrometana comes in quite handy here. Click the Chrometana link and then click on ADD TO CHROME button on the page that opens up. When it is installed, a new page opens up where you're allowed to choose your default search engine. Chrometana provides three options here: Google, DuckDuckGo or Yahoo. Select whichever you want and close the tab. From now on, any searches you do via Cortana will use Google Search instead of Bing and will launch in Google Chrome instead of Edge.
Read Next: How to Pin Websites to Windows 10 Taskbar