Getting into Microsoft's Windows Insider Program used to be a hassle back in the day. But that changed with the release of Windows 10 which made getting into the Windows insider circle a much painless process. Windows Insiders get access to new Windows features and changes way before everyone else. Several features that you may have just received in a latest Windows update, a Windows Insider may have had for about 10 months. If you're curious about Windows 10 Insider builds and wondering how you can get in the Insider program, look no further. However, there are a few things you should consider first.
Warning
Windows Insider builds are not meant for the public because of a very good reason. These are under development builds, consider them beta versions of a new Windows release. Therefore, needless to say, the builds are not always a breeze to work with and may contain major or minor bugs. Be aware of what you're signing into. Microsoft does not recommend using Insider preview builds on your main PC as these are ideal for PCs you just want to experiment or test things with. Also note that once you are enrolled in the Windows Insider program, you may have to make a clean Windows 10 install when you want to opt-out of it.
A few more disclaimers, coming straight from Microsoft: "Only join the preview program if you don't mind lots of updates and sudden changes, are comfortable with troubleshooting, can handle backing up and restoring an operating system, and know what an ISO is and how to use it. Microsoft also recommends only installing the preview on a PC that isn't your daily driver."
Realistically though, the Insider preview builds shouldn't wreak much havoc on your system. This is even more true for users opting into the more stable preview option that Microsoft offers.
How to join the Insider program
Being part of the Windows Insider program requires you to sign-in to your PC using your Microsoft account. This is because it is the Microsoft account that will be a part of the Windows Insider program. Therefore if you are signed in as a local user, first of all, sign-in with your Microsoft account. To do this, go to Settings > Accounts and click on Sign in with a Microsoft account instead.
Now that you're signed into your PC with your Microsoft account, visit the Windows Insider Program web page.  
Click on Register personal account and then sign in with your Microsoft account. This registers your account as a Windows Insider. Thus, allowing any PC, that you have signed in with the account, to receive insider builds if you so choose.
Now, open the Settings app on a Windows 10 PC that you want to receive Insider builds on.
Then go to Updates & Security > Windows Insider Program and click on the button that says Get started.  If you haven't logged into your PC with a Microsoft Insider account, you'll be asked to do so first. Observe Microsoft's final attempts at frightening disclaimers, which we've covered above. 
Restart your PC now.
Select a circle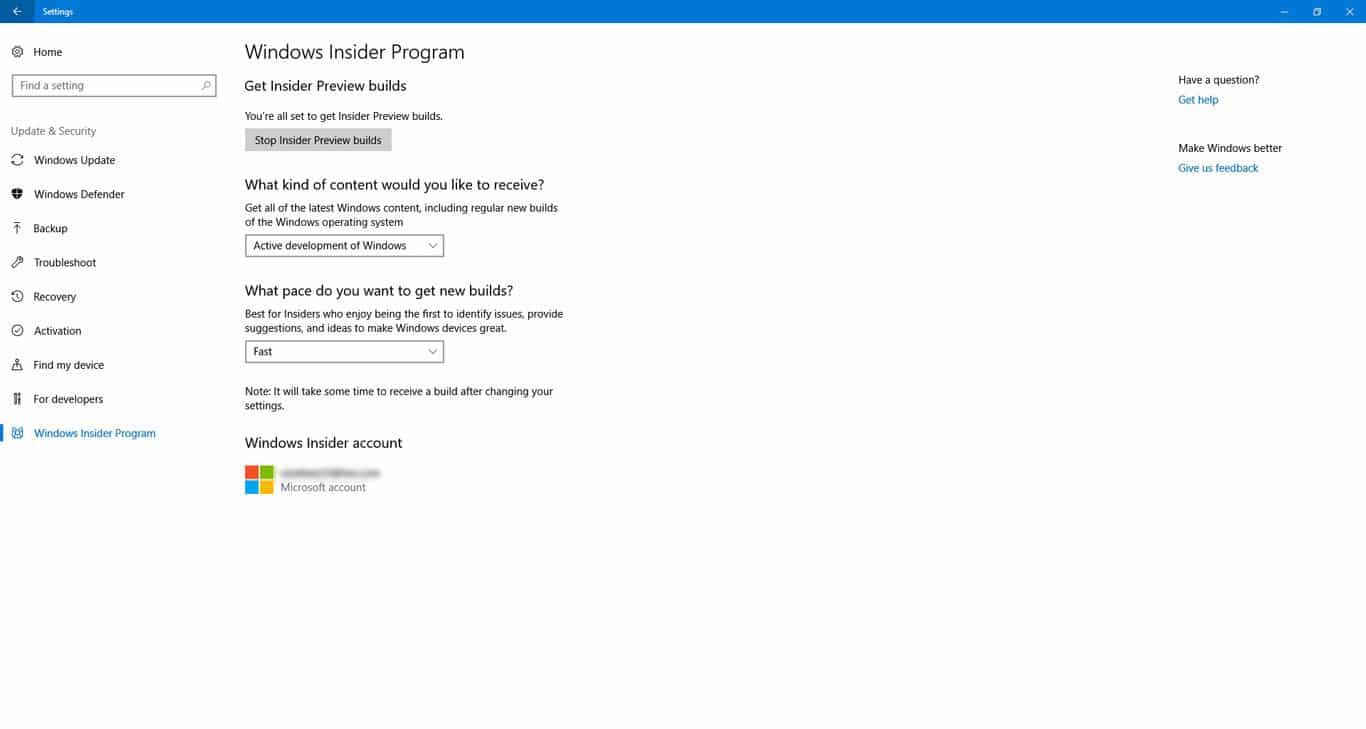 When your PC restarts, go back to Settings > Updates & Security > Windows Insider Program. This time, you'll find options to select a Windows Insider Circle. There are two choices here.
Slow: Best for Insiders who enjoy seeing preview builds with minimal risk to their devices, and still want to provide feedback to make Windows devices great.
Fast: Best for Insiders who enjoy being the first to identify issues, provide suggestions, and ideas to make Windows devices great.
By default, you are signed up for the Slow circle but you can change things whenever you want. Other than the two options, you can also opt-in to receive regular Windows Insider updates or Release previews.
Active Windows Development: Get all of the latest Windows content, including regular new builds of the Windows operating system.
Skip ahead to the next Windows release: Skip stabilizing our upcoming release and move straight on to our next Windows release.
You can click on the Stop Insider Preview Builds button anytime to roll out your PC of the Insider program.
Read Next: Sign Out and Lock Windows 10 Device Remotely