There is no denying the fact that every once in a while everyone gets a call from those super annoying telemarketers or some other random person that keeps on irritating you for some selfish reason.
Now, I love stock Android and will choose it over a skinned Android any day but sometimes I feel that having skinned Android would be better mainly because of a number of extra features added by the manufacturers. If you have a smartphone with skinned Android and want to block a phone number then it is super easy. You'll find the option to do so in the contacts menu. It is possible that different manufacturers may have put this option in different places but it is there and is very easy to find.
Unlike skinned Android, stock Android does not come with call blocking function. But there is a workaround for the users with stock Android. For this tutorial, I am using a Motorola Moto G 3rd Generation which is running the stock version of Android Marshmallow (6.0). The procedure is similar for Lollipop and Kitkat. So, here's how to block numbers on stock Android.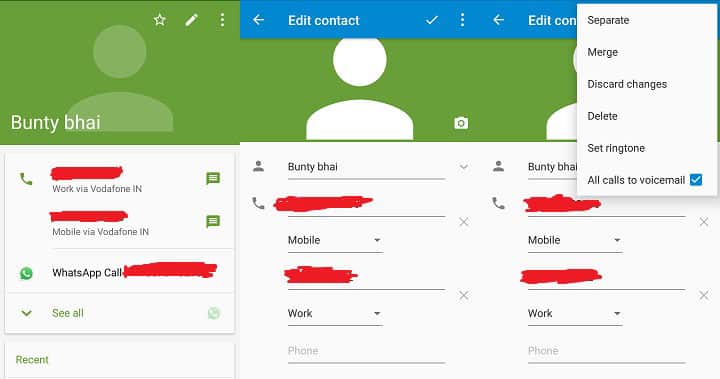 Make sure that the phone number that you want to block is added to your contacts list. If not, first add that number in your contacts otherwise, this trick won't work.
Once the number is added open your contacts app and look for the phone number in the list.
Tap on that number and you'll see all the information that you have regarding that person.
Tap on the pencil icon on the top.
Tap on the three vertical dots on the top right corner. You'll get a drop-down menu.
Tap on "All calls to voicemail".
Now you will not get calls from that number. Your phone will come busy whenever you get a call from that number even though you are talking to no one.
If you find this trick difficult then you can install any third-party call blocker from the Google play store. Truecaller and Calls Blacklist are some of the most reputable call blockers for Android.