Password Managers are a necessity these days if you have any kind of online life. Whether you just use the internet for entertainment or for your work, you probably have a lot of online accounts to remember. Google Chrome has a built-in password manager like many other browsers. Today we'll see how to use Google Chrome password manager. This includes turning it on or off and editing or removing saved passwords on Chrome.
Google Chrome Password Manager
Google Chrome, like other browsers, offers an easy way to save your user IDs and passwords across websites. ou can also do this by setting the same password for all your online accounts. It wouldn't be a wise move though from a security standpoint. It's always recommended that you use unique and hard-to-guess passwords. An ideal password should include upper case and lower case letters, a symbol, and a numerical digit.
When you create these stronger passwords, remembering them is nearly impossible. Chrome will remember them for you if you so choose. It will also automatically populate the user ID and password fields with the correct credentials. There is a lot of conveniences that the Chrome password manager brings. Not only this, with ChromeSync you can even sync those passwords across all your devices.
If you ever encounter the black screen issue in Google Chrome, and don't know how to fix it, read my tutorial on the topic.
Enable Chrome Password Manager
Generally, on any fresh install of Google Chrome, the password manager is already enabled. If for some reason, it isn't, or if you just want to verify, go to Settings > Autofill > Passwords. You can also directly access this settings page by entering the following URL in the address bar.
chrome://settings/passwords

Turn the toggle on for "Offer to save password" to enable password manager.
Steps to View Saved Passwords in Chrome
With the password manager turned on, whenever you log in or sign up to any website, Chrome will offer to save your login credentials. Saved passwords can be found in Settings > Autofill > Passwords. Your saved passwords are listed just below the toggles.

By default, passwords are masked for security. To view saved passwords in Google Chrome, click on the eye icon next to it.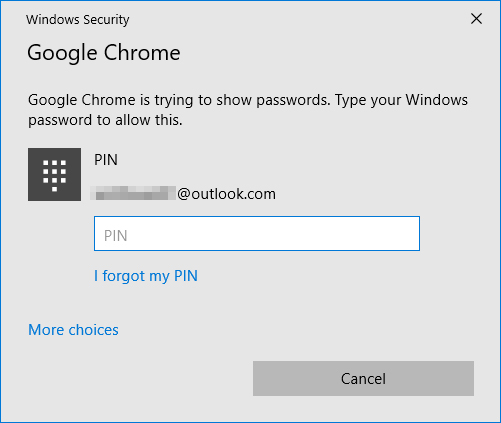 You'll then be asked to enter your computer's password. Once you do, the password will be made visible.
How to Remove Saved Password in Chrome

To remove a saved password, go to the Settings > Autofill > Passwords page again. Click on the three-dot menu button next to a saved password that you want to remove. From the menu, click on Remove.
How to Export Chrome Passwords
If for some reason you'd like to export all your saved passwords from Chrome, you can do so as well. However, this is not recommended unless you absolutely must.
To export Chrome passwords, go to Settings > Autofill > Passwords. Click on the three-dot menu button next to the Saved Passwords heading.

Select Export passwords… from the menu. You will be warned that your exported passwords will be easily visible to anyone. If you go through with it, you will be asked to choose a location to export the passwords to. In that location, you will find an excel sheet filled with information such as the website URL, your user ID, and password.
That's all for now! In case you want to get rid of plesky notifications coming from Chrome, you must read our guide on managing notifications in Google Chrome.