Songs play a very important role in a TV show or a movie. They clearly set the mood required for that particular scene. Thankfully, there is a way to find what song is playing in a movie scene or a TV show easily.
Last night, I was watching The Originals and, in the beginning, a song played in the background which I kind of liked. I wanted to listen to the complete song but I didn't know what that song was or who was the artist.
I believe that this problem is not exclusive to me, right? A lot of people must be facing the same problem. Maybe you too. What do you do in such a situation? Most of you must search the internet for that song. The internet is huge and it is possible that you may get lost. In such circumstances having a source on which you can completely rely comes handy. Here enters TuneFind.
TuneFind is a crowdsourcing service that maintains a list of all the songs that appear in a TV show or a movie in order of their appearance. All the songs are submitted by the users who, like us, love to watch movies and TV shows and love to listen to songs. If the TV show is still airing or the movie has been launched recently then you can find songs from it in the featured section on the homepage. And if it is not available on the home page then you can use the search bar to find what you are looking for.
Once you find the episode that had the song you are looking for you'll notice that all the songs that were played in that episode are listed there with some description of the scene in which it was played.
Since all the songs are submitted by the users, the authenticity of that song is also determined by the users. Right next to every song you'll find a green and a red button. If you think that the song is the correct one, you can help others in finding that song by clicking the green button. More green clicks increase the authenticity of the song.
In my case, I was looking for the song that was played in the background of the beginning moment of season 3 and episode 4 of The Originals. Luckily it was available in the featured section on the homepage so I didn't have to search for it.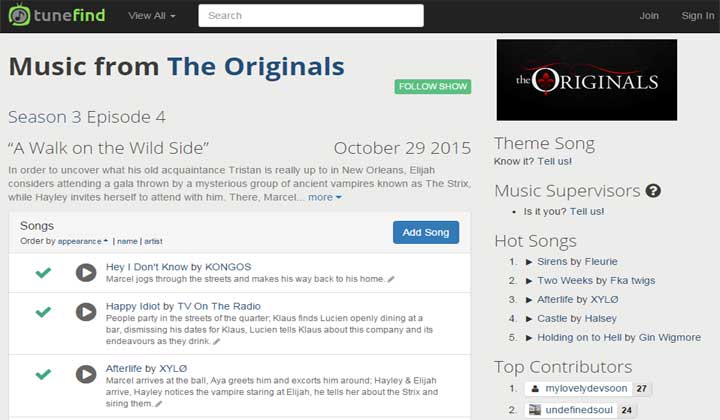 If you feel like contributing to the website, click the Add song button. Like other entries, your entry will also go through the process of determining its authenticity.
TuneFind hots 78,000+ songs, 30,000+ artists, and 26,000+ episodes and movies. So it is quite obvious that you'll find what you are looking for.
Up Next: Download Macbook Air 2020 Stock Wallpapers