Most of the people don't know the build number and version of their Windows operating system. And, it's cool as you really didn't have to if you were on the previous versions of Windows. The OS was more commonly referred using their official name like Windows Vista, Windows 7, Windows 8, etc. But, things have changed with Windows 10. in this article we'll tell you how you can find out build number of Windows 10 version installed on your PC.
Microsoft says that Windows 10 is the last version of Windows. So, it's safe to say that Windows 10 is here to stay. Now, you differentiate using the build number. Sure, Microsoft has used build numbers for a long time. But, now they are more important than ever.
Why are build numbers useful?
The best reason I can come up with to know your build number is troubleshooting. If you are looking for some solution about your computer on the internet, having the build number can make the task easier. It can narrow down your problem to a specific version of the operating system you are running.
Now that you are convinced, here's how to find your build and version.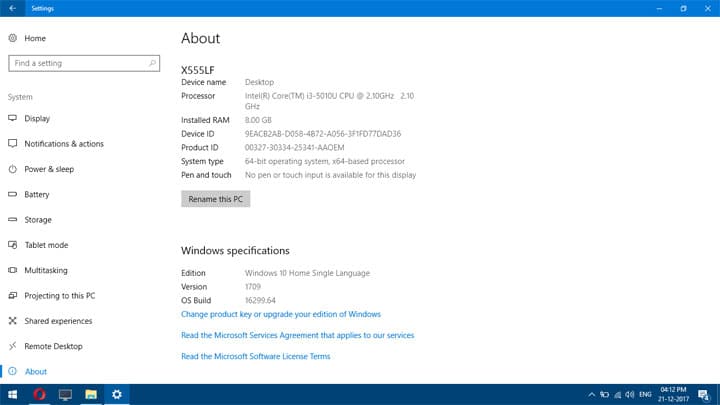 The best way is to use the settings app. This app offers information in a user-friendly manner. To open the settings app, click on the Start menu and scroll down to Settings. You can also use the search bar if you want. Another way to reach the Settings page is to use a shortcut key. For Settings, hit Windows+I. In Settings, navigate to System. Now, use the navigation panel on the left and click on About. Scroll down a bit and you will find the information you are looking for in Windows specifications section.
Edition: This tells you which edition of Windows 10 you have – Home, Professional, Education or Enterprise.
Version: This tells you which version of Windows 10 you are running. The version number is based on the last big update you installed. In my case, it is 1709. This means I am running is from September of 2017.
OS Build: This tells you the specific operating system build you're running. It gives you sort of a timeline of minor build releases in between the major version number releases.
All the above-mentioned information could prove useful if you are trying to determine whether your computer has received a specific update, whether you have access to a feature available only in certain editions, or whether you should download the 32-bit or 64-bit version of a software.