Privacy has been a serious concern since the inception of social media. WhatsApp, being a popular messaging app, is no exception. Besides end-to-end encryption, WhatsApp also allows users to lock chats and hide conversations to keep private messages hidden from prying eyes. One of the easiest ways to hide WhatsApp chats without deleting them and keep your chat feed organized is by archiving chats. In this tutorial, we'll see how we can archive WhatsApp chats on WhatsApp, where to find the archived chats, and how to unarchive chats in WhatsApp.
What do Archived Chats Mean?
WhatsApp archived chats refer to the feature that allows users to hide specific conversations from their main chat list while still retaining access to them whenever needed. This functionality proves particularly useful in decluttering one's chat interface, ensuring a seamless and organized messaging experience. By archiving WhatsApp chats, users can prioritize important or ongoing conversations without being overwhelmed by the constant stream of messages from less pressing contacts or groups.
So, what happens when you archive a chat on Whatsapp? The archived chats are neatly tucked away into an "Archived" chats folder, providing a sense of tidiness and efficiency within WhatsApp. This feature provides users with a discreet sanctuary to preserve and organize conversations that are perhaps less relevant in the present but hold sentimental or informational value for future reference. As digital time capsules, these repositories enable individuals to declutter their active chat list without bidding farewell to cherished memories or pertinent information.
Do you get notifications for archived messages on WhatsApp? You will not receive notifications for archived chats unless you are mentioned or replied to in a chat. Whether you archive individual or group chats, they will remain archived until you unarchive them manually. You can use the Chat lock feature if you want to lock a WhatsApp chat, hide it and block notifications.
How to Archive a WhatsApp Chat
Archiving chats in WhatsApp is easier than you might think. Just open WhatsApp and long-press the chat you want to archive to select it. You can select multiple chats this way. When the chat/s is selected, 4 icons will appear at the top of the chat list. Tap on the folder icon with a down arrow.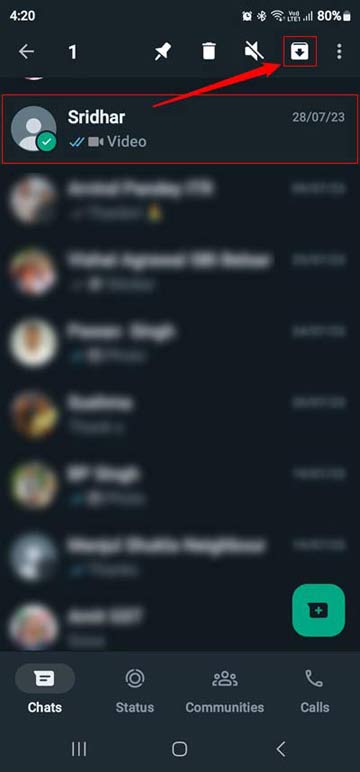 The selected WhatsApp chat will be archived.
Where to Find Archived Chats in WhatsApp
The archived chat will disappear from your chat list. When you archive a chat in WhatsApp, it is moved to a folder named "Archived". However, the location of the Archived folder has been changed. You can find your archived chats at the bottom of the chat list.
Just launch WhatsApp and scroll down to the bottom of the chat list. You will see a folder named Archived.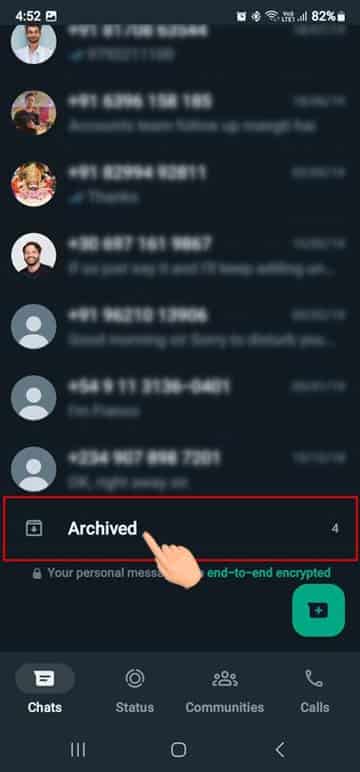 Just tap it and you'll find all archived chats in WhatsApp.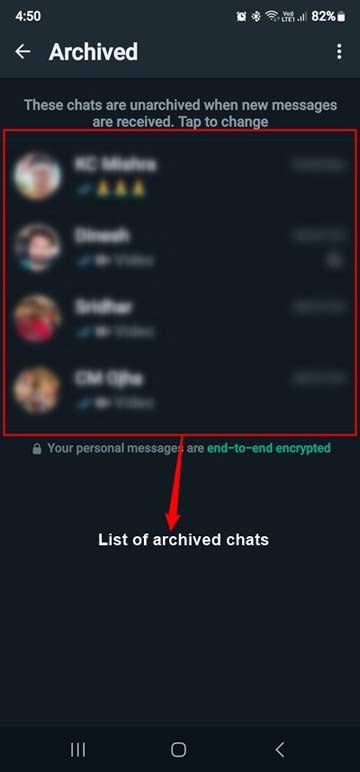 How to Unarchive Chats in WhatsApp
Unarchiving a chat in WhatsApp is as easy as archiving them. If you've decided that you want to unarchive a chat in WhatsApp, here's how to do it:
Open up the WhatsApp app on your phone and go to the Chats tab.
Scroll down to the end of the chat list to find the Archived folder.
Tap on Archived to view the list of chats.
Now long-press the chat you want to unarchive. You can select single or multiple chats this way.
Finally, tap on the Unarchive icon located at the top of the chat list.
That's all there is to it! The chat will now be moved back into your regular chats list and will no longer be archived.
Permanently Hide WhatsApp Chats
WhatsApp also lets you archive all chats by default. This is a great way to hide new messages in the Archived section and keep your chat list decluttered. Here is how you can archive all your chats in WhatsApp.
Go to Chats setting and tap on it.
Tap on the toggle button next to the Keep chats archived option.
How to Move Archived Chats on Top or Bottom
If you use the Keep chats archived option in Whatsapp's chat settings to archive chats, the archived chats will stay on top of the chat list. If you want to remove archived chats from the top and move them to the bottom in WhatsApp, go to Settings > Chats and turn off Keep chats archived.
To keep the archived chats at the bottom of the chat list, simply long-press a chat and tap the Archive icon. The chats archived this way, stay at the bottom which is better for privacy.
Now, you know how to archive, find and unarchive chats in WhatsApp.
Read Next: List of 80 Android Secret Codes and USSD Codes