Microsoft decided to go the Google route with Windows 10. Meaning they wanted to sell relevant ads now not software. Well, not like before at least when you had to pay for every new version of Windows. Apart from the ads, Microsoft now has its own Store for Windows 10 apps, a virtual assistant like Google, Bing, Edge and what not. Redmond is trying to compete on all fronts. But how do you compete with a giant like Google? Right, you try to collect as much data. Google has been doing it from the very beginning though, so not many people liked Microsoft's change in direction. For better or worse, it's a necessity if you want a better experience. Collecting data about your activity on Windows 10 is how Microsoft can promise to let users continue their tasks when switching between devices. To keep devices synced, most of this collected data is saved to the cloud. Luckily though, like Google, Microsoft also lets you view and clear your activity history in Windows 10.
The activity history is mainly important for the pick up where you left off feature that Microsoft offers through Cortana. Having made Cortana available on both iOS and Android, Microsoft does not necessarily need Windows Phone to offer this service. The feature allows you to resume apps, docs and other activities that you were doing before restarting your PC. It stores audio recordings of the voice commands you've given to Cortana, your browsing history if you use Edge, your search history if you use Bing, and of course, your location data. Microsoft Health, HealthVault, and Microsoft Band device also collect your activity history. You can of course always turn it off if you don't want this feature. But if you do, you might want to know what Microsoft knows about your activity.
Stop Windows 10 From Collecting Activities
You can stop Windows 10 from collecting your activities by simply toggling off a switch. Go to Settings > Privacy > Activity history. Here, toggle off the switch under Collect activities that says Let Windows collect my activities.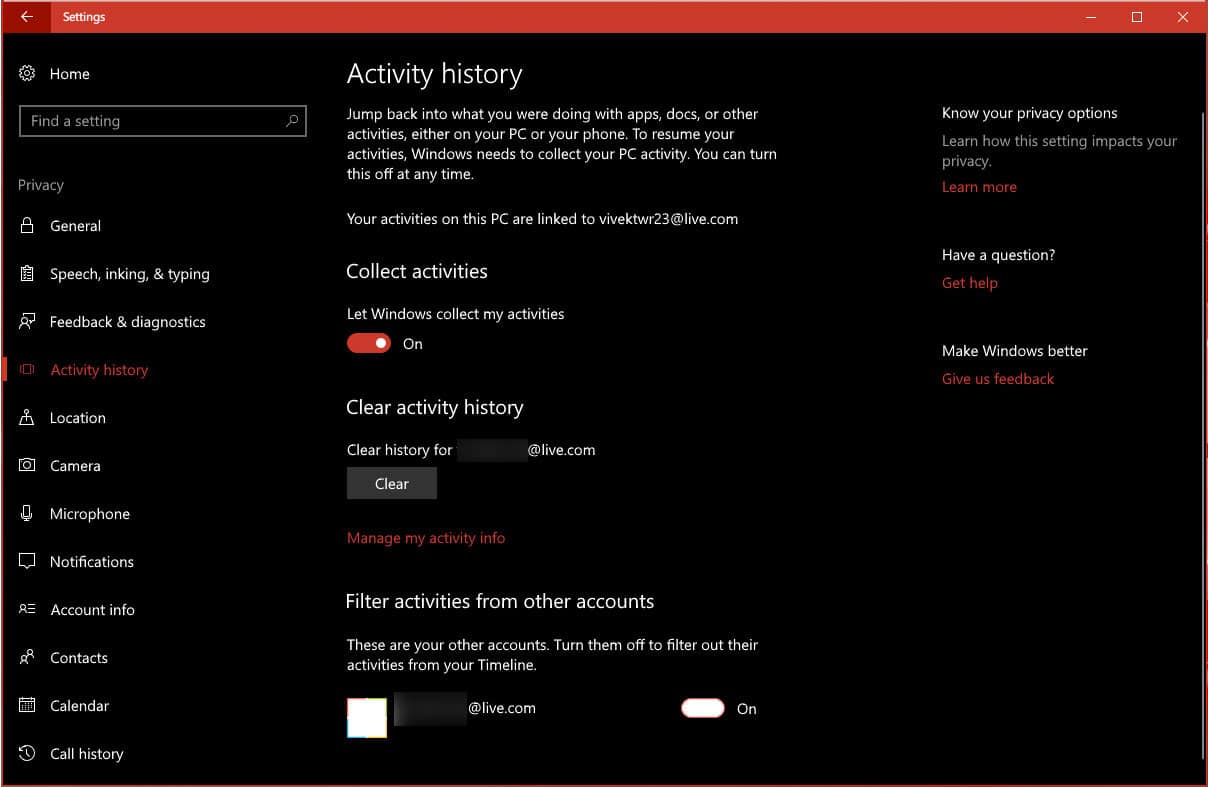 View and Clear Windows 10 Activity history
On the very same Settings page (Settings > Privacy > Activity history) you will find a section called Clear activity history right under Collect activities section. In the Clear activities section is a Clear button to clear all activity history. To view your activity history though you will need a web browser. Click on the link right under the Clear button that says Manage my activity info. This will open the Privacy Dashboard page in your web browser.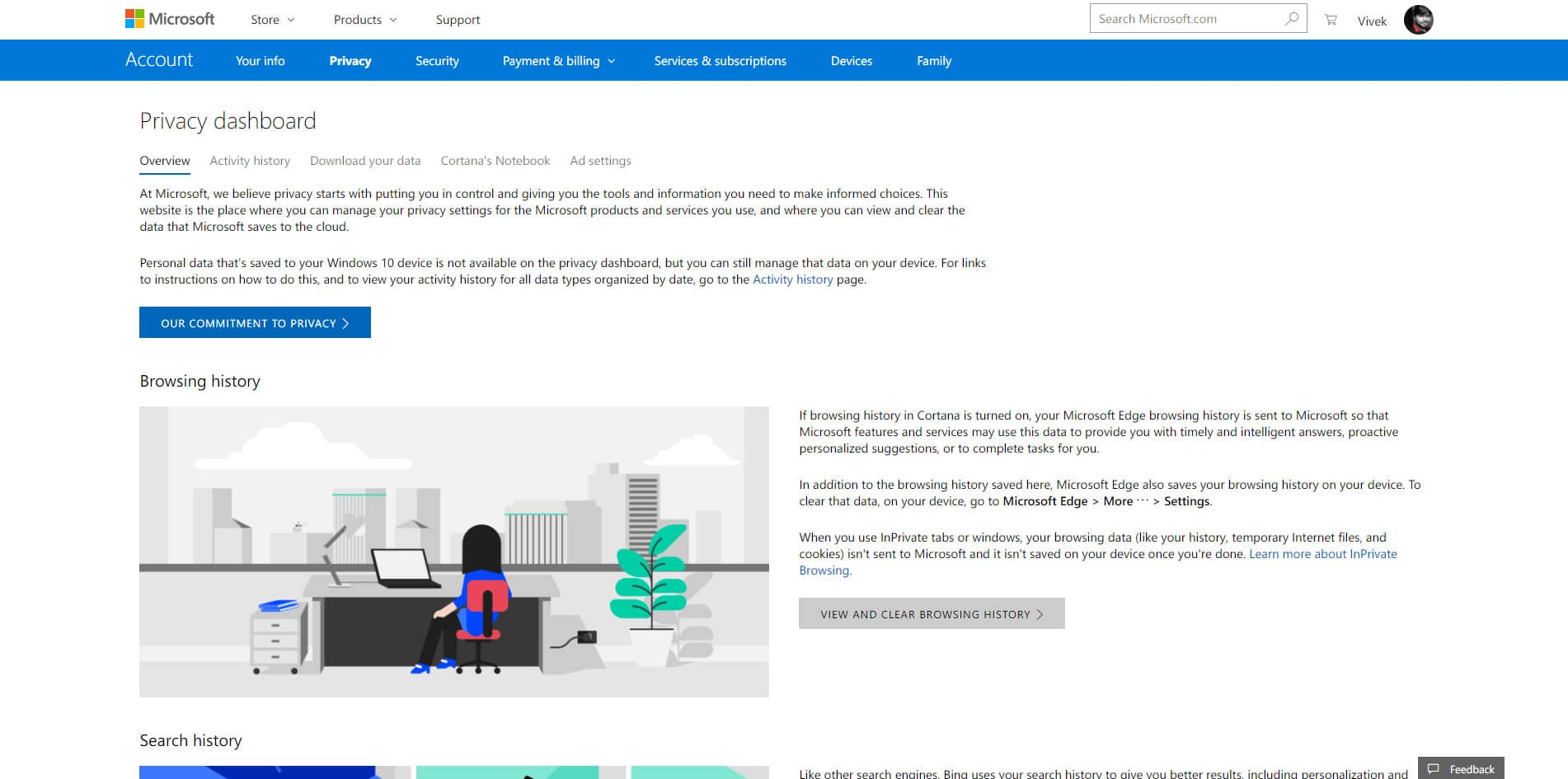 Scroll down the page to see options to view and clear activity history for voice, search, browse and locations. To clear activity history for a specific type of data, click the View and clear data button in that section. It will take you to Activity history page where you can see all collected data for the selected type of data. You can also just click on the Activity history tab next to the Overview tab and select the specific data type you want to clear.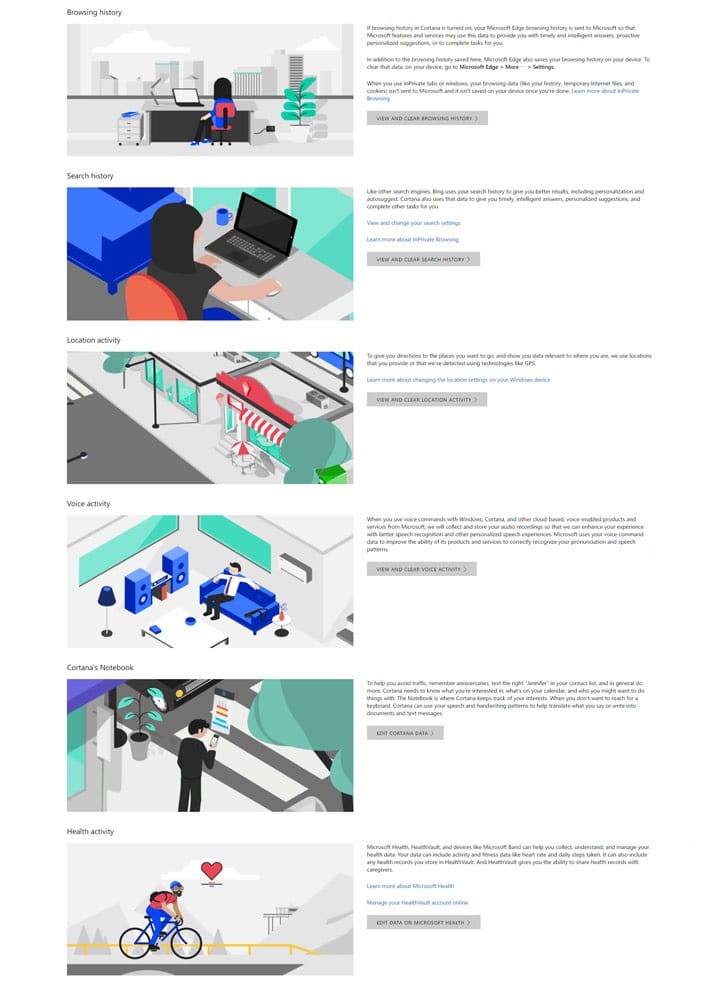 You'll notice a Clear all button in the top-right corner just above your activity entries. Clicking it will make a pop-up appear asking you to confirm your action. Click the Clear button again to clear all the data.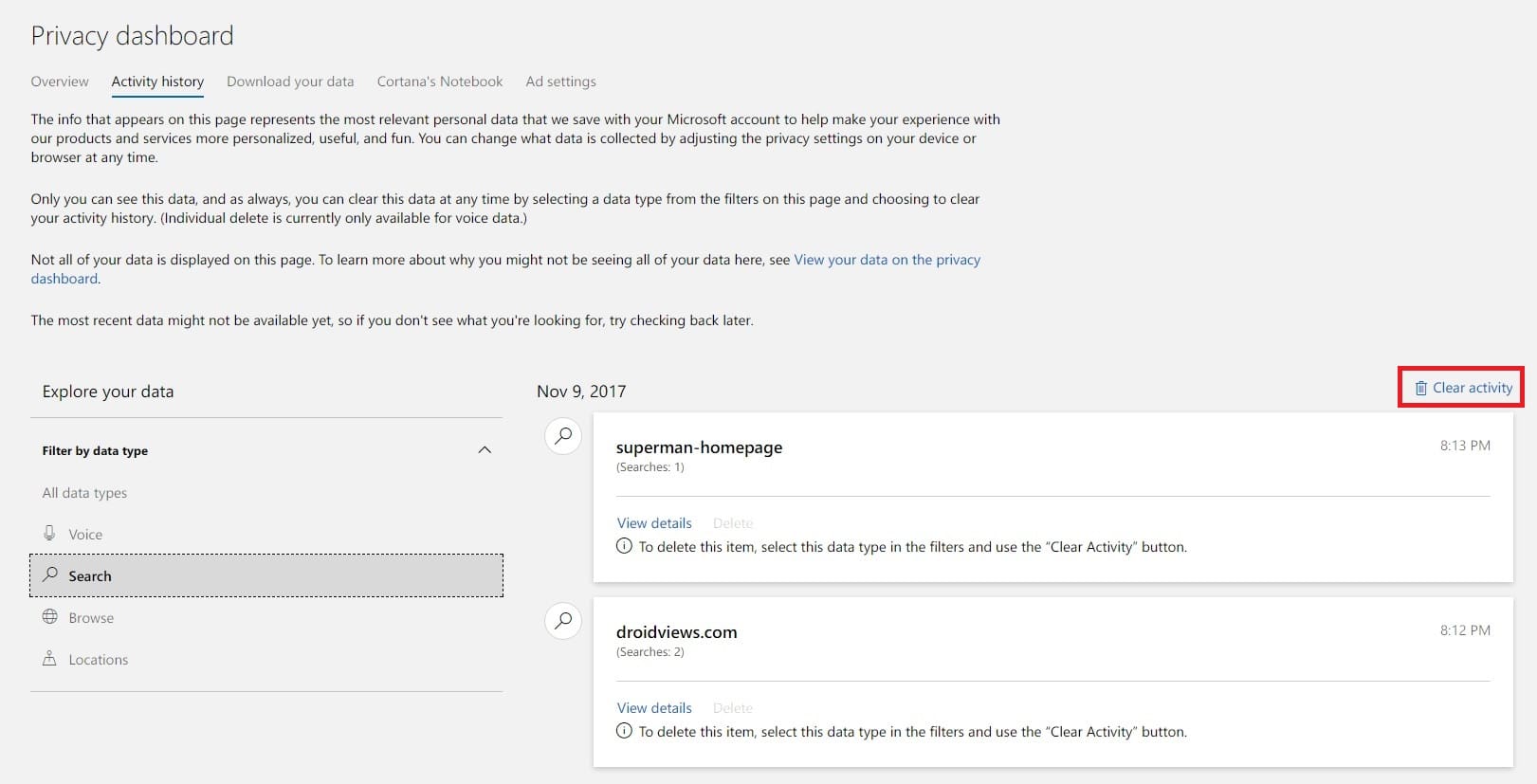 Cortana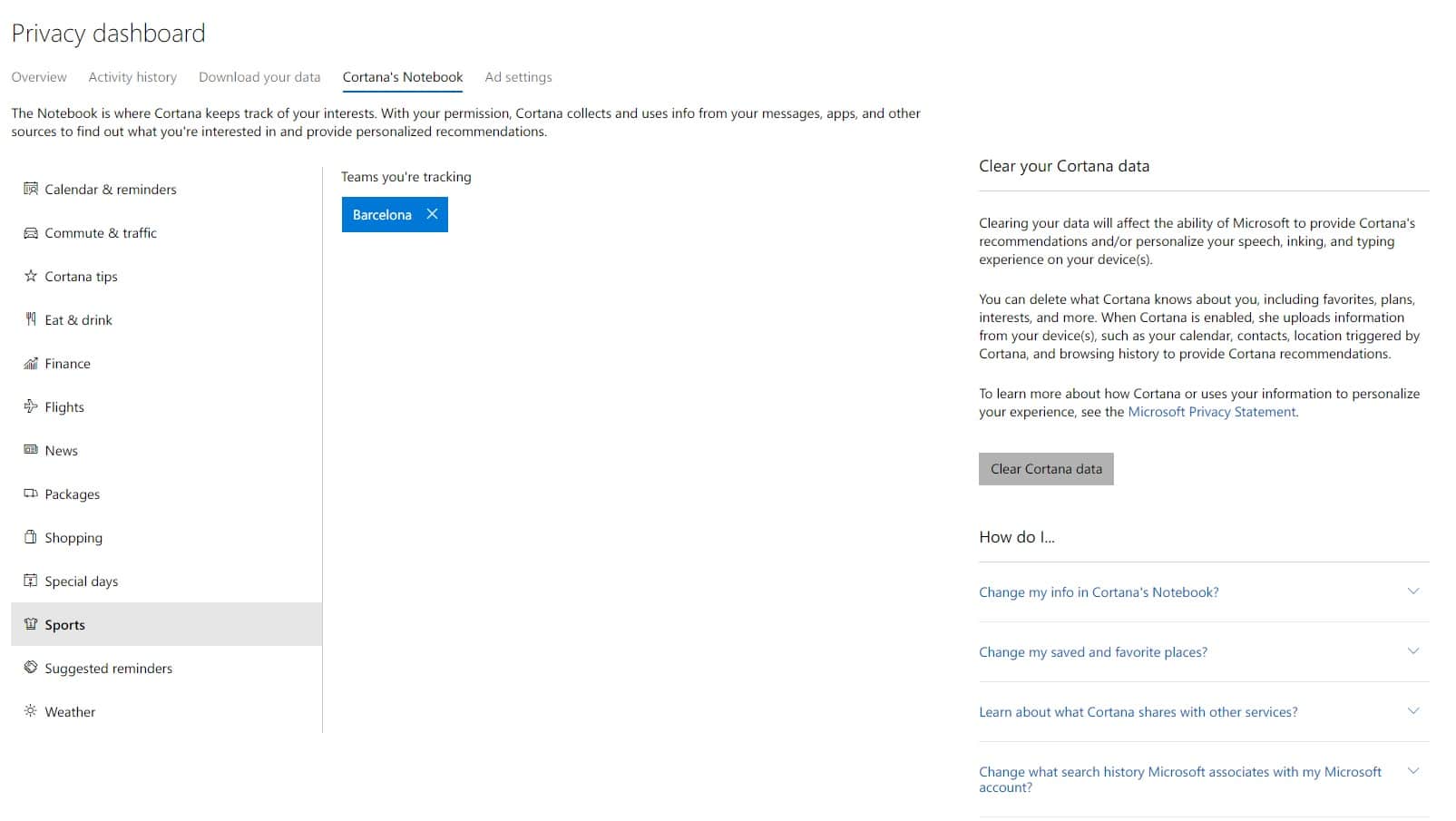 You can switch between different data types here but Cortana has its own section titled Cortana's Notebook. This contains all the information Cortana has on you. Things like your flight tickets, weather conditions at your locations, eating and dining preferences, the sports teams you follow, etc. You can clear everything up by simply clicking on the Clear Cortana data button on the right.
Microsoft lets you download your data in an archive format. The Download your data tab is located on the right of Activity history. Unless you use Cortana though it won't have much on you obviously. Most of the sections in Cortana's notebook are empty for me, barring the weather and my favorite sports team.
If you've accidentally let Microsoft collect your data and don't want to, you can use this page to clear everything up and then go to Settings and stop Microsoft from collecting your activity data anymore.