Google Chrome is the most used web browser on any platform, thanks to its smooth experience and unlimited web app store. Few weeks back, we have covered an article on how to mute individual tabs in Google Chrome so that you can peacefully browse the web pages without having to worry about the annoying flash ads and videos. If you have missed that tutorial, please follow it from the below link.
However, it still takes a bit of effort to navigate to that page and mute the videos in the page or just hit the mute button on the tab. After a bit of research, we have found another alternative to get rid of these annoying adverts. With Mute Inactive Tabs add-on for Chrome, you can auto-mute the tabs you're not currently using. So, if you're watching your favorite YouTube videos, the rest of the tabs will be dead silent. However, this will block almost all flash content in the inactive tabs which might disrupt your normal browsing experience.
So, try this out and check for yourself if your browsing experience has increased or not. Follow the below instructions to set-up auto-mute tabs on Chrome.
Automatically Mute Tabs in Google Chrome
It's quite easy setting this feature to work in your Google Chrome. Follow the below simple steps.
Install Auto Mute Tabs from Chrome Web Store. Mute Inactive Tabs pop up window will appear in the browser.
Now click on the ADD TO CHROME button. A pop-up will appear on the top of the browser asking to grant permission to add the extension.
Click on the Add extension button to add the extension to Google chrome.
After few seconds a notification will appear stating Mute Inactive Tabs extension has been added to Chrome.
You can see an  icon on the top right corner of the browser. Click on the icon to turn ON or OFF the sounds. If you wish to remove this extension from your Chrome browser, then right-click on the icon and click on the Remove from Chrome..  option.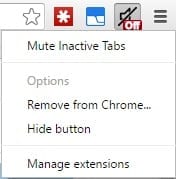 That's it. Isn't it simple? Yes, of course. Do let us know if you come across such awesome Chrome extensions so that it will reach a lot of people.