Mozilla's much-awaited browser, Firefox Quantum was finally released to the world yesterday. The company had been talking up the browser for over a year and it is everything they chalked it up to be. The browser launch speed is something you'll notice and appreciate. It launches as fast as Google Chrome, which is running in the background all the time. Firefox 57 also arrives with a new user interface called the Photon UI. It features new menus, a new customization pane, and tabs without rounded corners. Photon UI provides a more modern, sleek feel that's consistent across multiple platforms. While the UI is pretty nice and clean, it can't possibly please everyone and there might be a few things you want to change.
Disable color in the title bar

By default, Firefox uses Windows 10's color scheme to color the title bar and inactive tabs. If you've enabled title bar colors in Windows settings Firefox Quantum too will use a colored title bar. But if you don't want a colored title bar in Firefox, you can easily make it happen. Click on the Firefox menu button and select Customize.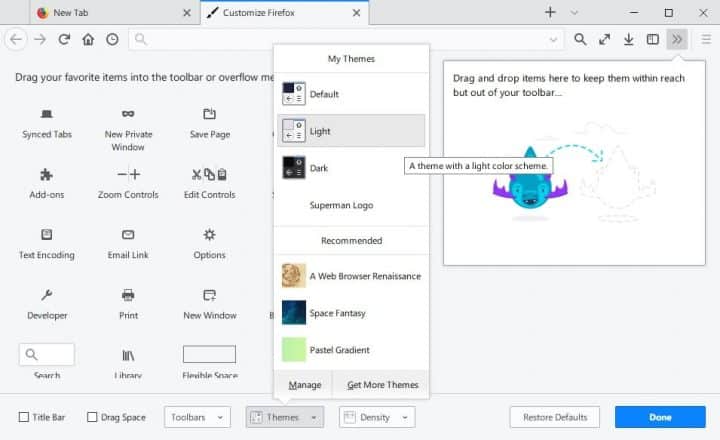 At the bottom, click on Themes and select either Light or Dark. The Light theme results in a while title bar while the Black theme changes everything, including the title bar, to black.
Remove Toolbar white space

Another thing you will eventually notice about the Firefox Quantum UI is the blank white space before and after the address bar. At first glance, it seemed like space intentionally left for new add-ons to appear. But that's not the case, so you might want to get rid of them. To do this, click on the Firefox menu and click Customize.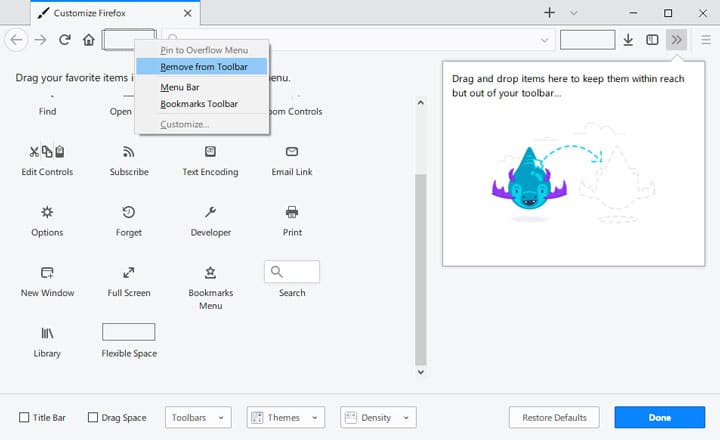 Right-click on the white space in the address bar and select Remove from Toolbar. Alternatively, you can simply drag and drop the white space (or Flexible space as Mozilla calls it) out of the Toolbar.
Remove Highlights from New Tab page

In Firefox 57, the new tab page displays Highlights in addition to the familiar search box and top sites. It displays the most recently visited or bookmarked websites. While this can be helpful, some people might want to get rid of it for a cleaner look. Especially when the Highlights are also accessible from the Library. Firefox lets remove Highlights from the New Tab page quite easily.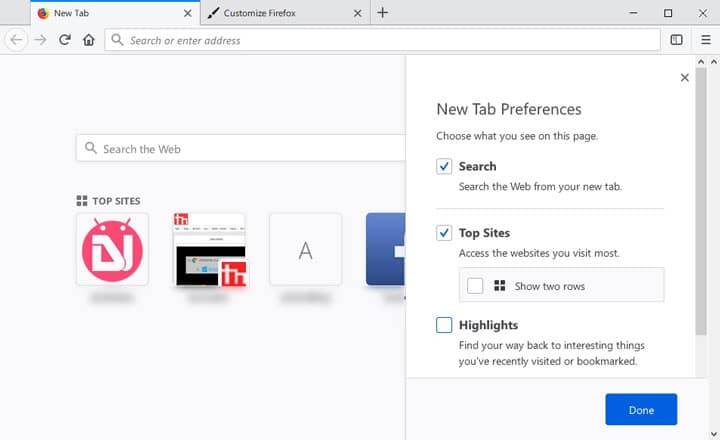 Just click on the gear icon in the top-right corner in a new tab page and uncheck the checkbox next to Highlights.
Remove Highlights from Library

Like the New Tab page, the Library menu also comes with "Highlights". Fortunately, like the Highlights on the New Tab page, these can be removed from the Library menu as well. But removing these is a tiny bit more complicated.
Enter this address in the address bar and hit enter.

about:config


You'll see a warning message, click I accept the risk!
In the search box, type browser.library.activity-stream.enabled or copy and paste it.
Hopefully at least one of the above helped you in some way. If there is anything else you want to change about Firefox Quantum, or want to share something you think might help, feel free to comment below. If you use Google Chrome browser, check out these Chrome shortcuts to use it like a pro.