There is no denying the fact that iOS is the most secure mobile operating system
From the get-go, security has been iOS's main strength in comparison to competing platform namely Android in the smartphone arena. Apple, the company behind the iOS operating system has always focused on security since their inception decades ago. Speaking of which, iOS does not give its users the ability to download files and applications from external and unauthorized sources other than the App Store or authorized applications. In contrast, Android, on the other hand, is super flexible, as a result customizable and manageable meaning it provides its users with the capability to download any type of files and applications from any external sources other than the Google Play Store (which in itself is kind of compromised regarding security, considering the open source nature of Android).
There is no denying the fact that when it comes to a secure and well-integrated mobile environment, iOS has always been on the forefront. Which is the reason most, if not all enterprise and business users prefer iOS over any other mobile operating system. Yes, intruders and hackers, if they imagine, could get over any operating system be it iOS or Android, however, to crack open the former is way harder (but in no ways impossible) than the latter because of its closed source code nature.
This is just a start, with more on iOS and its devices in articles to follow. Alrighty, now let's get to the main topic of this article that is obviously related to security as you have just read from the title. Today, I would like to show you all iOS users a.k.a. "iSheeps" out there a very easy and neat procedure on how to disable TouchID on your iPhone while you're asleep so that no intruders can have access to your iPhone whatsoever. Don't worry, calm down, the procedure will disable TouchID temporarily until you enter your correct device passcode. Follow the guide given below.
Disable TouchID on the iPhone
Apple debuted iOS 11 with the introduction of iPhone X, 8 and 8 plus last year in September. iOS 11 brought with it many new features including a brand new control center and a new notifications center that was fused to the lock screen. Along with many new features and enhancements, Apple also slightly tweaked the Emergency SOS feature by giving the users the ability to enable or disable the Auto Call feature to be able to call emergency SOS services by pressing the Sleep/Wake button 5 times in quick succession.
Now, building upon this feature, we have a found a neat and tidy way to disable the TouchID on the iPhone temporarily while you are asleep to help prevent your nosy significant other from accessing your iDevice.
1. Press the Sleep/Wake button 5 times rapidly and you will now be brought to a screen that has options for you to power off your device, view your Medical ID (provided you had set it up earlier in the Health app), call the Emergency SOS services in your country and an option to Cancel this operation. Note: you will be provided with these options only if you have Auto Call disabled for Emergency SOS services in Settings. Read on to know more).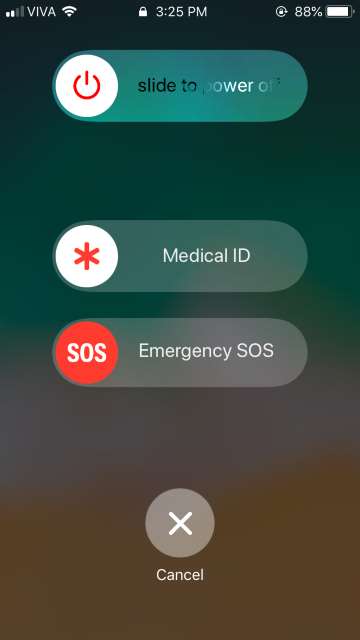 2. Tap the Cancel button to get back and LOCK your device and disable TouchID until and unless the correct passcode is entered.
Disable Auto call Emergency SOS, in case its enabled
1. Firstly, on your iPhone home screen, locate and tap Settings as depicted in the screenshot below.
2. Next, once you are in the Settings app, scroll down until you find Emergency SOS and tap it.
3. Finally, just locate and disable the toggle for the Auto Call feature (if enabled). This way, you can ensure that your iPhone will not dial the emergency services in your country without your consent.
Wrapping up…
So that's all folks or let's say iSheeps (hehe) on my guide on how to disable your fingerprints to help get away from those intruders or your nosy significant other from spying on your phone all night long while you are in your best sleep ever having wonderful dreams of the upcoming new iPhones.