One of the main components in our desktop PC's or laptops is the hard disk. Even if you have the hard disk with large storage space capacity, you often end up with low disk space at some point or the other. This is the most common problem in both the traditional mechanical drives as well as the solid state devices.
Solid state devices which offer very less disk space than the mechanical hard drives are prone to this problem. The main cause for this issue is the unimportant junk files and unused programs cluttering in your hard disk. If you are hunting for ways to free up your disk space, then these ways will surely help you.
7 Ways to Free Up Hard Disk Space on Windows
Let's see one by one.
1. Disk Cleanup
Disk cleanup is a built-in tool in Windows operating system to delete temporary files and free up disk space. Using this tool is as easy as it looks. To use this disk cleanup tool, follow the below steps:
Open the file explorer on your PC either by clicking on the shortcut icon on the desktop or start menu. You can also use Win+E shortcut key combination to open the file explorer.
Right-click on the hard drive which you want to free up and select Properties option.
The Hardrive properties window will appear on the screen. Click on the General tab and click on the Disk Cleanup button.
Disk cleanup window will open on the screen. Select the types of files which you want to delete and click OK button. This includes temporary files, log files, files in your recycle bin, and other junk files.
System files don't appear in the above-mentioned files. To delete system files, click on the Clean up system files button. It will take some time to recalculate the disk space and more options tab will appear next to disk cleanup.
Alternatively, you can also launch disk cleanup tool by searching for it in the Start menu.
2. Uninstall Unused Programs
Most of the times we install programs or application which we use rarely. Uninstalling such applications will free up some amount of disk space. If you want to know how much space each program or application is using, then search for Uninstall programs in the Start menu. You can see size column next to program indicating the amount of space it is occupying, If you don't find the size column, select the detail view option on the top right side of the window.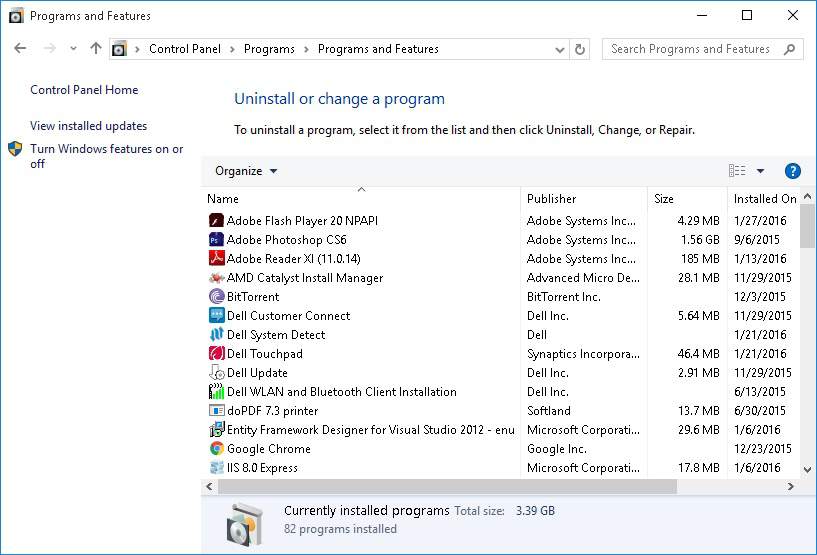 3. Analyze Disk Space
Analyzing the disk space will help you to figure out how much space is being occupied by each file, folder, and program in detail. Try WinDirStat tool to analyze the disk space. This tool will help you to know how much each program is occupying even for the programs which Uninstall programs size column doesn't show. As a notice of precaution ensure that you don't delete the important system files else you may end up with some other problem.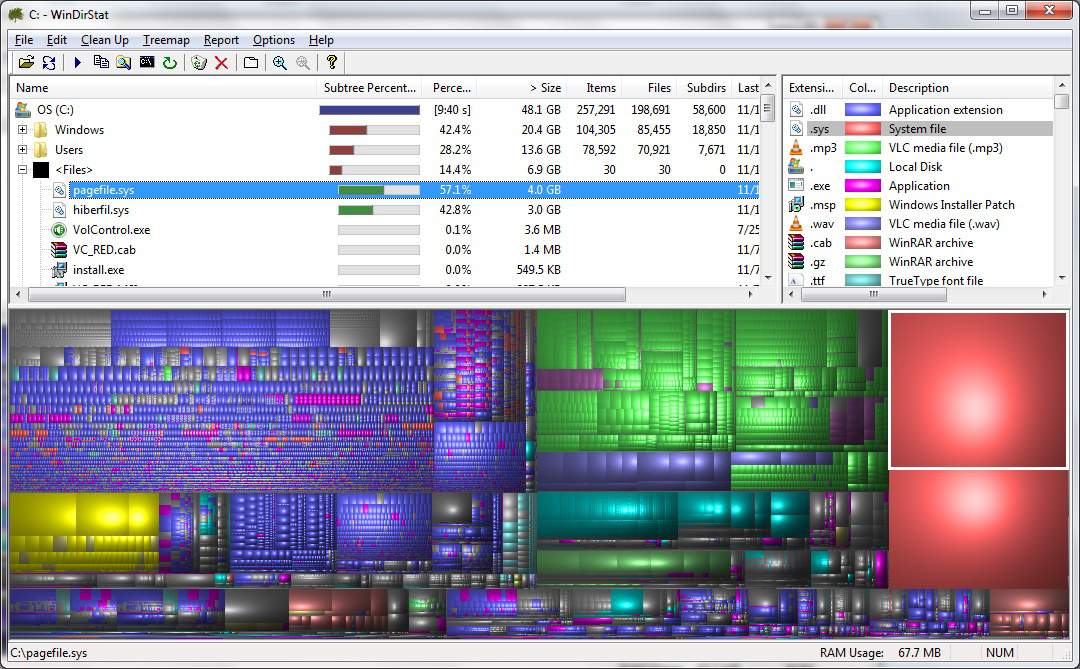 4. Clean Temporary Files
The main disadvantage of the Disk Cleanup tool mentioned above is that it doesn't clean up the temporary files used by other programs. For example the browsers like Chrome, Firefox use the disk space to store the cache data. This cache data may sometimes occupy disk space in gigabytes. Use third party tool like CCleaner to delete the temporary and junk files of the other programs.
5. Remove Duplicate Files
Most of us store images on the hard disk and sometimes we may end up creating duplicate images. These images occupy the same space as that of the original image. Not only images but also other types of files also have duplicates in the hard disk. So using a tool like Dupeguru will help you to identify those duplicate file and delete them.
6. Reduce System Restore Space
Well, do you know that some part of hard disk space will be dedicated to the system restore to keep the restore points? If you think that disk space is an important criterion for you, then reduce the amount of space allocated to system restore. But doing so will create only a few restore points for your PC.
7. Nuclear Options (Not Recommended)
As said this option is not recommended as it may disable some of the Windows features. If you are desperately in need of more space then try the below ones.
Disable Hibernation: When you hibernate your system, the contents in the RAM are stored on the hard disk to save the amount of power usage. Once you turn on your PC these hibernate system file will be taken back into RAM. So disabling the hibernation will help to gain some amount of disk space.
Disable System Restore: To free up some disk space disable the system restore feature in your Windows operating system. But you won't be able to perform a system restore if your PC gets corrupted.
That's it. Isn't it helpful?
If you like it, share it with your friends. Do let us know your valuable suggestions in the below comment section.