You're scrolling through your feed, and you find a funny video or something rather useful or of interest to you. You want to download it, but unfortunately, there is no such option insight. We've all been there, whether you use YouTube, Facebook, Reddit, Twitter, or something else. Most popular websites that host videos don't provide an option to download said videos. If you want to download a Facebook video, for example, you'll need a third-party solution. One such solution is VideoDuke, a Mac exclusive video downloader. VideoDuke lets you download Facebook videos with ease, but it also lets you download videos from pretty much every other website.
When it comes to such video downloaders for Facebook, YouTube, etc. on Windows, you have plenty of options. On the Mac, the options are limited in comparison. But that doesn't matter as long as you have that one app that meets your demands. Can VideoDuke be that one Facebook video downloader for you? Let's find out.
Don't Miss: How to Use Bold and Stylish Text on Facebook
Features
VideoDuke also allows downloading other forms of media such as pictures and audio files. It supports a wide range of media formats and video resolutions of up to 8K. And the feature list doesn't end there yet. There are many video downloaders today that let you download online videos. This one goes a step beyond and also lets you download supporting files such as album art or closed captions.
VideoDuke comes with easy browser integrations and also has a search feature. All that makes the experience of downloading Facebook videos a breeze. There's a simple mode, which is the default mode, where you can just paste the URL and download the Facebook video. Not only that, the app has a built-in web browser that lets you browse or search for your video within the app itself. If you click on All Resources, VideoDuke will show you all the files available in all sizes and formats, including audio files, JavaScript files, HTML files, CSS, flash, etc.
Design
An app or any other software's interface should be such that it makes the user's life easier. Not only should it be nice to look at, but should also allow the user to do what the user needs to do quickly and efficiently. On that front, there's really not a lot of criticism to do here with VideoDuke. When the app opens you simply have a Safari-esque interface. The URL bar is ready to use, and the rest of the app is dedicated to getting the user started, in case you don't know how the app works.
Editor's Pick: How to Create Fake Screenshots on Anything
Design is not all about the looks but also about letting the user do what they need to do quickly, as mentioned before. VideoDuke makes no mistakes here either. Many other such video downloaders would have you click on a button first and then present the input field where the video URL must be entered. This one shows you the input field (URL bar) right in the front. So you can get to download your video as soon as the app is open.
Since the design is so simple, nobody should have any problems understanding how it works. Even so, here's a short tutorial on how you can download Facebook videos on Mac with VideoDuke.
Download Facebook Videos with VideoDuke
The method described below works for all popular video hosting sites such as YouTube, Dailymotion, Vimeo, Instagram as well as Facebook.
First, download VideoDuke: Facebook Video Downloader for Mac
Install the downloaded app on your Mac.
With the app installed, open up your browser and go to the video that you want to download.
Copy the URL of the video from the URL bar.

In most cases, you can right-click on the video and select Copy video URL.
In the case of Facebook, simply click on the Share button and select Copy URL.

Launch VideoDuke and paste the copied URL in the URL bar at the top in VideoDuke.
Click on Advanced Mode and VideoDuke will show you all the available files.
Click on the Download button next to any of the files that you want to download.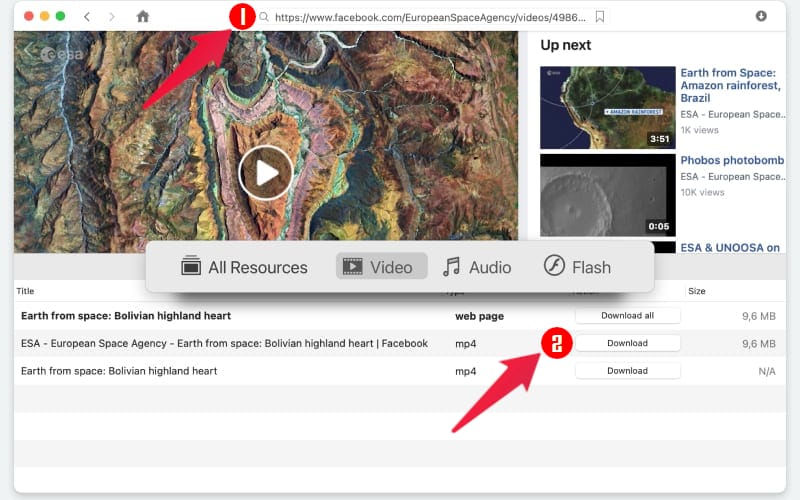 Your file should then begin downloading. The time it takes to download the Facebook video depends on your internet speed as well as the speed of the website's servers. Since VideoDuke has a web browser built-in, you can simply visit any website within the app as well. When you come across a video you can simply download it. It's not meant for web browsing, however, so it won't be replacing your web browser anytime soon. Even so, it is nice to have it here, since it lets you directly browse and download a video rather than having to launch the browser every time.
If you prefer watching to reading, you can watch the video below to learn how to download Facebook videos on a Mac
https://youtu.be/DidNQsLy3I0
For a trial, VideoDuke will let you download two videos. If you're satisfied with the app and like it, you'll have to pay to buy the full version. The full version lets you download unlimited videos from all kinds of websites. You can get it by paying $19.95 for personal use while the family license costs $39.95 and lets you use the app on up to 3 Macs.VideoDuke supports macOS 10.12 and above.
Read Next: How to Hide Active Status on Facebook and Messenger