Windows is a huge operating system and not only in terms of the coding and features but also the user-base. Windows computers are used everywhere from homes to large-scale industries. Every user has different needs as well. For instance, a user sitting at home surfing the net does not need or care for a way to join their computer to a domain. An IT professional or an enthusiast might, however, want to do that. To better cater to its different groups of users Microsoft has intentionally fragmented the Windows platform. The company may have claimed Windows 10 will be the one and only Windows you'll ever find moving on, but they didn't say Windows 10 can't have branches. If you haven't heard, Windows 10 comes in these different editions – Home, Pro, S, Enterprise, Education and Pro Education. So which version of Windows should you get?
Windows 10 Home and Pro
Windows 10 Home is the baseline and there is no other edition of Windows 10 with lesser features, except the recently launched Windows 10 S. That is not to say you are losing out on features though. Most of the features not added here are simply those that you might not ever need. If you are buying a new Windows laptop it will most certainly have Windows 10 Home pre-installed on it. It includes the full Windows 10 experience tailor-made with features to suit the needs of the average home users. All it lacks are Windows 10's business-oriented features which are available in Windows 10 Pro.
Speaking of Windows 10 Pro, this edition of Windows has everything that Windows 10 Home has plus features for power users and business use. The most prominent of those features would be Group Policy support, BitLocker, encryption and the ability to join your Windows 10 PC to a domain. These are not features a home user needs. For instance, Group Policy allows an administrator to easily change settings on a company-wide scale. Windows 10 Pro is obviously more expensive too but because of such features but you can upgrade your Windows 10 Home edition to Pro for $99. That's not recommended, however, if you're not someone who has ever heard of Group Policy before. Some of the Pro features such as Remote Desktop and BitLocker might come in handy for Windows 10 Home users as well but there are free alternatives such as TeamViewer and VeraCrypt.
Windows 10 Enterprise
Pro is good for small-scale industries but large-scale industries need a bit more reliability and have different needs. Windows 10 Enterprise is meant for such businesses and is sold only through Microsoft's volume licensing. The biggest feature that sets Windows 10 Enterprise apart from Pro would be DirectAccess. It allows workers to remotely access their company's internal network through a private network, somewhat like a VPN but more secure. An app locker even lets administrators block access to certain apps. Windows 10 Enterprise is also a more stable version of Windows 10. Because it does not regularly receive updates that might disrupt the company's operations. It also makes it possible for IT professionals to install or migrate Windows together in a group.
Windows 10 Education and Windows 10 Pro Education
Windows 10 Education is effectively a variant of Windows 10 Enterprise that provides education-specific default settings. Therefore, it includes all of the features present in Windows 10 Enterprise. The truly helpful tips and tricks offered by Windows 10, like how you should use Cortana and switch to Edge, are all disabled by default in this edition of Windows 10. App suggestions are also disabled as are some other annoyances of the Windows 10 Home edition. But apart from these default settings, the biggest separator between Windows 10 Enterprise and Education is the cost. This one costs significantly less which helps schools keep costs down while still getting a powerful edition of Windows.
Schools can use Enterprise features of Windows 10 to block games or other inappropriate content on PCs used by students. Furthermore, only a PC with Windows 10 Pro could make the jump to Enterprise but to any Windows 10 Home, or Pro PC can be upgraded to Windows 10 Education.
So Windows 10 Education has all the features of Windows 10 Enterprise which has all the features of Windows 10 Pro. You might then wonder, why Windows 10 Pro Education? Even though the name might suggest otherwise, Windows 10 Pro Education is actually an inferior version of Windows 10 Education, not the other way around. Well, the only major difference here it seems is that Windows 10 Education is available only through Microsoft's volume licensing. But Windows 10 Pro Education can be bought pre-installed on PCs through the K-12 program at a discount. This benefits smaller schools that lack a full IT staff can still exercise control using features in Windows 10 Pro Education. Both the Education versions of Windows 10 include a "Set Up School PCs" app to guide the administrators.
Windows 10 S
Windows 10 S is the newest edition to the lineup and its sole purpose is to beat Chromebooks. Chromebooks are cheaper, light-weight laptop notebooks that seem to be catching up slowly among young and outgoing students. Their most distinctive feature being a lack of features. And so the most distinctive feature of Windows 10 S is that you can't install any apps not from the Microsoft store. That is to say, you can't install traditional desktop apps if they're not present on the store and most of them aren't.
More importantly, it means you can't install Google Chrome or Firefox or Opera and are stuck with Microsoft Edge. You can't even change the default search engine on this thing. Windows 10 S is only available pre-installed on devices which are cheap since they want to be Chromebooks. You can upgrade from Windows 10 S to Windows 10 Pro for $50. But it's better to just go for Windows 10 Home in the first place.
Which version of Windows should you get?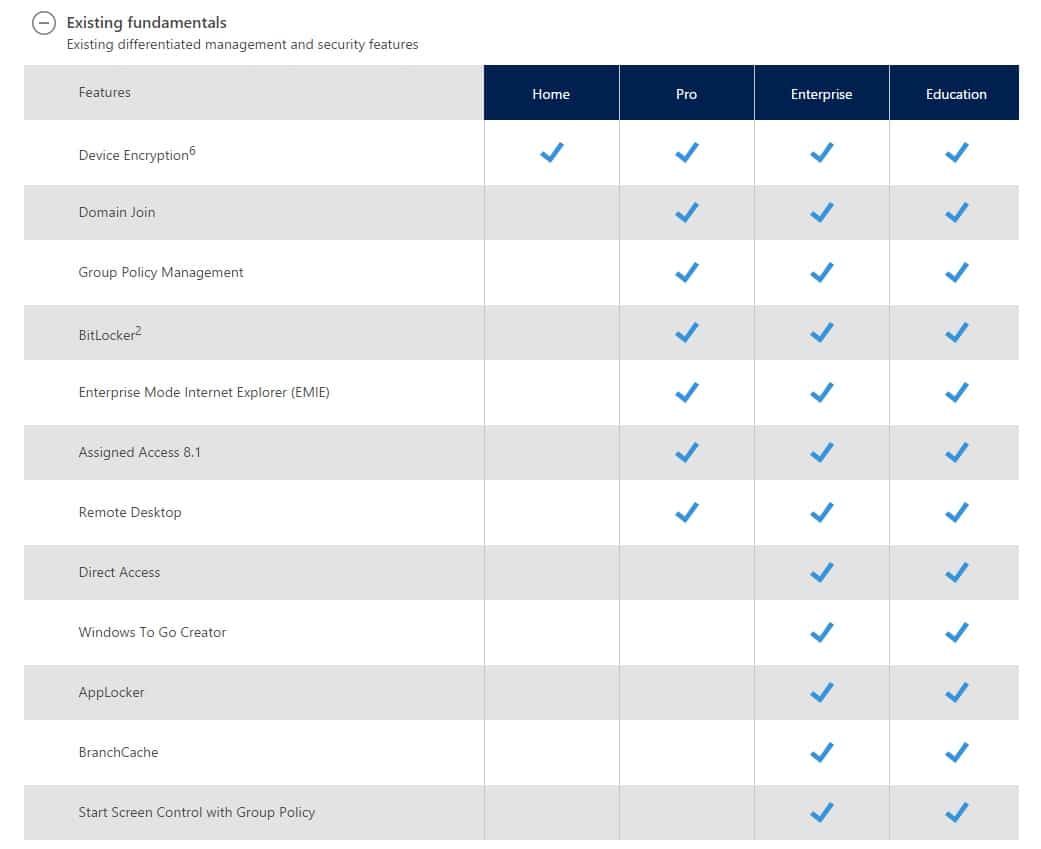 Now you know all about the different versions of Windows 10. You obviously know your needs better than anyone else. Therefore, you're the one that can decide best but most users will likely never need anything above Windows 10 Home. If you are an IT professional you might want to opt for the Pro version. As far as the Enterprise and Education editions go, there should not be any confusion on who needs those and who does not. Windows 10 S? Yeah, no, don't, nobody needs that.