After 6 months of development since the Ubuntu 18.04 release, Ubuntu 18.10 Cosmic Cuttlefish has finally been released. Ubuntu .04 releases are generally more stable and receive long-term support, hence given the name LTS. The .10 releases such as Ubuntu 18.10 spend less time under development and are also supported via updates for only 9 months. This gives Ubuntu 18.10 until July 2019 after which support will cease to exist and you'll have to move on to the next Ubuntu release. So if you're on Ubuntu 18.04 and want new features fast, you should upgrade to Ubuntu 18.10.
Those who don't like to live dangerously can also switch from Windows to Ubuntu 18.10. As with every Ubuntu release, the official flavors including Kubuntu, Lubuntu, Ubuntu Budgie, Ubuntu Kylin, Ubuntu MATE, Ubuntu Studio, and Xubuntu are also available for download. These Ubuntu flavors have all been updated to use Ubuntu 18.10 as the base.
What's New in Ubuntu 18.10?
As for the changes, let's start with the display system. Ubuntu 17.10 introduced Wayland but it was swapped out in favor of X.org in Ubuntu 18.04. With Ubuntu 18.10, Canonical is sticking with X.org which is sad for Wayland fans. However, you can always switch. GNOME 3.30 is also present in this update and includes a few tweaks including support for VeraCrypt encryption, but it is the Yaru theme that will catch the eye of most users. With the new theme, the system has an updated, modern, flat look while retaining the iconic Ubuntu color scheme. It also includes a modernized icon theme.
Apart from the theme, there's not a lot that can be included in a "What's' new?" section. Perhaps the most significant of those new changes would be the arrival of Linux Kernel 4.18. Even that will not be affecting your day to day usage much and most users will never notice a difference. The new kernel does have improved support for AMD and Intel Graphics. Linux kernel 4.18 also improves life for USB-3.2 and USB-C users and has some significant improvements in power-saving.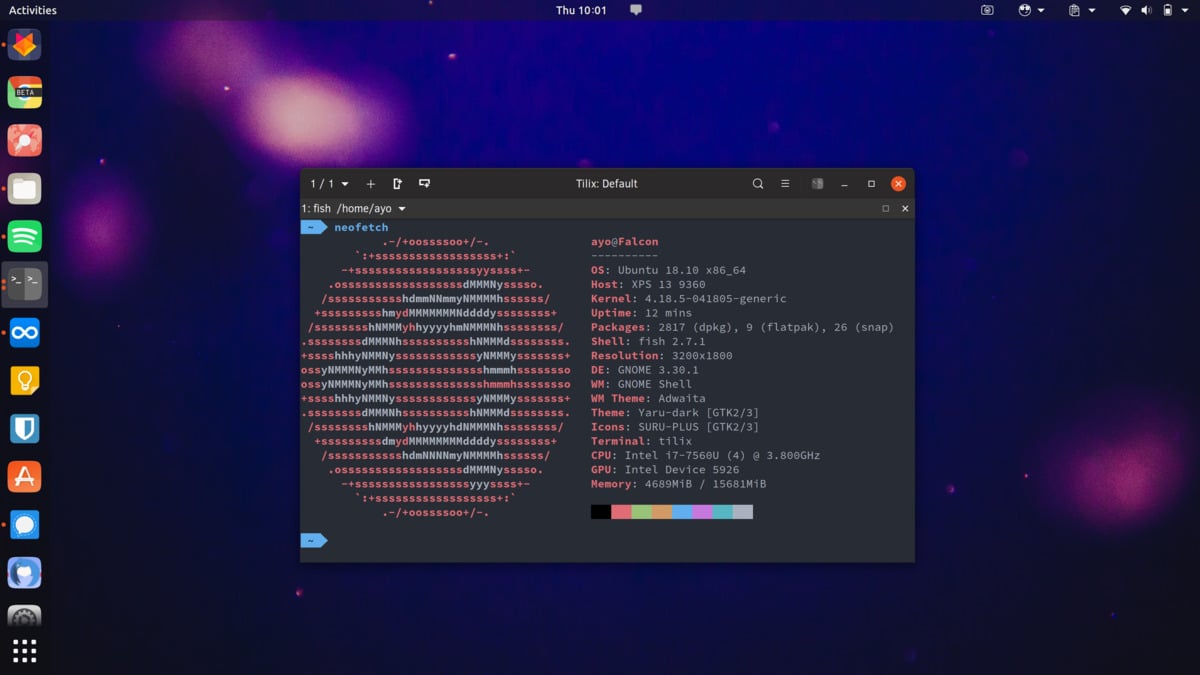 Python has been upgraded to 3.6.7 whereas the GNU Compiler Collection (GCC) has been bumped up to 8.2. The usual suspects, LibreOffice and Firefox, hit version 6.1.2 and 63.0. Canonical ais also pretty keen to let everyone know the new Mesa updates will boost game performance. If your computer does have a fingerprint hardware built-in or attached, Ubuntu 18.10 will support it and can be unlocked using the fingerprint. Below is a list of all the new features and changes with Ubuntu 18.10.
Ubuntu 18.10 Changelog
Brand-new Yaru theme included
Linux Kernel 4.18 for increased hardware support, security, and performance improvement
OpenSSL 1.1.1 includes support for the recently approved TLSv1.3 standard
GNOME desktop 3.30 which now supports VeraCrypt
Improved Cache management: More GPU RAM cached to reduce load and increase FPS count
Fingerprint support added which allow unlocking with fingerprints
Comes preinstalled with LibreOffice 6.1.2
Comes with a refreshed state of the art toolchain including new upstream releases of glibc 2.28
GS Connect comes packaged and can be easily activated
Performance improvements including smoother desktop zoom and window previews
How to Upgrade to Ubuntu 18.10
Search for Software & Updates and launch it.
Go to the Updates tab.
At the bottom, select For any new version from the drop-down menu next to Notify me of a new Ubuntu version: 
Close the window when you're done and then search for and launch Software Updater. You can also launch it by entering update-manager -c in a Terminal window.
The update manager will notify you that a new distribution release '18.10' is available.
Click Upgrade and follow the on-screen instructions.
How to Install Ubuntu 18.10 from Scratch
If you wish to install Ubuntu 18.10 from scratch, in case you're coming from Windows, macOS, or another Linux distro, you can do that as well. Ubuntu 18.10 and all its flavors are available to download from the official Ubuntu website. Once you have an OS image, you just have to install it onto a USB and then boot from it. You'll then have the option to install Ubuntu 18.10. You can create a bootable Ubuntu USB from Ubuntu or you can also create a bootable Ubuntu USB from Windows. If you prefer, you can even create a persistent Ubuntu USB so that you can use Ubuntu on any computer from your flash drive.