Four years back when I first joined Facebook, it was just to make new friends who were not living anywhere near me and to talk with existing friends via Facebook messages even though they were sitting right next to me. That was the norm back then.
Everyone had a Facebook fan page. Some were funny, some were informative, and some were completely useless. Anyhow, younger me was stupid. I used to like each and every page that passed through my news feed. Every single one of them, without knowing the fact that I can like up to 5000 pages only. This resulted in two problems – first, I could not like any more pages and second, my newsfeed was filled with useless stuff, stuff that I don't care about. My news feed got cluttered with junk and I was not able to see the stuff I really cared about.
If you are facing the same problem then I have a solution now. Instead of finding and visiting each and every page that you've liked (which is hectic, of course), the technique which I am about to share lists all your liked pages in one place. From there you can manage your liked pages. Here is the process of unliking multiple Facebook pages at once.
First of all, login to your Facebook account. Then open the "Pages I like" page. You can also visit this page by typing "Pages I like" in the search bar on the top left corner. In this page, you'll see all the pages that you've liked. I can't tell in which order these pages are organized but you'll find all the pages there.
You'll see a pull-down menu on the right side of every page. Hover your mouse cursor over it. Now you'll see options like "Get notification", "Add to interest list", and "Unlike". Tap on "Unlike" to unlike that page.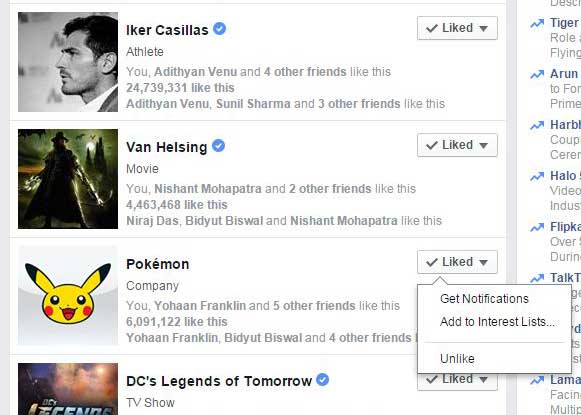 This method might be time-consuming but is still easier than other methods. Spending some time to unlike the junk you don't care about and making your newsfeed more informative and clutter-free is obviously better than wasting your time every day to look for the important stuff.
Read Next: Best Facebook Messenger Clients for Windows 10