UGREEN 6-in-1 USB C Hub which generally retails for $25.99 is now available at a discounted price of $17.28 with a coupon(30CHUB4K) only at Amazon US. Also, an additional 5% discount coupon is available as a page clip-on.
Where to Buy
UGREEN 6-in-1 USB C Hub at $17.28 @Amazon US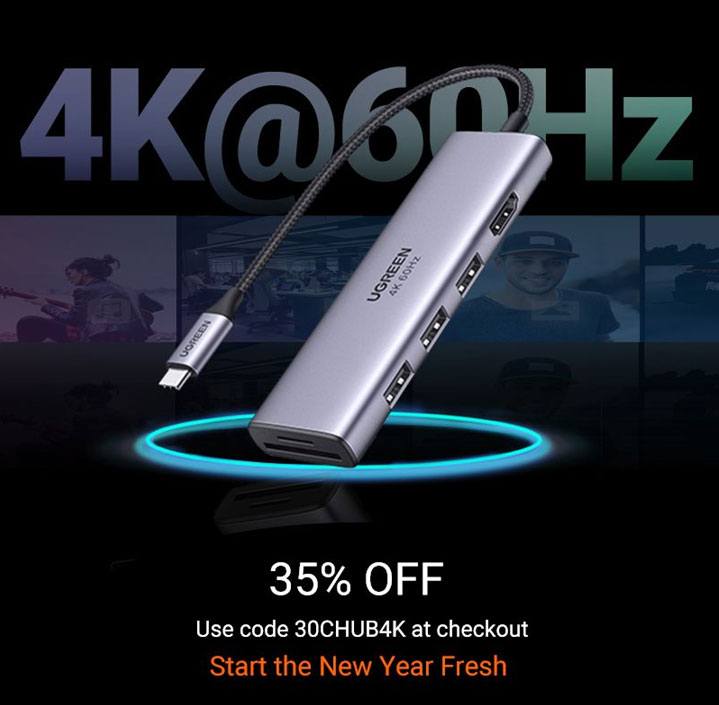 Key Features
6-in-1 USB C HUB
1 x [email protected] HDMI Output
3 x USB 3.0 Ports
1 x microSD/SD card reader ( highest speed up to 104MB/S )
Lightweight and portable design
Sleek aluminum exterior body
Fast and reliable data transfer
Broad compatibility
Durable and qualitative design
Review
When connecting the 4K monitor, this USB C Hub supports [email protected] resolution. Meanwhile, for a cinema-like visualization experience, you can simply connect your screens to HDTV, monitor, or projector using this port. But, keep one thing in mind that the [email protected] Hz supports only on laptops that have the display port 1.4.
It has 3 USB3.0 ports that you can use for higher expansion speed because that can easily give you a total of 5Gbps that will cover a wide range of conventional equipment and not only be limited to the keyboards, USB drivers, etc. Also, it is not like the other products offered by any other brand. Your data will be the same because it reduces the probability of signal interference while enjoying efficient transmission.
In general, we go with a brand with a wide range of compatibility, and UGREEN understands this very efficiently. That's the reason when they launch any device or accessories, and they make sure that their products are compatible with every available device in the market.
AndUGREEN 6-in-1 USB C hub is widely compatible. It supports almost all Type C devices and Thunderbolt 3 devices like MacBook Pro, MacBook Air, MacBook M1, iMac, iPad Pro, Chromebook, Dell, HP, etc.

About UGREEN
Since 2012, UGREEN has been producing high-quality electronics for global consumers. UGREEN has steadily grown into a brand trusted by over 40 million users in more than 100 countries around the world with products ranging from charging devices, phone & computer accessories, to home and automobile accessories. UGREEN is dedicated to customer satisfaction, by providing an exceptional product and excellent customer service.
Read Next: 250+ Keyboard Shortcuts for Windows 10 Users