There was a time when everyone used to have their very own, custom ringtone on their phone. But as the older phones phased out and were replaced with the latest Androids and iPhones – custom ringtones became harder and harder to get on your phones. People eventually started making do with the limited pre-installed options they had! In this article, we'll be listing some of the best ringtone makers for your iPhone.
But that just means that everyone in the room has the same ringtone. Which isn't fun at all! If you're sick of having the same iPhone ringtone as everyone else in the room and are searching for a way to get a custom ringtone, look no further. By assigning special ringtones to different contacts on your iPhone, you can easily recognize the caller even without looking at your phone's screen.
We've compiled a list of the top 3 iPhone ringtone makers for you so you can get a custom ringtone on your phone in no time!
1. iRingg
We're going to start with the best one in the game right now, iRingg.
Although many other programs offer ringtone makers, most of them aren't really built to be ringtone makers, so they lack things.
iRingg is a program that's a dedicated iPhone ringtone maker, so in terms of options, you'll have the most with this!
The way iRingg works is very simple. You can start with a track that you already have on your computer or device and select it. Otherwise, you can even browse for the song or track you're looking for from within the program!
That is done by using the built-in browser it has. When you've found the song you're looking for, click the "ringtone" option in the download options. Once you've got the track downloaded, you can go into the next section of turning the track into a custom ringtone.
Once the track is downloaded and ready to be turned into a ringtone – you can go into the "Personalize and Edit" section and edit the ringtone from there.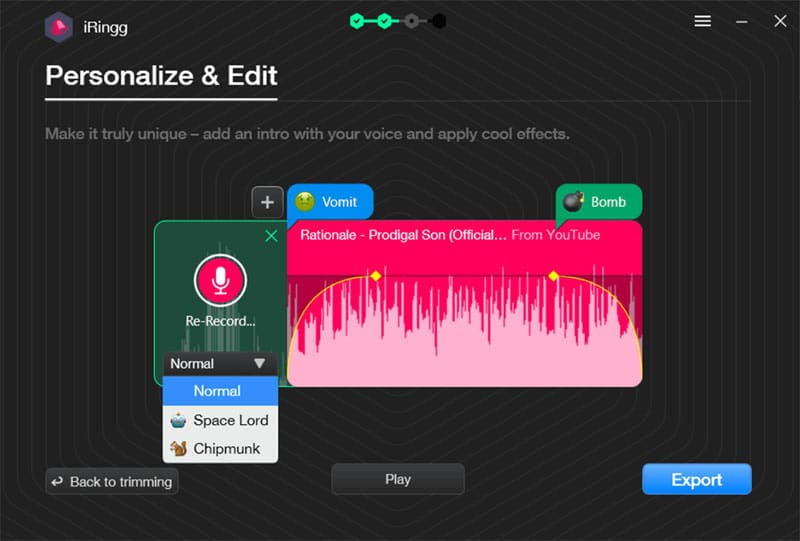 In this section, you have options to keep the entire track as it is or edit the track and clip it to a smaller section that you like. So you don't have to hear the build-up of the song every time.
Once you've settled on a window, you can add a fade-in and fade-out effect on it, and even use their SndMoji feature and add custom sounds to the entire track. You can even create a whole track using the SndMoji feature and create a ringtone that no one else would have!
When you're done fully customizing your ringtone, you can click "export" and export it to your iPhone! Once it's done exporting, it'll show up right next to the pre-installed ringtones that are already on your iPhone. So, you can easily choose it from there!
Here are some pros and cons about iRingg.
Pros:
Very user friendly
Simple yet aesthetically pleasing UI
Built-in browser
It comes with an editor
Can use any track off the internet or the devices you've connected to your computer
The feature of SndMoji lets you create a totally custom ringtone!
Option to export to the native ringtones library
Cons:
 You might spend all day using the ringtone maker because of the unlimited options.
Don't Miss: How to Save Webpage as a PDF on iPhone
2. GarageBand
GarageBand comes pre-installed on almost all Apple devices, including iPhones.
This isn't really a program that would appeal to everyone but, if you're someone who knows how to play an instrument or knows how to play one digitally, you can use this to create your own custom song.
You can even layer different instruments on top of each other and add effects to the tracks individually; you would have created an entire song in the end.
Once you've created the song you think would work great as a ringtone, you can "save" it.
The app will give you an option to save it as a song or as a ringtone so you can decide how you want to keep it. Just click the ringtone option, and the track will immediately be exported to the ringtone library on your iPhone! From there, you can choose it and use it as your ringtone!
Pros:
 Let's you create a fully custom track
Option to export to the native ringtones library
Cons:
It might not work as well if you don't know how to play instruments
The slight learning curve to how it works
Limited editing options
3. Audiko
Audiko is another application that's meant to be an iPhone ringtone maker. This application can be installed directly on your iPhone.
It has its own database with a few different options readily available for you to just choose from. If you don't want to use a premade track, you can even upload one that you already own and convert that into a ringtone.
If you don't have the track, but have the URL of the track from the internet – you can even copy-paste that in. And turn that into a ringtone. Once you've created the track you want, you can export it to your iPhone, and it'll show up in the native ringtones library and be used there immediately!
Pros:
Simple to use
Can use any track you own and turn it into a ringtone
Cons:
Very limited in terms of features
Final Thoughts
Although there are many different types of ringtone makers out there, the one that offers the most features, and is the easiest to use, is iRingg. iRingg allows its users to seamlessly create any ringtone they want and make as many edits to it as they like! It helps them create a totally unique ringtone that no one else would have! That is why iRingg is the one we recommend for making custom iPhone ringtones!
Read Next: 300+ Keyboard Shortcuts for Mac