Even the most ardent Microsoft haters will have to agree, Microsoft Office is the most popular office suite around. That doesn't mean there aren't alternatives to Microsoft Office, but their success largely depends on compatibility with Microsoft Office documents. Not many professionals would want to use another office suite if they can't share the documents with other users who most probably use Microsoft Office. If you're a student, you may not want to pay for the full Microsoft Office suite for the seldom occasions you need it.  This is where a good, free Microsoft Office alternative can come in really handy. SoftwareMaker FreeOffice is such a viable option.
SoftMaker FreeOffice is a powerful, easy-to-use, modern, lightning-fast office suite for Windows and Linux systems. SoftwareMaker, the company behind the free office suite also makes a premium office suite with more features. The free version, called FreeOffice, is a stripped-down version of it. If you're interested, you can check out the differences. FreeOffice, although available on the Linux platform as well is not open source though. "In our view, the new interface and the improved compatibility with Microsoft Office make FreeOffice a must-have for 2020," CEO of SoftMaker Martin Kotulla says. "If you are looking for a no-cost office package, there is no way around FreeOffice."
Features
FreeOffice comes with a word processor (TextMaker), a presentation program (Presentations) and a spreadsheet (PlanMaker) application for both home and business use. The best features of this office suite are compatibility with Microsoft Office documents and a familiar interface. FreeOffice can open, edit, and save documents with the modern Microsoft Office formats DOCX, PPTX and XLSX. It is also compatible with older formats such as DOC, XLS, and PPT files as well as ODF files used by LibreOffice.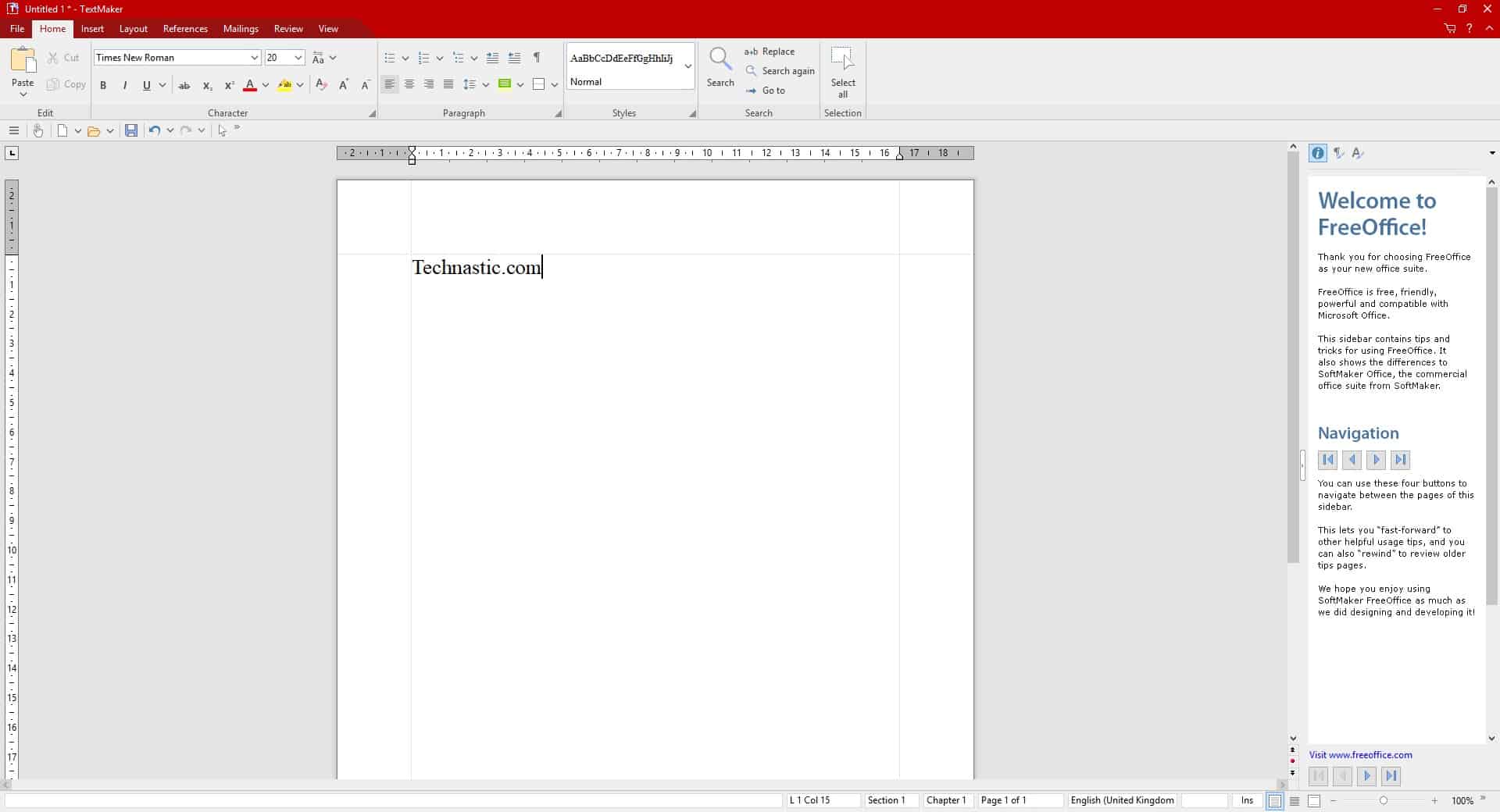 When running for the first time, you'll be asked to choose your preferred interface layout. The options include the classic toolbar layout amongst others and the modern Ribbon UI. After enabling the ribbon interface, users can still access the original drop-down menus via the ≡ button beneath the ribbon. They'll also find a button here for toggling touch mode on and off. To switch between ribbon and classic interface, navigate to Tools > Options > Appearance.
There's even a touch mode which increases the spacing between different UI elements making them easier to touch accurately. This also increases the icon size of all interface buttons. All in all, this means that there is zero to no learning curve involved for users coming from Microsoft Office. You can also share documents with Microsoft Office users without having to worry about rendering issues.
FreeOffice TextMaker also supports Hunspell Dictionaries for spell-checks. This helps in finding typos in various languages. The interface has also been improved compared to previous versions. Extra formatting options are now available with a couple of clicks (including complex list options in TextMaker and cell templates in PlanMaker).
Download
FreeOffice is available for both Windows and Linux via their official website. While it is free to download and install, SoftwareMaker asks you to enter your email address and a couple of details before you hit the download button. You'll then receive your unlock key via email because FreeOffice requires a key to be unlocked.
Having installed FreeOffice, you would only need a good PDF reader and editor to meet all your document requirements. You must consider installing one of these free PDF editors for Windows 10 as well.