As we pass through 2021, we have started viewing remote work as the new norm and understand that it is not going anywhere soon. That said, more people have started to pay attention to including home offices in their home renovation projects. While a silent place, comfy chair, and desk are amongst the top things that you need for your home office, a reliable internet connection is needed as well. Nearly five decades have passed, and Ethernet networking technology is still one of the most reliable ways to connect office and home gadgets to the internet.
Read on to learn how Ethernet, despite its age, is still the most efficient and reliable way to connect with the internet, especially if you are looking for ways to boost your home office. Not only a PC or laptop, but a good internet connection is also a must for modern smart TVs. In case you are having connection problems on your TV, the following tutorial will come in handy.
What exactly is Ethernet?
There is a fair chance that you might not be familiar with the origins of the Ethernet. Ethernet refers to a standard network of communications developed by Bob Metcalfe somewhere in the early 1970s. The Ethernet includes fiber optic cables, coaxial cables, and twisted pair cables to communicate at one Gbps. However, the Ethernet is fast and reliable, with speeds as good as 40 to 100 Gbps.
How can the Ethernet boost your Home Office?
If your house isn't entirely dependent on Wi-Fi, the chances are high that you might be using some Ethernet at your home already. Unlike the Wi-Fi, you aren't stuck with the router since the Ethernet works like a USB hub that grants you instant internet access.
Besides being reliable and fast, the Ethernet is also secure, which means that it could potentially safeguard you against hackers trying to break through your network traffic. By using Ethernet, especially a VLAN, you will benefit from a faster internet connection than the lagging network that is typical of Wi-Fi-related internet connections.
The thing with Wi-Fi connections is that you can expect latency issues; however, with Ethernet. You can get maximum internet speed directly out of the cable, even when the cable is spread over a longer distance. Your home office might be situated in the basement or on the upper floor, where you can benefit from a high-speed internet connection without loading your home Wi-Fi with additional stress. We recommend you to check out UGREEN's products and see what they have to offer.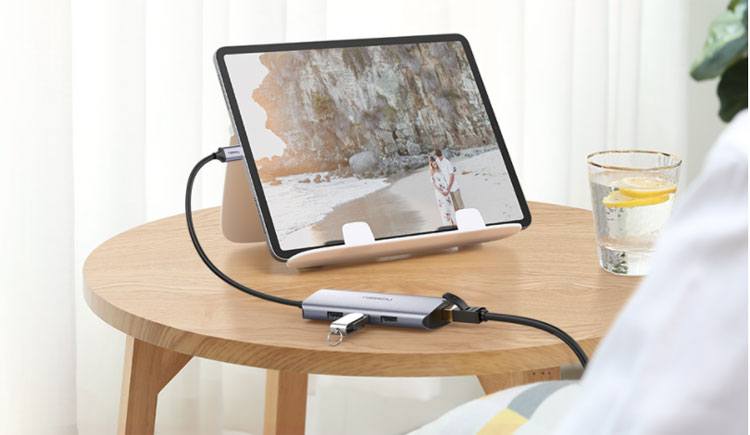 Essential benefits of Ethernet that can boost your home office
Since remote work and remote learning have become the latest trends, you might want to ensure that nothing goes wrong. Suppose you are on a video conference with an important client, and you experience a slow internet connection with your Wi-Fi network as too many devices are linked with it. Besides causing embarrassment, this can also harm your business deals and overall job performance.
With Ethernet, your internet connection will remain stable and consistent as you will be able to benefit from the much faster internet speed that you cannot get with a Wi-Fi connection. It doesn't matter how much you spent on your Wi-Fi router; your cabled internet connection will always remain faster and more reliable. When it comes to stability, the Ethernet connection takes the trophy as you won't be facing any interference from other gadgets in the room or the house. The Ethernet also allows for a cheaper setup – you might think of it as a one-time investment for your home office.
By linking your home office with Ethernet, you are all set for an improved platform of collaborative working and communication. Compared to Wi-Fi, your Ethernet connection will help you get your tasks done with ease and comfort.  
Read Next: How to Register and Use Jeep Life App