Do you want to download part of a YouTube video? You can easily trim, crop, edit, and download YouTube videos using an online service called YTCutter. It's one of the easiest ways to download specific portions of YouTube videos. Besides, there is also a YTCutter alternative that lets you do the same.
There are various YouTube video downloader software as well as Android apps. These are very well capable of downloading videos in HD quality. But most of them end up downloading the entire video. In some circumstances, you might just be needing a small part of a video. So it doesn't make any sense of wasting your internet, time, and effort in downloading the entire video and then cropping it for the desired portion. To counter this issue, we have provided an interesting workaround. You could now download only a specific portion of any YouTube video. Moreover, that said portion could also be downloaded as audio, GIF, or even as a collection of screenshots.
If you are a Windows user, you should check our list of the best YouTube apps for Windows 10 to make the most of it.
Download Part of YouTube Videos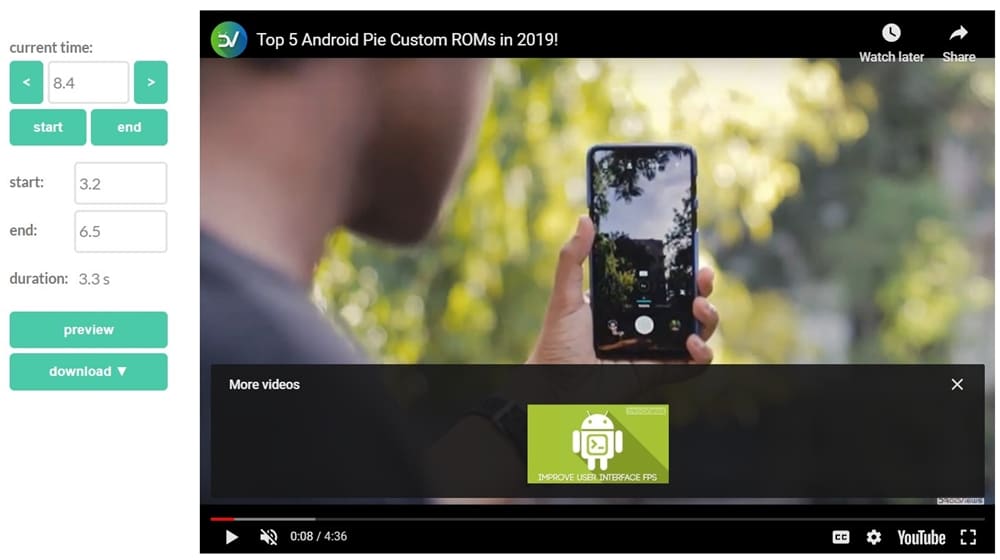 Head over to the YTCutter website. It provides a simple UI for downloading specific portions of YouTube videos. As soon as you visit the site, simply enter the desired URL in the text box and click on Start. It will display the YouTube video on which you need to act upon. On the left of it, you could see all the required features. The Current Time option is where you will enter the duration of downloading a specific part of the YouTube video.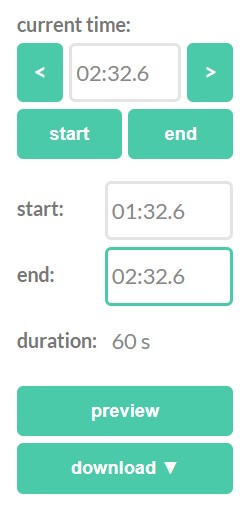 Don't Miss: 500+ Funny Questions to ask Google Home Assistant
First, enter the starting time of the video from which you need the cropped video to start. After inputting it, click on Start. Similarly, enter the desired end time of the video and click on End. Likewise, have a look at the Start, End, and Duration box and if you are satisfied, proceed further. You may even preview the cropped video before you go ahead and download the specific portion of that YouTube video.

If everything is as per your requirement, go ahead and download the video. Not only as video, but you also have the option of downloading it as audio, GIF or even a set of screenshots. Just select the desired option and wait for the process to finish. However, some of the YouTube videos are flagged as Not Suitable For Work (NSFW). In those cases, YTCutter might face issues in processing that URL and hence downloading that specific portion of the YouTube video. But here is an interesting way of bypassing that restriction as well.
In general, the URL of any YouTube video is https://www.youtube.com/watch?v=UNIQUE_ID. Let's say this video is an NSFW one. To download a specific portion of this YouTube video, a little tweak in the URL needs to be done. All you have to do is replace the watch keyword with embed/. Hence the URL changes to https://www.youtube.com/embed/?v=UNIQUE_ID. That's it. Just enter this URL in the YTCutter text box press Start and follow the instructions to download the specific portion of the desired YouTube video.
With this, we conclude this interesting guide on how to download specific portions of YouTube videos. The only drawback of this site is that the free version only allows the cropping of video for a maximum of one minute long (although there is no restriction on the original length of the video). So to get a cropped video of more than a minute long, you will have to shell out some bucks. Still, a pretty useful site nonetheless.
If you are not happy with YTCutter, you can consider using YTCropper which is a great YTCutter alternative. What is your opinion on this? Do let us know in the comments section below.
Read Next: How to Check the Activation Date of Android Devices