These days more websites are restricting users from letting them copy content from its websites. Let alone trying out different ways to copy files, you cant even select the required texts in the first place. Recently, I was looking for a bunch of codes, and there was just one site on the internet providing them. So I went ahead and tried copying it so that I could directly paste it over to the Command Prompt. But as luck has it, that site had blocked users from copying contents from there. There is where I came up with some ideas through which one could copy text contents from blocked websites. So, without further ado, let's have a look at them. Also, check out 3 Best Proxy Websites to Access Restricted Contents.
Copy Contents from Blocked Website via Page Source
The first method involves the use of the Inspect Element trick. All the web browsers have this menu, but the method or shortcut to access them might be different. In this guide, we have used the Chrome browser. So, here are the steps to follow to copy content from blocked websites via Page Source. Also, here are 5 Best Free VPN Services that you should have a look at.
Head over to the website that has blocked its content.
Right-click on that content and click on Inspect. You could also use the Ctrl+Shift+I shortcut keys combination.

A new window will pop up with all the contents of that webpage, in HTML format.

Use the Ctrl+F shortcut to find the desired text and subsequently copy it.
That's it. These are the steps to copy text contents from any blocked websites. This still holds the easiest of methods of doing the said task.
Disable Java Script
The above-mentioned trick doesn't work in some of the websites. For that, consider disabling the javascript on your desired web browser. But once you are done copying contents from blocked websites, re-enable the javascript. Otherwise, most of the websites might not work properly. On the other hand, refer to these steps to View Cached Copy or Old Version of a Website
Click on the overflow menu situated at the top right on your Chrome browser and go to Settings.
Finally, restart your web browser. Now try copying contents from that blocked website.
Copy Contents from Blocked Websites via Android Device
When everything else fails, this will work, for sure. For that, you will be needing an Android device with Google Lens installed. If you already have it installed, here are the steps to follow to access and copy contents from blocked websites. Moreover, refer to these 10 Tips to Take Better Photos with Android Phone.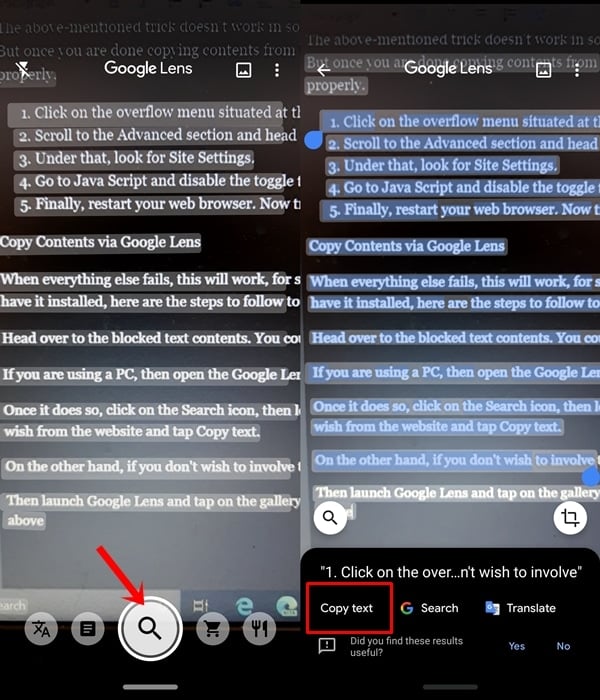 Head over to the blocked text contents. You could do it on your PC or smartphone.
If you are using a PC, then open the Google Lens on your Android device and wait till Lens scan the desired portions of the text.
Once it does so, click on the Search icon, then long-press on the screen. This will bring the text selection feature. Select the desired content from the website and tap Copy text.
On the other hand, if you don't wish to involve the use of PC, then open the website on your smartphone and take a screenshot of it.
Then launch Google Lens and tap on the gallery icon situated at the top. Browse through the desired photo and follow the rest as mentioned above.
With that, we conclude the guide on how to copy contents from blocked websites. We have mentioned three different methods to do the same. Which one will you ultimately end up choosing is up to you, but do let us know in the comments section why you went ahead with that option.