Smartphones have become like a personal vault where we store our important and sensitive data. While we keep this vault secured with a pattern, PIN, face, or fingerprint lock. On top of these, there is an extra layer of security called FRP (Firmware Reset Protection). FRP is triggered when someone makes several failed attempts to unlock the phone or perform a factory reset in an untrusted environment. Once the FRP lock mode is turned on, you won't be able to access your phone unless you enter your Google account credentials. If you own a Samsung phone or tablet and are stuck with an FRP-locked device, you can try an FRP lock removal tool. Using SamFw FRP Tool, you can remove and bypass the FRP lock on Samsung devices for free.
What is Factory Reset Protection (FRP)?
FRP is a built-in security feature in Android phones and tablets. The feature is automatically enabled when it senses unauthorized attempts to unlock the device. Also, if someone tries to do a factory data reset without removing the Google account first, FRP will come into play and will not let you access the device to protect its data. If you are the genuine owner of an Android phone or tablet, you can easily bypass FRP using your Google account details.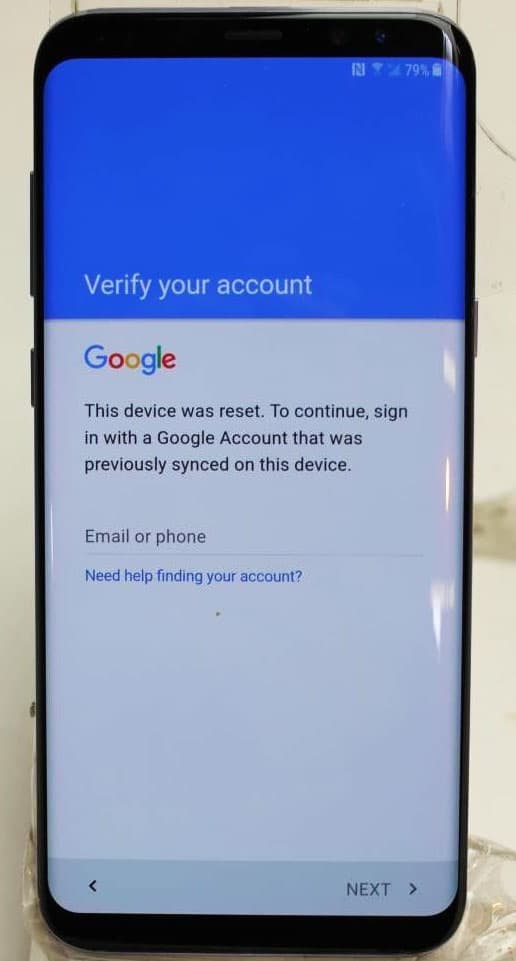 If you don't remember your Google account password but remember the Gmail address you used to sign in on your Samsung device, you can reset your password by going to myaccount.google.com. However, if you don't have any clue about your Google account credentials, you can visit the Samsung service center with the purchase receipt to help you get rid of FRP.
Some people might think that performing a factory data reset might remove the FRP lock. However, even a factory reset via recovery won't help as you'll still need to enter your Google account credentials.
An unauthorized attempt has been made to reset your device to factory default settings. Connect to a Wi-Fi or mobile network to verify your identity.
In such a situation you got only 2 options left:
Enter the correct Google account login details
Use an FRP recovery tool like SamFw FRP Tool
A while ago, I published a tutorial on removing FRP Lock with combination firmware. However, that method which involved flashing combination files using the Samsung Odin tool worked only on old Android versions. SamFw FRP Tool lets you bypass FRP lock on a much wider range of Samsung Galaxy devices. Let's talk about this amazing FRP removal tool for Samsung. So, stop looking for an FRP bypass code or a magical APK that will let you bypass FRP and try the SamFw FRP removal tool.
Features of SamFw FRP Tool
SamFw FRP Tool is a versatile utility for Windows. Do not get misled by the word "FRP" in its name because the tool offers a lot of other features as well. By switching to the different modes in the SamFw FRP Tool, you can perform several complicated tasks easily simply by connecting your Samsung phone to your Windows PC. Below is a list of its functions and features.
Remove Firmware Reset Protection
Disable Knox security
Perform a factory reset
Remove the Samsung account from the device
Disable and enable the OTA update
Install APK and app packages
Remove screen lock on rooted phones
Exit the Download mode on Samsung devices
Flash BL, AP, CP, and CSC binaries in Odin mode
Install Samsung USB drivers on your PC
Install Visual C++ 2015
Get info about the battery
Get detailed device information (i.e. model, CSC, IMEI, serial number, firmware version, lock status, etc.)
Power off device
Reboot the phone into the download mode, recovery mode, binary mode, or system
The above list of functions is enough to make it clear how useful SamFw FRP Tool can be to a Samsung Galaxy device user. Anyway, since this article intends to focus on the FRP bypassing and removal feature of the tool, we'll stick to that only.
Note: SamFw FRP Tool has been developed by Tungtata from swfw.com.
The above list of functions is enough to make it clear how useful SamFw FRP Tool can be to a Samsung Galaxy device user. Anyway, since this article intends to focus on the FRP bypassing and removal feature of the tool, we'll stick to that only.
Steps to Bypass FRP on Samsung Galaxy Devices
There are many FRP lock removal tools out there that claim to bypass FRP lock on Samsung devices. Some of these tools require a purchase while others demand money to do the job. The best thing about the SamFw FRP Tool is it is free and works on most Samsung Galaxy phones and tablet devices. Moreover, it's easy to use and doesn't require any expertise on the part of the user. Below are the simple steps that you need to follow to remove the FRP lock from your Samsung phone.
Download the latest SamFw FRP Bypass Tool: SamFw_Tool_v3.31.zip | Mediafire Mirror
Unzip the downloaded file, open the extracted folder, and double-click SamFwFRPTool.exe to launch the program.
It's time to connect your Samsung phone to the PC using a USB cable.
Open the Emergency Dialer on your device and dial *#0*# Samsung secret code to open the Hardware Test mode.
Now, click on the Remove FRP button in the SamFw FRP Tool.
Keep an eye on your Samsung phone's screen as you'll be prompted to Allow USB debugging. When prompted, tap on the Allow option.
Wait patiently and let the SamFw FRP Removal Tool do its job.
When the FRP lock is removed from your Samsung Galaxy phone, it will reboot.
Quick Note: If you get the 'Removing… FAIL' error in SamFw while trying to remove the FRP lock on your Samsung phone, download the 'frp.bin file', copy it to 'C:\SamFwTool\data', and try again.
With the hope that you were able to bypass the FRP lock on your Samsung phone or tablet, it's time to wind up this tutorial. If you have any queries regarding the steps to use the SamFW FRP tool, please leave a comment below.
Read Next: How to Check Manufacturing Date of Samsung Devices